---
IBM Reports Lowest Revenue This Century, Slowdown In Cloud, And Another Grotesque EPS Fudge
There was some hope last year that IBM was finally turning things around: after all, after 5 consecutive quarters of declining revenues, the company had just managed to grow its top-line for the first time since Q2 2018, and only for the 4th time in the past 8 years. Alas it was not meant to be, and moments ago IBM revealed that revenue declined in Q3, dropping for the third consecutive quarter, sliding another 2.6%, and while Red Hat sales boosted cloud and cognitive sales by 7% to $5.55BN Y/Y the number was an ominous slowdown in cloud sales of $5.748BN reported last quarter, with total Y/Y cloud growth also slowing from 30% in Q2 to just 19% last quarter.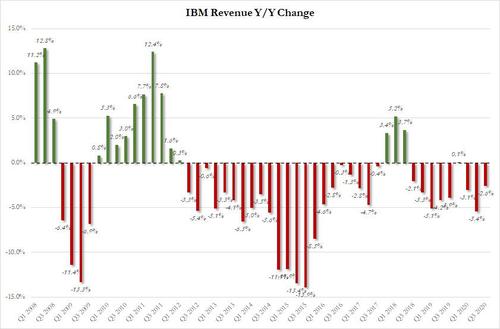 Then again "boosted" may be using the term loosely: at $17.560BN in total revenue, and just shy of consensus expectations of a $17.6BN print, IBM's Q3 2020 was its worst quarter for sales this century, below even the Q1 "covid quarter" revenue of $17.571 billion.
Some more Q3 revenue details, which beat across the key categories:
Cloud and cognitive software revenue $5.55 billion, estimate $5.41 billion
Global business services revenue $3.97 billion, estimate $3.93 billion
Global technology services revenue $6.46 billion, estimate $6.33 billion
Systems revenue $1.26 billion, estimate $1.46 billion
Global Financing revenue $273 million, estimate $280.6 million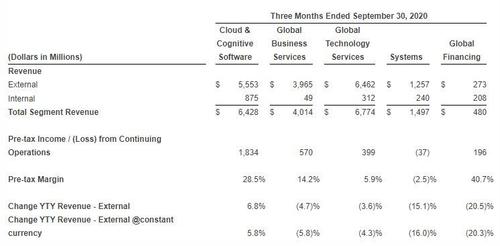 And while IBM's EPS of $2.58 came inline with expectations, and down 4% Y/Y, as usual this was the product of lots of "artificial intelligence" and aggressive accounting magic because the unadjusted EPS was $1.89, or 27% below the adjusted number. The GAAP to non-GAAP bridge was, as usual, ridiculous and a continuation of an "one-time, non-recurring" addback trend that started so many years ago we can't even remember when, but one thing is certain: none of IBM's multiple-time, recurring charges are either one-time, or non-recurring.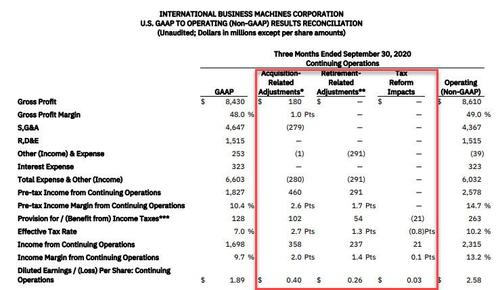 We have said it before, but we'll say it again: here is IBM's "one-time, non-recurring" items In Q2...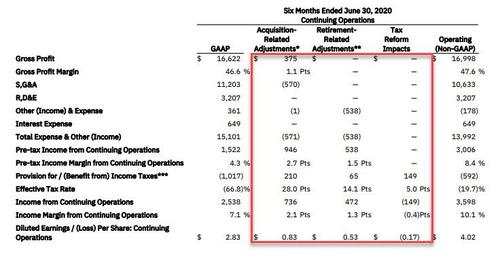 ... in Q1...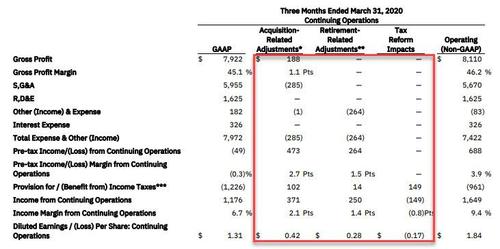 ... and Q4 2019: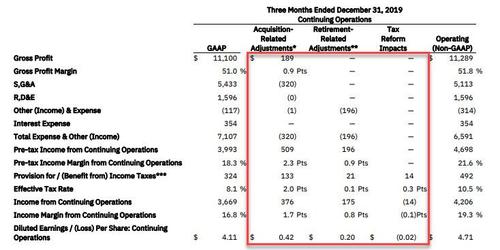 And here is the actual "beat" in context: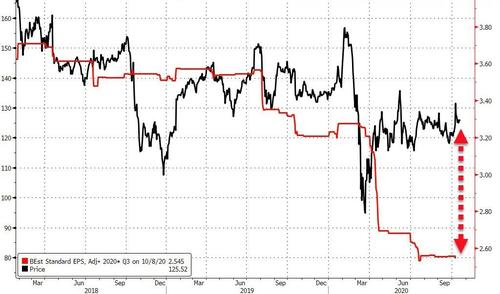 "The strong performance of our cloud business, led by Red Hat, underscores the growing client adoption of our open hybrid cloud platform," said IBM CEO Arvind Krishna. "Separating the managed infrastructure services business creates a market-leading standalone company and further sharpens our focus on IBM's open hybrid cloud platform and AI capabilities. This will accelerate our growth strategy and better position IBM to seize the $1 trillion hybrid cloud opportunity."
To be sure, while IBM was clear to delineate this $1 trillion TAM, just like the past two quarters, IBM did not have enough visibility into the future to give any guidance, yet it was confident enough that no matter what happens it will keep handing almost every penny it makes to its shareholders, and then some: in Q3, when IBM's free cash flow was just $1.1 billion, the company returned all of that and more to shareholders in dividends: some $1.5 billion.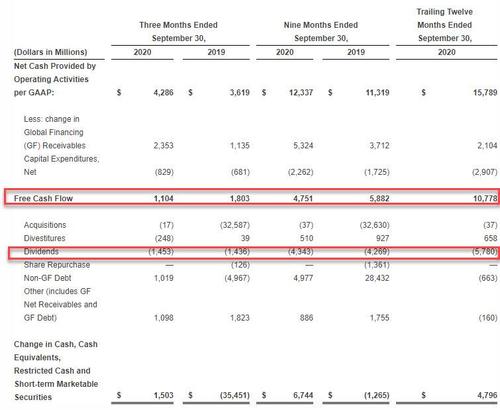 Naturally, that's not how CFO James Kavanaugh saw it: "In the third quarter we continued to deliver strong gross profit margin expansion, generated solid free cash flow and maintained a sound capital structure with ample liquidity. We have the necessary financial flexibility to increase our investments in hybrid cloud and AI technology innovation and skills, while remaining committed to our long-standing dividend policy."
And speaking of cash flow, IBM ended the second quarter with $15.6 billion of cash on hand which includes marketable securities, up $1.3 billion from Q2. Debt, including Global Financing debt of $20.9 billion, totaled $65.4, up from $64.7 billion. 
So while IBM's core business remains a melting ice cube, the bigger concern was the slowdown in Cloud growth, which led to another century-low revenue, and after algos read through the boilerplate, was enough to send IBM stock down by about 1%.