---
Iconic Hedge Funds Amassing Big Positions In Most Shorted Stock, As Soros Reveals Levered Short
Two weeks ago, when the meme stock frenzy made a triumphal return only this time with a 0DTE twist, we published a list of the most shorted names that had been rushing higher in 2023 on the back of the most brutal short squeeze since Jan 2021, when reddit daytraders became instant millionaires overnight after steamrolling such popular bearish hedge funds as Melvin Capital and other levered shorts who needed bailouts to avoid a total wipeout.
The list revealed that the most shorted company, with a short interest as % of float higher even than that of Carvana, was embattled crypto bank Silvergate: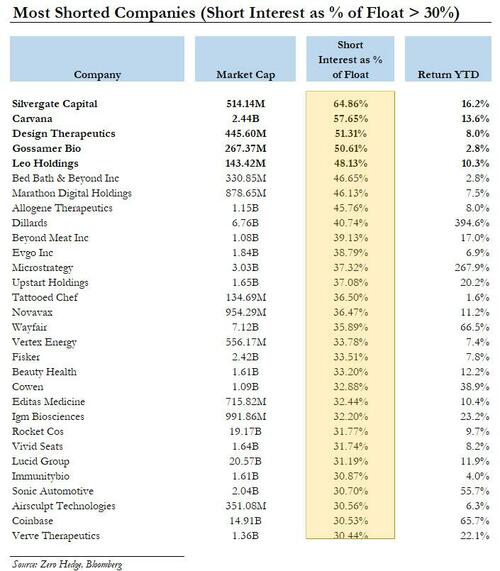 It sported a 65% short interest as % of float, a number that has since risen to a record 66.8% of the float in the form of 20.2 million shares short as of Feb 1...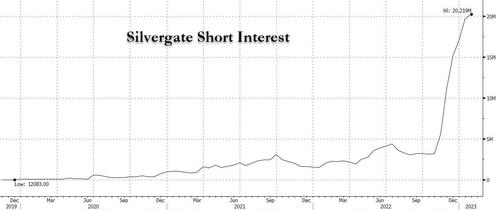 ... or more than two-thirds of the company's entire float!
While one can certainly argue that Silvergate has had its share of problems - especially in the aftermath of the FTX bankruptcy - which has led to the stock price losing some 87% of its value in the past year, the question whether those problems are existential has opened up a fascinating clash on Wall Street, where some of the most iconic hedge funds have amassed huge positions in Silvergate hoping for a powerful reversal in the stock price even as a familiar name, Soros Fund Management, has belatedly taken the other side, by going short on Silvergate using puts.
According to the latest 13F data, Ken Griffen's Citadel filed a 13G form revealing that it is the owner of a 5.5% stake in Silvergate Capital consisting of roughly 1.73 million shares and worth about $25 million.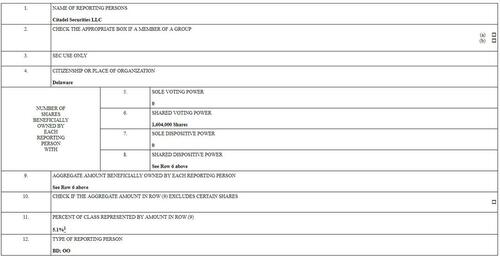 While it was unclear if Citadel's position was a directional bet or merely the result of option-based market making, other hedge funds have also been piling in: on Tuesday another trading firm, Susquehanna, also reported in a 13G filing that it bought about 2.37 million shares, or a 7.5% stake in Silvergate.
The latest moves come after BlackRock said it boosted stake in Silvergate last month. A filing showed that the asset management giant had a 7.2% stake in Silvergate Capital as of Dec. 31, up from its prior 6.3% stake reported a year earlier.
One fund which definitely has a directional bias, however, is Anson Funds Management, whose 13F showed it owned 1.11 million Silvergate shares accounting for 3.5% of the company's outstanding stock. We profiled the $1.6 billion Anson recently in the context of the best performing funds of 2022, when it posted a 7.6% return (remarkable in a year when 98% of hedge funds lost money), and followed 40% returns in both 2020 and 2021...

... as well as an impressive 800% total return since 2007.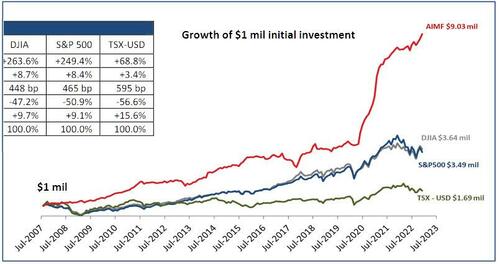 And then there are the likes of Block.one and Bill Miller's Miller Value: last November, Block.one owner Brandon Blumer - original developer of the EOSIO blockchain platform - bought a 3 million stake in Silvergate, equivalent to almost 10% of the float, and making him the single largest holder.
A few weeks later iconic tech investor Bill Miller also boosted his stake in Silvergate by 325K shares to 1.75 million shares, or 5.5% of the float. Roughly at the same time, Millennium Partners also quietly revealed a big stake in Silvergate, when in December the pod-based hedge fund revealed it owns 1.046 million shares, of 3.30% of the float. At roughly the same time none other than iconic quant fund Renaissance also revealed it holds 1.054 million shares as of Dec 31, or 3.33% of the float; while it quant peer, Two Sigma, also revealed that it owns 3.88% of the stocks as of Dec 31. Add to this the 4.26% owned by Marshall Wave as of Dec 31 and you end up with hedge funds and individual investors owning more than a third of the Silvergate float (and that's not even counting Citadel's holdings).
We expect to have an updated Silvergate holders list later today when all the latest 13F filings hit.
Of course, it wouldn't be interest if there wasn't someone notable on the other side - besides the usual retail army which has been aggressively adding to shorts since November - and today we got just that when everyone's favorite Democrat puppetmaster, 92-year-old George Soros through his family office, Soros Fund Management, revealed that he is levered short against Silvergate, holding put options on 100,000 shares of Silvergate, with a market value of $1.74 million, as of Dec. 31.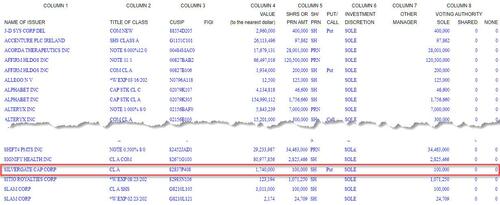 And here is the punchline: while we don't know what the Silvergate short interest as a % of float is today, according to S3 Partners, last week Silvergate had the biggest increase in short interest relative to tradable shares among Russell 3000 Index companies. As the table below shows, S3 calculates that Silvergate's short interest has increased by 8.5% in just the past week; if accurate this would push its total short as a % of float to above 75%. That could be an issue.

Why is that an issue? Well, recall what happens when there are more shorts than float (and look no further than Volkswagen for the answer).
What happens next, and will Soros go the way of Melvin Capital? We doubt it - the fund's short is tiny compared to its overall balance sheet. But that doesn't mean it can't start a modest gamma squeeze if the price of the extremely illiquid stock spikes, which then translates into a full-blown short squeeze. And indeed, when hedge funds collectively own enough float to leave the shorts hanging out to dry should they pull their borrow, making covering of every outstanding share impossible, then things get exciting.
Will the Silvergate hedge fund hotel do this, and are they just waiting for a few more last minute shorts - like Soros - to pile in and push up Silvergate's short as a % of float to even more record highs before they collectively pull the borrow and start the fireworks, we hope to find out in the very near future.
Loading...