---
Ignore The Noise: Job Market Is Cracking As Birth-Death Model "Adds" Near Record 378,000 Jobs
Despite today's laughable, 13th consecutive beat of expectations in a row, a number which is only as credible as Biden's 81 million voters...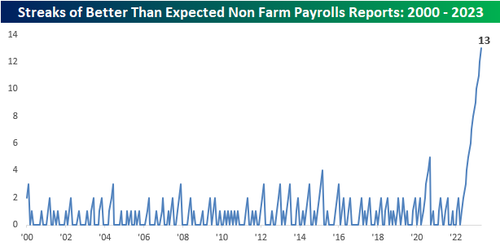 ... the weakening in the US jobs market is gathering pace, and as Bloomberg's Simon White writes, a faster-than-expected deterioration in employment would lead the market to in price more cuts, sooner.
As White notes, month-to-month data points and revisions can often obscure the bigger picture. In the case of the labor market, it is that payrolls' growth is weakening, especially after revisions (what will April be revised to next month).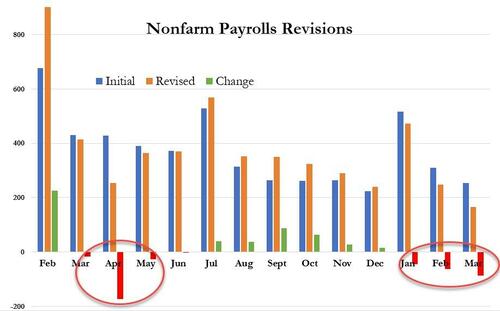 And it's very likely to keep doing so, and at a faster rate, and this can be directly linked to the banking turmoil. There is a very clear and intuitive leading relationship between banks' lending standards and payrolls. The magnitude of the recent tightening in credit from banks points to payrolls' annual growth contracting in the next few months.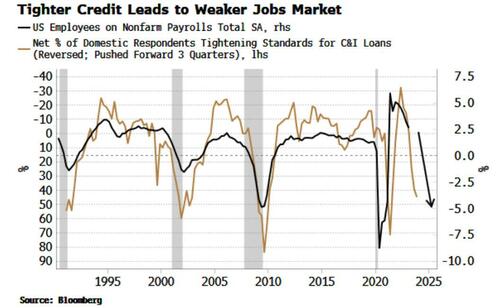 Indeed, there are several other concerns that jobs data should not be taken at face value. Weaker current data and the revision lower of historical data — as happens at turning points, which typically see the largest revisions — would lead to a rapid re-appraisal of the health of the labor market.
Consider this: the birth-death model added a huge 378k jobs to April's payrolls, the second biggest monthly increase on record (only last October was higher)!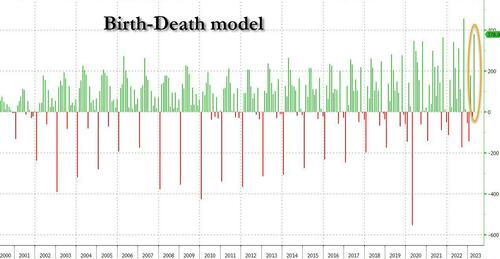 And get this: the birth-death model has added 1.84 million jobs since last March, or a whopping 43% of all payrolls added during this period. This means that almost half of all "job gains" in the past year are from an excel spreadsheet which assumes 1.84 million new jobs were created from new businesses.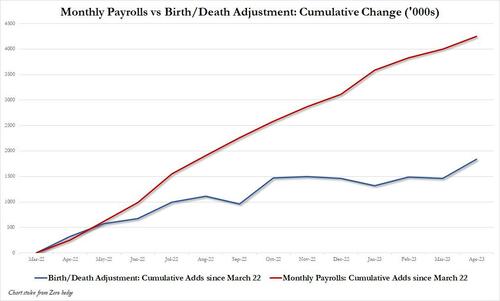 This has come during a period where the employer survey-response rate to the BLS, which compiles the payrolls data, has collapsed.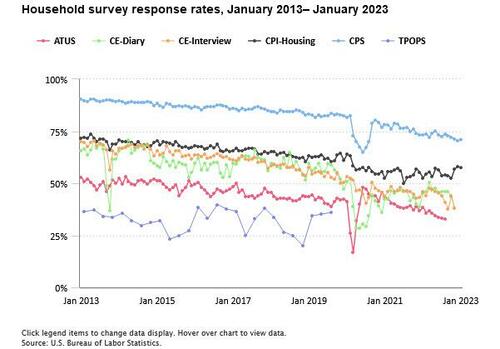 There may be correlation with no causation here, but it is not imprudent to wonder whether, in the absence of as many survey responses, the model has had to more work than usual, and that reported numbers have significantly diverged from the underlying picture.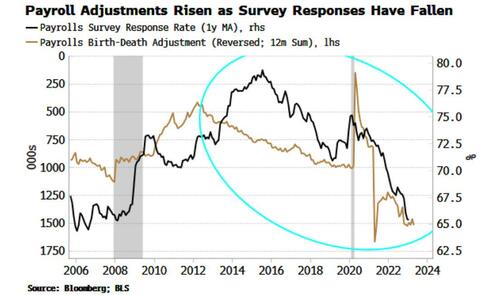 It's also noteworthy that there continues to be a significant divergence between household employment (which counts employees) and the payrolls survey (which counts jobs). Over 1.2 million more jobs have been created than new employees since March last year. It's not a vote of confidence in the jobs market if a rising number of people feel they need more than one position to pay their way.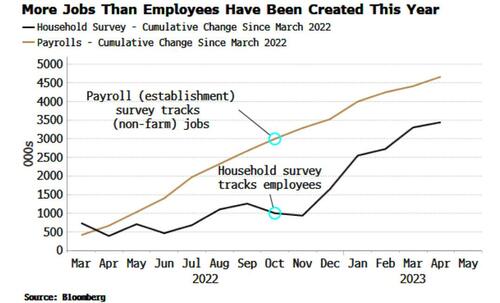 Loading...