---
"I'm In A Really Dark Place": 13 Goldman Junior Bankers Speak Out Against SPAC-Deal "Burnout"
The SPAC boom isn't just taking its toll on investors, whose heads are spinning trying to digest the vast number of new publicly traded "opportunities" being lopped onto the public markets, but also the investment banking employees that have been tasked with the herculean task of getting hundreds of deals done in rapid-fire fashion.
In fact, 13 first year analysts at Goldman Sachs (many of whom likely may not be employed there much longer) have apparently been expressing their "burnout" from working 100 hour work weeks due to the SPAC boom in a presentation that is making its way through social media. The slides have been authenticated by people close to the source, according to a CNBC writeup.
One Goldman analyst commented:
"The sleep deprivation, the treatment by senior bankers, the mental and physical stress ... I've been through foster care and this is arguably worse." A second analyst commented: "My body physically hurts all the time and mentally I'm in a really dark place."
The slides making their rounds online look like this: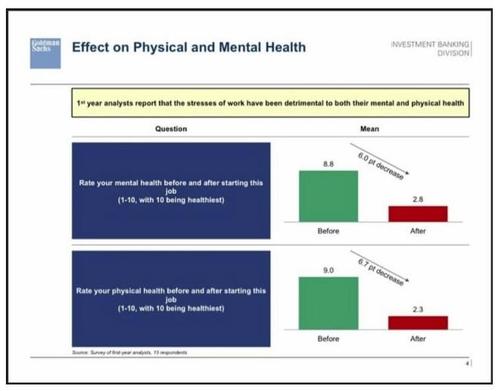 In traditional Goldman-slide format, they include color coded charts and have been formatted to look just like a normal investment banking deck. 
"Junior bankers should not be expected to do any work after 9 p.m. Friday or all day Saturday without a pre-approved exception, as that is the only safe-guarded personal time that we get," one slide says. Another suggests limiting a work week to 80 hours maximum. 
The deck was created by "disgruntled analysts," the report notes. 
But grueling work for junior bankers is a tradeoff that is almost as old as Wall Street itself.
"Junior bankers trade a grueling workload for pay that's higher than the average American salary and a shot at eventually earning multi-million dollar compensation packages as a managing director," CNBC notes. 
Goldman has reportedly commented that it is taking the concerns "seriously" and that executives had met with the employees last month an assured them they would be adding junior bankers to help tackle the massive workload. A Goldman spokeswoman said: "We recognize that our people are very busy, because business is strong and volumes are at historic levels. A year into COVID, people are understandably stretched pretty thin, and that's why we are listening to their concerns and taking multiple steps to address them."
And while that's the comment externally, we'd certainly love to hear the VP level hot takes happening internally...