---
IMF Head Announces $50 Billion Aid Program For Covid-19 Relief
IMF Managing Director Kristalina Georgieva told CNBC's "Squawk Ally" Wednesday that it would launch a $50 billion aid package "immediately" dedicated to combating Covid-19 outbreaks in emerging market countries. This announcement comes after the World Bank said it would fund a $12 billion program on Tuesday to fight the virus that threatens to plunge the global economy into recession.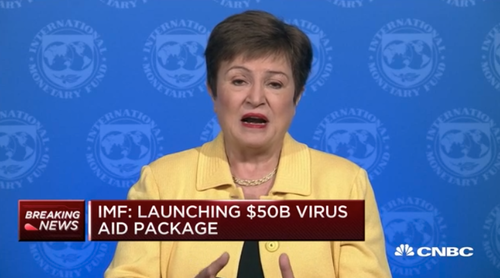 Georgieva told CNBC's Sara Eisen that the aid program would be interest-free and for countries that don't have a pre-existing program with the IMF.
"The $40 billion is for countries that are middle income, and they can approach us and receive the funding immediately. More important is the $10 billion that are accessible for low-income countries. Because most of this money is interest-free. We have signaled to the membership and what we are doing right now is reviewing country by country what are the financial needs and engaging with these countries to make sure that they are aware of this resource and we can immediately respond to them. So, we are in an early stage of engagement. But I can assure you that we will attack very quickly as requests come. What the countries would use the money for, we would like very much to see them prioritizing first and foremost, urgently beefing up their health service capacity so lives are saved, and suffering is reduced. And secondly, to use it for fiscal measures that are well targeted to households, businesses that are most directly impacted by the crisis," Georgieva said. 
Eisen asked the managing director if fiscal measures, such as stimulus, would be needed in the US to combat virus impacts on the economy. Georgieva responded: 
"We believe that all countries should look seriously into the urgency to beef up health systems response. And, yes, that would be money very well spent everywhere. And we also think it is now the time to put in place precautionary measures should the outbreak become more severe. In other words, do we have credit lines for SMEs? Are we thinking of funding workers that cannot go to work because their kids are at home? And these are not measures that we should come with later, we should be prepared now." 
Eisen referenced an earlier interview Georgieva had with reporters on Wednesday, where she said global growth in 2020 looks to be weaker than 2019. She asked the managing director: "How deep will this go?" Here's how Georgieva responded: 
"Well, what we look at are a more benign scenario and a more adverse scenario. In a more benign scenario, the outbreak would be relatively short lived, and the impact would be felt primarily first quarter, second quarter, followed by recovery. In a more adverse scenario, the outbreak would be a more profound. It would go beyond the countries today. We have 75 countries impacted. It would become truly global. There would be more retrenchment, and in a country the impact would look more like China than not. So, where we would lend between those two scenarios, we are looking very carefully at the data, and of course, listening to the epidemiologists to get a handle on what projection we should make. But there are so many things in between those to the more benign and really adverse, in which we would have a longer drop in growth and a slower recovery, versus a shorter drop and a faster recovery. We do need to exercise some -- and accumulate enough bottom-up data from countries, and, source more information from the experts, from the health community. Meanwhile, though, preparedness and action are absolutely critical. It's better to do more than not enough. And the focus has to be on people." 
As far as China's factory restart, Georgieva had this to say: 
"Well, there is some good news coming from China in that regard. Capacity is up to around 60%. We heard today from the Governor Yi Gang that they are aiming by the end of the month to go up to 90%. Of course, we have to caveat that, subject to no revival of the epidemic as factories reopen. But at this point, the news from China is, there is a stepping up in production. There will be a negative impact on this year's growth for China. The leadership there knows it. It is in our expectation. But a stepping up in China, good for China, good for the rest of the world." 
Eisen asked if the fast-spreading virus could tilt the US economy into recession if an outbreak develops here; Georgieva responded: 
"At this point, what we see are two pieces of relatively comforting news. One, the financial system is holding. We are not seeing a major risk. So, all the investment we've done over the last ten years is paying off. And, two, there is quite substantial gearing up on measures so we can slow down the impact and reduce it. And that is, I think, our eyes have to be on what can we do to prevent a more adverse impact. And a big part of it is actually confidence building by communicating clearly where we are, what we know, what we don't know. And act on that basis. Lean forward."
On Monday, the OECD urged governments to act "swiftly and forcefully" with coordinated fiscal stimulus to counter 'severe' economic impacts that have developed from the unraveling of complex supply chains in Asia and abroad. 
On Tuesday, the Federal Reserve was spooked into a 50bps emergency rate cut. Rate traders aren't satisfied with the cut - are now demanding at least another 25bps cut this month. Other central banks on Tuesday followed suit with cuts of their own. 
So far this week, central banks, NGOs, and governments have deployed a mix of monetary and fiscal stimulus to rescue the global economy from a collapse in growth.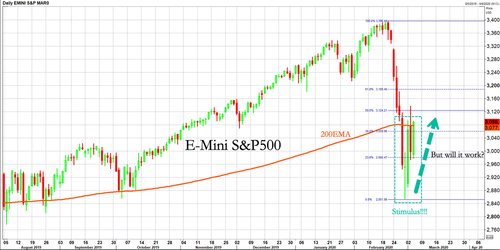 One thing that is clear: All this stimulus, or the hope of stimulus, has pumped E-Mini S&P500 back above its daily 200EMA. Mission accomplished?