---
India's Low Coal Stocks Threaten Electricity Supply
By John Kemp, Senior Market Analyst at Reuters
India's power generators have struggled to rebuild coal stocks so far this winter because consumption is rising faster than the rail network can deliver more fuel from the mines.
Fuel stocks are only slightly higher than this time last year, when inadequate coal supplies coupled with higher than normal temperatures in March and April contributed to widespread blackouts.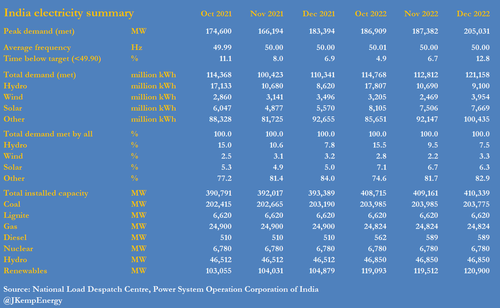 Stocks at power producers are equivalent to less than 12 days of consumption, up from 9 days this time last year but much leaner than 18 days in 2021 and 19 days in 2020.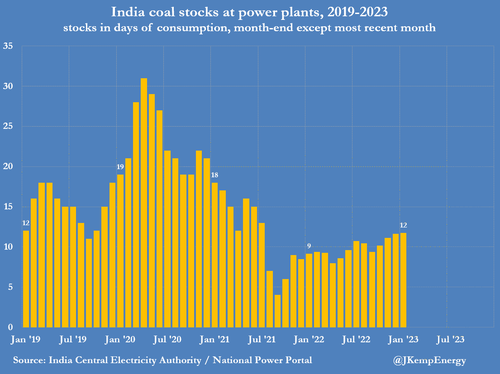 Inventories normally accumulate from October to March, when air-conditioning and refrigeration demand is lower, and deplete from April to September, when cooling demand is high and mine output is disrupted by monsoon rains.
But stocks have increased by only 2.3 days since September 2022, leaving generators poorly positioned to meet higher demand when temperatures climb from March and April onwards.
Thermal generation, mostly from coal, rose by 19 billion kilowatt hours or 7.3% between October and December 2022 compared with the same period in 2021.
Mine output was up by around 18 million tonnes or 9% over the same period.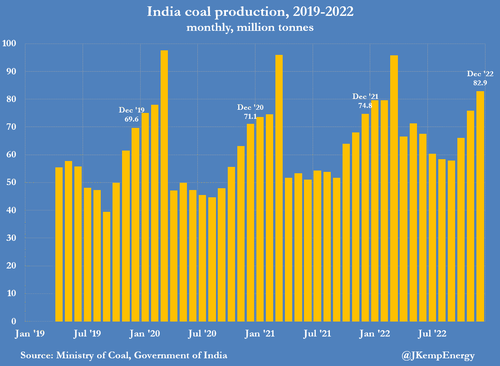 But the coal actually despatched to power producers by the railways increased by just 1 million tonnes or less than 1%.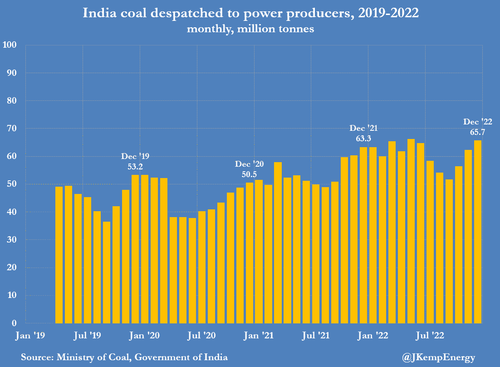 The number of coal trains (rakes) despatched to power producers averaged 258 per day between October and December 2022, insignificantly higher than 256 per day in the same period in 2021.
The number of trains despatched in October was particularly low and the system proved unable to recover lost deliveries in November and December.
"Although coal supply has increased during the fourth quarter, it is not adequate to meet the unprecedented increase in the demand for electricity," the Ministry of Power said in a memorandum dated Jan. 9.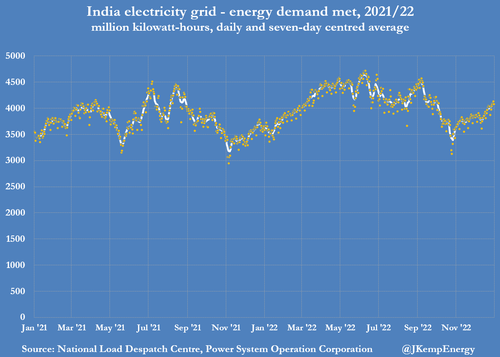 Similarly, efforts have been made to address logistics constraints on the rail network, but it will take some time to resolve them fully, the ministry said.
As a result, the amount of coal consumed by power generators has exceeded the amount arriving from domestic mines by between 100,000 and 300,000 tonnes per day.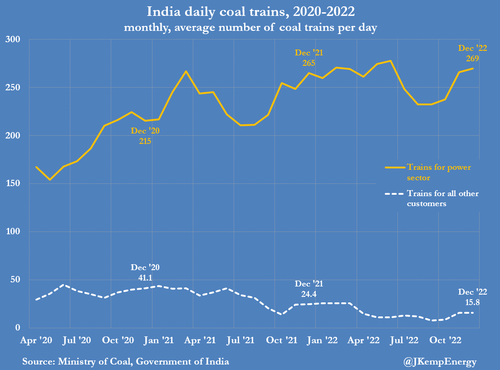 To avert shortages, the ministry has directed generators to import more coal to blend with domestic output ("India to boost coal imports to cope with harsh weather, freight snags", Reuters, January 17).
Resolving railway bottlenecks and accelerating imports will be critical to ensuring there is enough fuel in the pre-monsoon (March-May) and post-monsoon (September-October) periods when power supplies are most stretched.
Loading...