---
Inflation Raises Challenge For Fed To Get Real-Rates Positive
Authored by Simon White, Bloomberg macro strategist,
The peak expected real Fed rate has risen but remains negative, while it remains considerably higher than peak real rates in the UK and Europe.
The Fed minutes on Wednesday underscored the bank's intention to keep raising rates, with the market's expectations of the peak Fed rate rising about 50 bps since the beginning of February.
However, this has still not been enough to take the peak real rate (based off CPI) to positive territory. Core PCE data just released for 4Q22, which was revised up to 4.3% from 3.9%, highlights the Fed's challenge.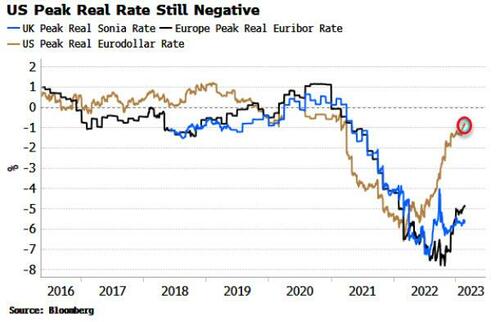 CPI fixing swaps see the real rate going positive in May, based on the implied rates from Fed Funds futures. But this assumes the Fed is able to hike as much as the market expects (55 bps across the next two meetings in March and May).
While March is likely to see a 25-bp rise in rates, enough could still happen in the economy before the following meeting that would cause the Fed not to hike in May.
Furthermore, the current disinflationary trend is likely to end soon (the PCE data were a reminder). Already there has been a notable repricing higher in breakevens, with the inflation-swap curve flattening sharply and inverting over the last month.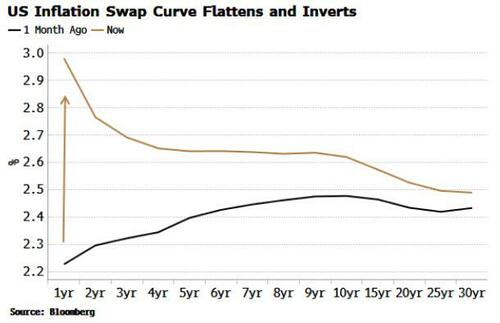 Despite the Fed's tough talk, I think they would weigh a sudden deterioration in the economy more than an easing in disinflation, and be inclined to err on the side of caution.
Nonetheless, as the first chart shows, the expected peak real rate in the US is considerably higher than in the UK and Europe.
This underlines the need for the ECB and the BOE to maintain their hawkish resolve.
The BOE's Catherine Mann today stated she believes it is too early for the UK's central bank to pivot, with inflation still over 10%.
Loading...