---
Intel Declares War On Taiwan Semi (Again), And Wall Street Is Delighted
Intel shocked investors late on Tuesday when chip titan Intel revealed it was challenging Taiwan Semiconductor Manufacturing (TSMC) in the contract chipmaking segment with plans to ramp up production capacity and win over Apple and other key global clients from its Asian rival. CEO Pat Gelsinger said that Intel will expand chip production capacity in the U.S. and Europe, and offer "world-class manufacturing services" to woo customers such as Apple and Qualcomm, two key customers of TSMC.
Intel's entry into the foundry segment - the business of making chips for other companies - comes just over a month after Gelsinger took over as CEO and marks a major strategic shift for the company, which for decades has reserved most of its production capacity for its own use. It also comes as the global tech industry grapples with a severe shortage of semiconductors.
Intel said it plans to spend roughly $20 billion between now and 2024 to build two chip facilities in Arizona. Construction will start immediately and production begin in 2024, according to the company. It will also set up an independent business unit, dubbed Intel Foundry Services, that will report directly to Gelsinger as part of the new growth strategy. The U.S. chip giant said it will continue to expand its production footprints in America, Europe and elsewhere, and will choose locations for that expansion within a year.
Intel's planned expansion in Arizona will compete directly with TSMC, which will also start construction of a $12 billion plant in the state this year. Both projects are intended to serve U.S. and global clients. TSMC has been the sole iPhone processor maker since 2016, and started to manufacture Apple's in-house designed CPUs for MacBook computers since last year, while Intel was losing market share. The Taiwanese chip manufacturer also often splits orders with Samsung to produce high-end mobile processors for Qualcomm.
"We are going to some ... people like Qualcomm, who might have been more competitive before," Gelsinger said in an online group interview. "We also will pursue customers like Apple" in a clear declaration of war on the Taiwan semi giant. Intel said it will also target cloud service provider customers - which could refer to players including Google, Amazon and even Alibaba Group Holding, which are all customers of TSMC.
"The strategy that we are laying out is one that actually gives great opportunities to partners, and in some cases, there may be some 'co-opetition,'" Gelsinger said, referring to a mix of cooperation and competition.
In response to the Intel news, TSMC's shares closed more than 3% lower on Wednesday following Intel's announcement that it will enter the foundry business - a segment where the Taiwanese chip manufacturing giant controls more than 50% of the global market. In a corporate bitch slap, TSMC told Nikkei Asia it will not comment on the plans of Intel, which it described as a "longtime customer."
That said, while Intel has unveiled bold plans, however, analysts say it will not be easy to quickly win over major customers.
"We understand that to regain technology leadership, the new Intel CEO has no choice but to invest more, and entering the foundry business again is an attempt to get more customers to share the cost," said Mark Li, a veteran semiconductor analyst with Bernstein Research. "However it could be challenging as it needs to catch up on technology development while continuing to attract meaningful customers."
To be sure, this won't be Intel's first attempt at taking on the Taiwan chip giant: Intel previously tried to challenge TSMC in 2016, when the U.S. company counted LG Electronics and others as its customers. Delays to Intel's production technology starting in late 2018 derailed that earlier attempt.
Last July, Intel pushed back the debut of its most advanced chip tech - the 7-nanometer process technology - to at least late 2023, leaving it trailing key Asian rivals TSMC and Samsung in the battle for semiconductor production leadership. The smaller the nanometer size, the more advanced and powerful the chips.
Li also pointed to potential conflicts of interest and competition as some customers that Intel hopes to serve - such as Amazon, Cisco, Ericsson, Google, IBM and Microsoft - are also developing their own chips. "If Intel builds customized chips for them, that will compete with Intel's own chip offerings in data center servers and networking equipment," he said.
Arisa Liu, an analyst with Taiwan Institute of Economic Research, said Intel can expect generous government support for its new strategy. "Intel will surely have government backing, as the country has prioritized semiconductor manufacturing and linked it to national security. ... However, it remains to be seen whether Intel can offer cost-efficient solutions to other chipmakers and provide services to different chip developers."
U.S. Secretary of Commerce Gina M. Raimondo praised Intel's investment plan in Arizona, saying it will help "preserve U.S. technology innovation and leadership, strengthen U.S. economic and national security."
In any event, Wall Street was delighted by Intel's declaration of war on Taiwan Semi, and Intel shares rose 3.2% in premarket trading.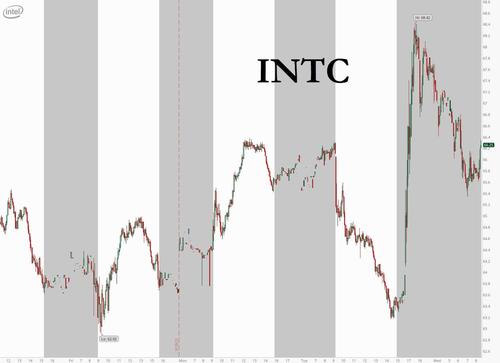 As Bloomberg notes, analysts were largely positive on the company's ambitions to create a new foundry business, though they cautioned Intel will have to prove itself following unsuccessful past attempts to break into the area. Intel's disclosure boosted shares in semiconductor equipment stocks, with Applied Materials gaining 4.4% in premarket trading and Lam Research rising 4.3%. Chip-gear makers KLA, Teradyne, MKS Instruments and Entegris could also be active.
Here's what analysts said about Intel:
Cowen (outperform, PT raised to $81 from $80)
The plan for Intel 2.0 is "very ambitious," question is now on whether company can execute
Intel also guided 1Q21 above, but FY21 below consensus
While Cowen is constructive on Intel's IDM 2.0 model and says this is the right direction, execution risks are high and competition is stiff
Citi (neutral, PT $65)
"There is almost no chance of the foundry business succeeding since Intel needs foundry people to run a foundry business, and they are not doing that"
Removes positive Catalyst Watch on the stock on the expectation that near-term sentiment has peaked
Evercore (in-line, PT $75)
There will be many questions about whether Intel can be successful as a foundry given failure in past
However, the IBM research & development announcement, along with potential customers mentioned like Qualcomm, Microsoft, Apple, suggests this is a much more serious endeavor
Wedbush (underperform, PT $53)
"Pat Gelsinger is doing absolutely the right thing for Intel by reinvesting in the company, but his actions will almost necessarily weigh on earnings and cash flow over the next 2-3 years"
Anticipates a stronger Intel will eventually be more competitive with companies like Advanced Micro Devices and TSMC, but expects the shift will take time; would be a buyer on weakness in both those names
KeyBanc (overweight, PT $86)
Intel's initial foundry effort failed a few years back, though its manufacturing footprint and expertise is a "key competitive advantage"
If Intel can leverage this into a successful foundry service, KeyBanc believes it could provide a "significant" source of growth
Says there is very high demand for foundry services, especially in U.S. and Europe, and there is a "good possibility" of success this time around
Roth Capital Partners (neutral, PT raised to $65 from $60)
Intel's 1Q21 preliminary guidance update is "positive"
Broker is "encouraged" that Intel's new CEO is committed to manufacturing leadership and investment
A flexible hybrid fab-foundry supply model and newly formed foundry service business unit will serve the company well