---
"Intensity Models Show Big Development Late Week": All Eyes On The Atlantic As Hurricane Season Nears Peak 
Gert and Katia remain active systems churning in the Atlantic, but a new tropical wave off Africa caught the attention of the National Hurricane Center. 
As of Monday morning, Invest 95-L was several hundred miles southwest of Africa's Cabo Verde Islands, with a 90% probability of tropical formation in the next seven days and 70% in the next two days.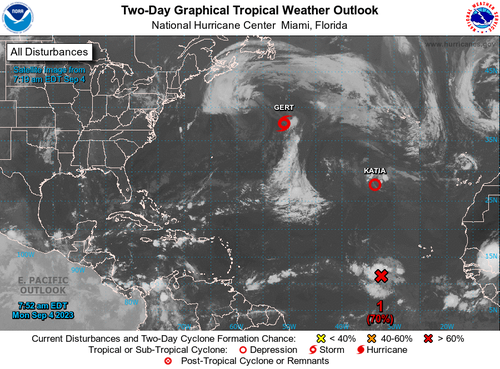 "Showers and thunderstorms continue to show signs of organization in association with a tropical wave located several hundred miles southwest of the Cabo Verde Islands. Environmental conditions are forecast to be conducive for further development, and this system is expected to become a tropical depression around midweek," NHC wrote in an early Monday morning update. 
NHC continued, "Additional strengthening is likely late this week while the system moves westward to west-northwestward at 15 to 20 mph over the central and western portions of the tropical Atlantic." 
Meteorologist Eric Burris from WELSH, a local media outlet in Daytona Beach, Florida, posted on X that the tropical wave's new models show a potential track toward the Northeast Caribbean. 
Brand new model data coming in for Invest #95L. This system looks to get strong by late week, but will it have the chance to re-curve and stay out to sea?

That's the hope, and just about all global models show it. Let's just keep eyes on em for consistency to build confidence pic.twitter.com/5HJyB6b9Ic

— Eric Burris (@EricBurrisWESH) September 4, 2023
Burris posted an intensity model that suggests the storm could reach Category 1 status on the Saffir-Simpson Hurricane Wind Scale by the end of the week. 
Intensity models are really starting to show big development late week...

Here's the newest data... pic.twitter.com/p6kQBbzBD9

— Eric Burris (@EricBurrisWESH) September 4, 2023
The hurricane season is nearing the peak.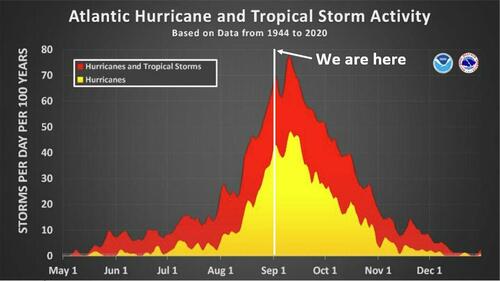 The meteorologist said even though the models point to the Caribbean islands and perhaps the US East Coast. Some models show it could turn north and stay out to sea. 
Loading...