---
Interactive Brokers Hikes Margins By 35% Ahead Of Election Market Chaos
Retail investors giveth, and retail investors taketh away.
For much of the past 6 months, euphoric Robinhood daytraders and other retail investors have been cited among the key drivers for the market's relentless meltup which culminated earlier this month, incidentally just as that retail darling momo stock TSLA peaked on news it would not be included in the S&P500. One problem: unlike institutional investors who have virtually unlimited access to funds thanks to their prime brokers (until they are margined out of course, often with catastrophic consequences), retail traders are at the mercy of their balance sheet, which in turn is in the hands of their brokerage account such as Robinhood and Interactive Brokers.
Which is why the overnight news that Interactive Brokers, one of the most popular platforms among retail investors, high net worth individuals and family offices was raising its initial and maintenance margins by a whopping 35% sent a ripple across markets: surely there were numerous retail investors who suddenly were facing margin calls, and they had a choice - either add more funds or liquidate positions. Judging by the market's reaction, many have picked the latter. 
In a notice sent late on Tuesday, the brokerage founded by electronic trading pioneer and billionaire Thomas Peterffy, said it would increase both initial and maintenance margins starting from September 28 — amounting to a 35% increase - by October 23. The reason: highlighting "elevated option implied volatilities" which indicate that the markets will be confronting elevated volatility both before and after the November 2020 election, Interactive Broker "shares that sentiment and believe it's appropriate to start controlling leverage in a measured fashion in advance." As such the move is designed to protect "both IBKR and its customers" from a potential hit if the election triggers abrupt market declines.
To avoid a sharp selloff, the gradual rise in margins will be implemented after the close of trading each day, rising "from normal levels starting September 28th to a rate that will be 35% higher by October 23rd."
Speaking to the Financial Times, Steve Sanders, Interactive's executive vice-president of marketing said "we are continuously evaluating the current market environment and our margin requirements are a reflection of that."
Interactive Brokers appears to have learned from its recent mistakes, the most glaring of which took place on April 20, when many of the broker's clients were caught on the wrong side of the collapse in oil prices, which sent crude as low as -$40. The company agreed to pay $88m in margin calls owed to clearing houses.
As the FT notes, IBKR's decision "is a sign that market intermediaries are stepping up their preparations for large price swings around the US election, particularly as retail trading has exploded in popularity during lockdown, with many amateur investors betting on a continuing rally in stocks." Indeed, other brokers are considering similar moves: "Matt Brief, chief product officer at UK-based broker IG, said the company will decide "nearer the time" of the election on whether to raise the minimum amounts needed for financing trades."
As we have discussed in recent days, futures markets are pricing in large price swings in financial markets for late October and early November, resulting in a deep "humping" in VIX term structure which spikes around the election...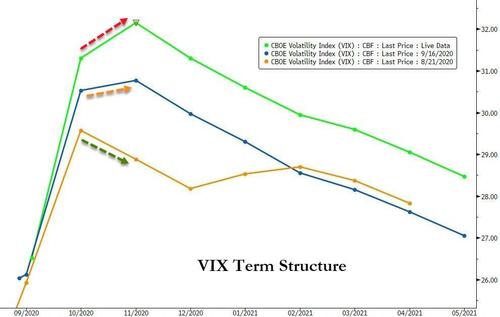 ... and one which according to Nomura's Charlie McElligott could be a "career maker or breaker."
IBKR concludes that it may make additional changes to the margin on certain products, or all products, depending on volatility. "This includes changes built into the standard margin model as well as any new house margin requirements that may be imposed."
The full note is below: