---
Investor Home Purchases Collapse Most On Record
Residential real estate brokerage firm Redfin released new data that revealed a record-breaking drop in homes purchased by investors in the first quarter. This sharp decline is due to a combination of elevated interest rates and sliding home prices, which impacts potential future returns. With investors retreating to the sidelines, buyers in the market have dramatically shrunk, and price wars have eased. 
Redfin data shows investors purchased 48.6% fewer homes in the first quarter compared with the same period last year. This was the most significant plunge on record. 
To illustrate just how the Federal Reserve's 14 months of aggressive interest hikes have chilled a major buyer of the residential real estate market, Redfin shows the record-breaking pullback in the chart below: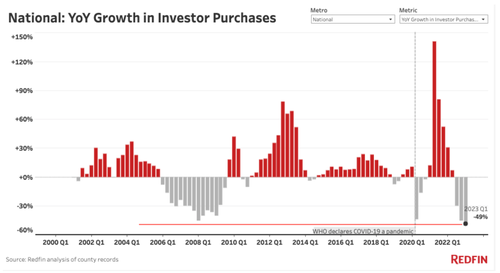 The brokerage said the investors still in the market have shifted to buying or flipping more affordable properties due to tightening credit conditions. Getting financing for lower-priced homes is easier, and there's more demand. Low-priced home purchases surged to a two-year high, and a record 41.1% of investor purchases in the quarter were starter homes. 
Redfin Senior Economist Sheharyar Bokhari said overall, investors have "pumped the brakes on home purchases." However, he said, "They're still scooping up a bigger share of homes than they were before the pandemic, which can create challenges for individual buyers at a time when there are so few homes for sale." 
Investors made up 17.6% of the market in the first quarter, down from 20.4% a year earlier. Still, the investor share of purchased homes is near record levels. 
The rapid increase in the 30-year fixed mortgage rate to over 7%, not seen since the Dot Com bust, has been the main driver in cooling demand. 
In a separate report, Lotfi Karoui, chief credit strategist at Goldman Sachs, offered some good news to clients that mortgage rates are expected to top around these levels and fall to under 6% in 2024.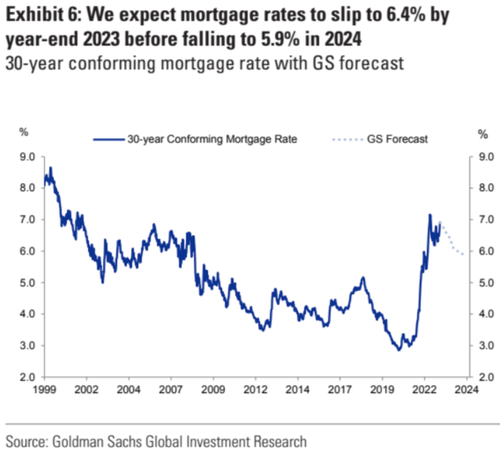 Karoui pointed out that housing affordability has slightly improved but remains at decade lows.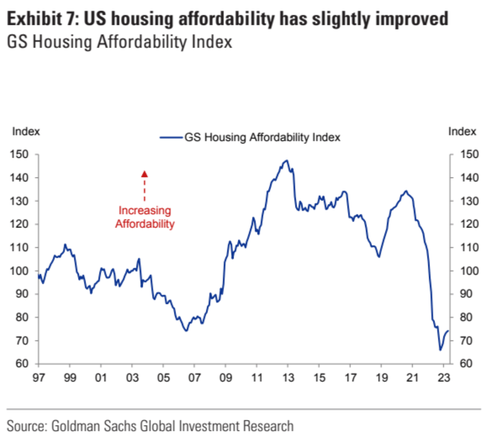 And the inventory of existing homes remains extraordinarily tight.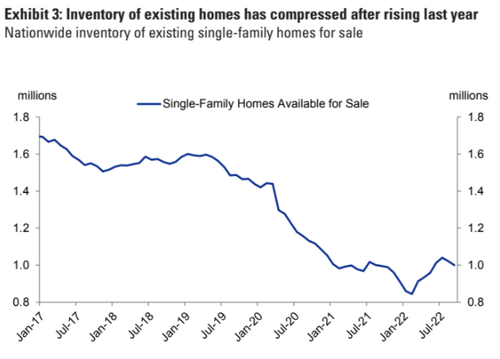 "Beyond 2023, we expect a rebound in home prices as the impact of policy tightening subsides. While our economists think another policy rate hike this year is a possibility, their baseline expectation is that the Fed has ceased policy tightening. History indicates that home prices tend to grow after the conclusion of a hiking cycle, using 1995, 2000, and 2018 as a guide," the Goldman analyst noted. 
The silver lining is that investors are no longer saturating the market and sparking price wars as they did before and during the Covid era. Financing deals is becoming more challenging due to the increased cost of money, which is expected to continue to weigh on home purchases. 
Loading...