---
Investors Expecting Fed To Accept Entrenched Inflation
By Nour Al Ali, Bloomberg markets live reporter and analyst
Breakevens and inflation swaps show market inflation expectations still above the Fed's 2% target...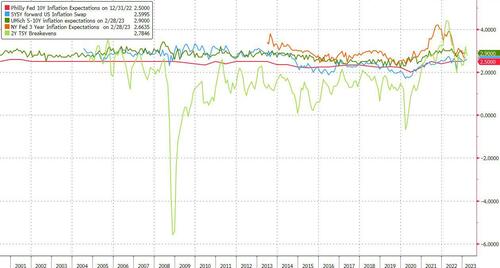 ... which coupled with money-market expectations of a Fed rate-cut as soon as the summer...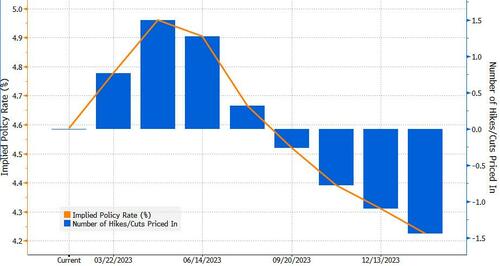 ...  is a sign that investors expect the Fed to potentially accept that inflation may remain higher than its target and far more entrenched in the economy as financial stability remains a concern.
For much of the current tightening cycle, the market has been at odds with the Fed as it prioritized its fight to tame inflation. When Chair Jerome Powell testified in Congress last week, the market listened and sent yields soaring, interpreting his initial appearance as a strong sign of the Fed's hawkishness. He said that policymakers were prepared to increase the pace of rate hikes if needed, adding that nothing about recent data suggested that the Fed has tightened too much.
The next day, Powell softened his tone, stressing that no decision had been made on the pace of rate hikes, and that policymakers were looking to be guided by the wave of upcoming data. Jobs, which showed a tight labor market, along with CPI and PPI data, which would give clarity on price pressures. Since then, the SVB meltdown led to significant repricing across global assets and investor expectations of the Fed's rate-hike path.
Treasuries, particularly at the short-end, have given back some of the gains they've seen during the market mayhem. The yield on short-end USTs was up close to 30 basis points on the session, climbing past 4.3% after today's inline data. It remains to be seen what the next few data prints hold, and how it will inform both the market and the Fed ahead of its decision this month.
Loading...