---
Investors Quickly Dump US-Listed Firms That Do Business In China 
Fathom's China Exposure Index (CEI) measures the performance of US-listed firms that do business in China relative to that of their peers. Since the beginning of April, CEI has declined sharply amid China's credit growth moderating, Beijing's crackdown on Alibaba founder Jack Ma, and escalating tensions between the US and China. 
Firms in the CEI derive between 15% and 85% of their revenues from China. Pinpointing the exact cause of the April dump of US-listed firms with earnings highly correlated to Chinese economic activity is not entirely known. 
Shown below is the CEI versus The Wilshire 5000 Total Market Index. Notice the jaws pattern that has developed since April? There are times CEI and overall US stocks are highly correlated and other times where the correlation breaks down (such as in Decemmeber 2020).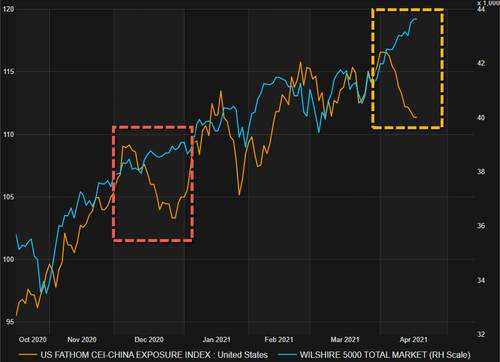 So what's driving the dump in CEI? 
As we've previously noted, the continued slowdown in growth in China's total social financing (TSF) and M2 is a bit concerning. At this rate, the country's "credit impulse, or the change of new credit as a percentage of GDP, could start to shrink by July or August just as the Fed may lay the groundwork for its own tapering," said Bloomberg's Ye Xie notes. This confirms what we've discussed over the last couple of months.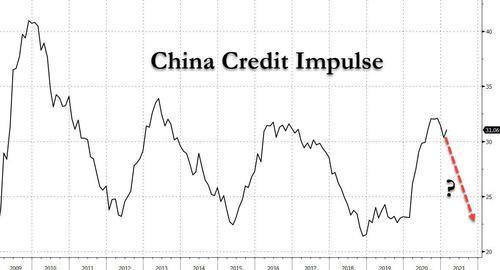 As a reminder, the credit impulse first reaches assets that are driven primarily by the Chinese economy (Chinese bond yields and industrial metals). Next to be impacted are inflation breakevens and sovereign yields in Western economies. The peak correlation for other growth-sensitive assets such as eurozone banks and AUD/JPY arrives with a bigger lag of around 4-5 quarters. This result, while logical, is quite significant, as it gives us a playbook for the ebb and flows in Chinese credit impulse.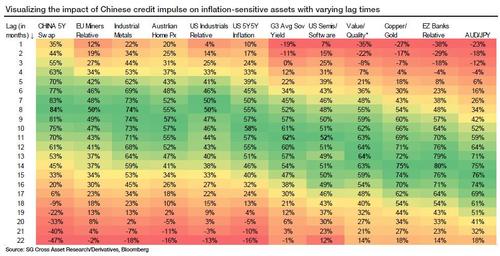 Or maybe investors are realizing the full implications of Beijing's rapid assault against Jack Ma's internet empire... 
Further, escalating tensions between US and China were exhibited at China's flagship business event, Boao Forum for Asia, on Tuesday when President Xi Jinping called for new world order. He cautioned US global leadership and warned against economic decoupling. 
"International affairs should be handled by everyone," Xi said. He did not name the US in his speech but directed comments at Washington's efforts to decouple supply chains from Asia. 

"The rules set by one or several countries should not be imposed on others, and the unilateralism of individual countries should not give the whole world a rhythm," he said.
The latest dump in the CEI could even be the start of the trickle-down effects of china's credit impulse impacting global assets, simultaneously, the US is in the process of decoupling some of its supply chains. 
Sell now and ask questions later?