---
iPhone Sales Stumble, Consumers Flock To Low-Cost Phones, Says Counterpoint
New estimates from Counterpoint Research published Monday (seen by Apple Insider) show US smartphone sales volume tumbled 25% YoY in 2Q20. 
Counterpoint said Apple iPhone sales in the US plunged 23% in the period, but volumes increased through the quarter, due mostly to the low-cost iPhone SE.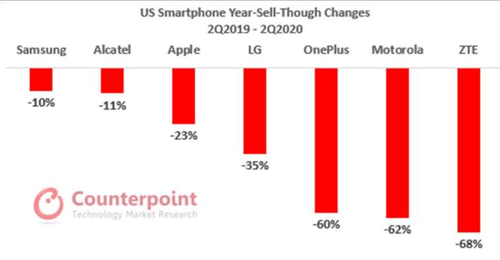 Sales of iPhone SE were propelled through the quarter because of the reopening of retail stores and promotional deals at Walmart, Metro by T-Mobile, and Boost.
"Apple volumes grew through the quarter and were especially helped by iPhone SE volumes. The device has been successful and selling above expectations in both postpaid and prepaid channels," said Jeff Fieldhack, Counterpoint's North American Research Director.
We outlined in May, credit and debit card data showed some folks were using their stimulus checks to buy iPhones. 
Counterpoint doesn't believe increasing iPhone SE sales volume would deter customers from purchasing new iPhones with 5G technology later this year.
 "Our checks show that iPhone SE sales are unlikely to be cannibalizing fall 5G iPhone sales. iPhone SE buyers are more pragmatic about price, less concerned with 5G, and the smaller display is not considered a hindrance," Fieldhack stated.
Fieldhack also said the low-cost iPhone is attracting Android users, and estimates at least 26% of iPhone SE users have switched from an Android device. 
Apple shares are up 34% YTD.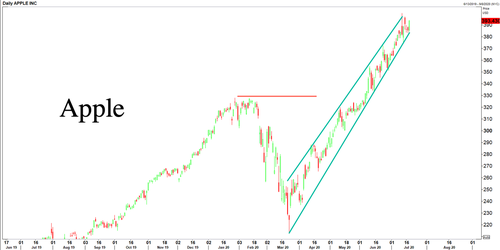 Apple trades at a high premium versus 2020 earnings per share estimates mean of 37 analysts that follow the tech stock.

As consumers gravitate to cheaper iPhones during the virus-induced recession, this doesn't bode well for demand for +$1,000 iPhone with 5G network capabilities, expected to be debut in the coming months.