---
This Is The False Signal That Sent ISM Manufacturing Unexpectedly Soaring In December
After yesterday's debacle in Markit's US Manufacturing PMI (which rose against expectations of a drop thanks to supplier delivery times rising being judged as a 'positive' instead of a clear negative due to trade flow disruption on lockdowns), analysts expected ISM's Manufacturing survey to signal further deterioration occurred in December (unless slow supplier delivery times are also attributed as a positive).
As hard data has declined aggressively, Manufacturing PMI is at its highest since 2014 while ISM's Manufacturing survey prints at 60.7 - smashing expectations of 56.8 and well above the 57.5 in November...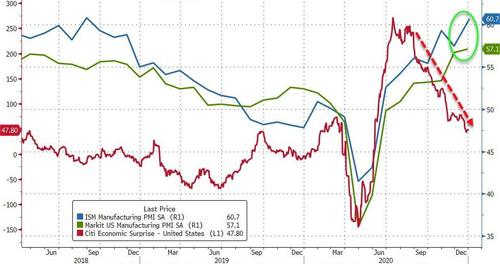 Source: Bloomberg
ISM's Tim Fiore writes that "The manufacturing economy continued its recovery in December. Survey Committee members reported that their companies and suppliers continue to operate in reconfigured factories, but absenteeism, short-term shutdowns to sanitize facilities and difficulties in returning and hiring workers are causing strains that are limiting manufacturing growth potential. However, panel sentiment remains optimistic (three positive comments for every cautious comment), an improvement compared to November.
Labor market difficulties at panelists' companies and their suppliers will continue to restrict the manufacturing economy expansion until the coronavirus (COVID-19) crisis ends.
And this is why ISM soared - Supplier Delivery Times are rising fast...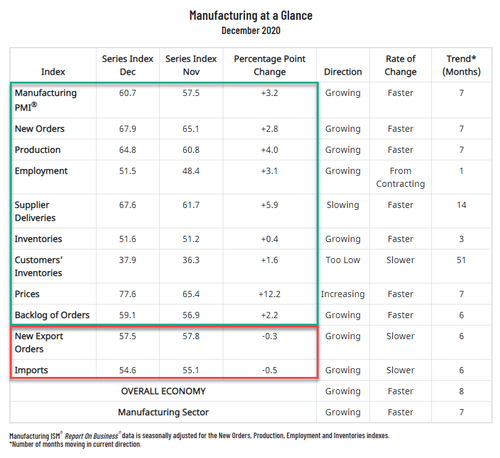 ...and as far as the models are concerned that must be an indication of huge demand... rather than disruption in the global supply chain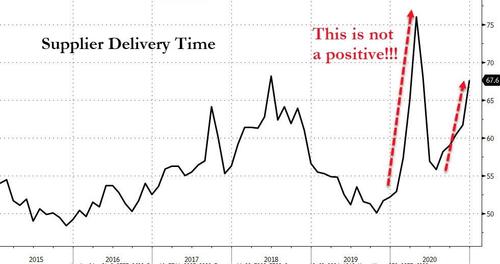 Source: Bloomberg
As Export Orders drop... again!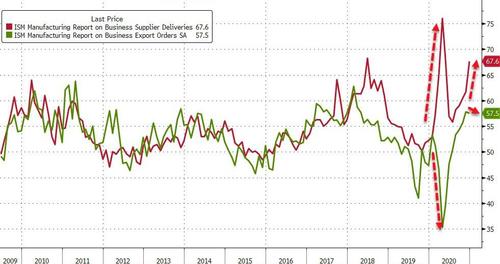 Source: Bloomberg
We await the correction from ISM to "fix" this issue and downwardly revise ISM once again.