---
"It Would Be A Huge Shock To The Market" - What Happens If The Dec 15 Tariffs Kick In
Now that it appears that the December 15 tariffs are "going forward" despite weeks and weeks of "optimism" that they had been indefinitely postponed, Wall Street is starting to get very unpleasant flashbacks to last December, when the S&P plunged so much, it was the worst December since the Great Depression.
Will Trump risk it all again?
Well, with the S&P starting its descent at 3,150, and with the Fed actively engaged in QE4, he certainly has far more "buffer room" to engage China much more forcefully this time around, and instead of kicking the can again, actually impose the 15% tariffs on $160 billion in Chinese imports on December 15.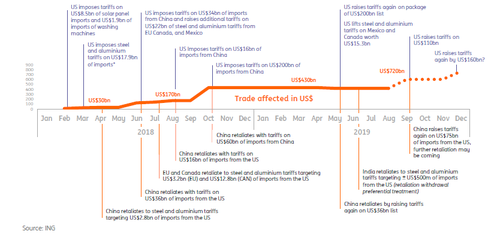 And while the US may (or may not) end up victorious in such a showdown, it will give Wall Street strategists - who have all flipped a U-turn and reversed from extremely optimistic to suddenly pessimistic - copious opportunities to impress their clients with superlatives such as this one from Manulife managing director Sue Trinh, who said that "if tariffs scheduled for Dec. 15 are implemented it would be a huge shock to the market consensus," adding that "Trump would be the Grinch that stole Christmas" if the December 15 tariffs go through.
Here are some other impressive, if generally meaningless soundbites, from the same analysts who a week ago were scrambling to describe in the most glowing terms just how wonderful the market's meltup is:
Tongli Han, chief investment officer at Deepblue Global Investment:
"What happened recently makes this trade deal more costly for Chinese leaders -- so I'm seeing a gloomy future for the short term, one-to-two months", Han said in an interview with Bloomberg TV.
"It will be definitely risk-off across the screen."
 Steve Brice, chief investment strategist at Standard Chartered private bank:
"It's time for investors to take a little bit of risk off the table, said Brice on Bloomberg TV. "It looks like it's going to be pushed to the beginning of next year at the best case." The message to investors is "maybe trim a little bit of equity exposure, or certainly not chase the market at this stage. But look to do so in the next few weeks if we see a 5-to-7% pullback."
Longer term, Brice remains optimistic "the U.S. and China will still strike a deal of some sort. That will reduce uncertainty and help the global economy do well."
Kerry Craig, global market strategist at JPMorgan Asset Management
"A key concern is markets have already priced in the prospect of a trade deal that has yet to be signed" Craig said on Bloomberg TV.
"There had been a lot of optimism built in around a trade deal and it's still the thing that will weigh on markets over the coming months. In the meantime we need to see more of a pick-up in the global economy to really offset some of those uncertainties."
Eli Lee, head of investment strategy at Bank of Singapore
"I'd fade the correction today," Lee told Bloomberg TV. The renewed tariff pressures on South America and Europe are likely an effort to bolster Trump's "tariff man" image ahead of a trade deal with China.
"With the economy in a very delicate situation, if this came on, it would seriously ratchet up the risk of a recession -- and the White House wouldn't want this situation going into the 2020 presidential election next year," Lee said.
Chris Weston, head of research at Pepperstone Group
"We could face a wild day," Weston said in a note to clients. The S&P 500 is likely to fall about 2%, with currencies including the yuan, Australian dollar and Korean won also likely to move, he said.
A relief rally may be in the offing afterward, particularly if there's agreement to revisit talks in 2020.
Christopher Smart, chief global strategist at Barings Investment Institute
"Even if there is a trade deal, it doesn't solve most of the issues that we still have with China," which is something that markets are going to have to reflect in time, Smart said on Bloomberg TV. "In fact, it probably makes the relationship more difficult to manage, because we've taken tariffs off the table."
Smart said "time is running out" to get a deal done this year, given the logistics involved in setting up a presidential meeting. What does offer solace is that global central banks have eased policy and injected liquidity, postponing the recession that investors had been worrying about.
Philip Shaw, chief economist at Investec
"We would hope that a bout of common sense breaks out," Shaw told Bloomberg TV. "Don't forget that this situation is very volatile -- it swings to and fro. We wouldn't interpret too strongly events of one day."
Source: Bloomberg