---
"It's Just Not Safe": Decades-Old Baltimore Business Closes Shop Because Of Crime, Blames Democrats
In cities stretching from Washington, D.C., to Baltimore, New York City, Chicago, and numerous cities along the West Coast, progressive leadership has failed to enforce law and order. These crime-ridden metropolises are experiencing an exodus of businesses of all sizes due to a tidal wave of thefts. 
The latest incident comes as a mom-and-pop business, operating in Baltimore City for more than four decades, has been forced to shutter operations because of numerous armed robberies. 
Jody Rosoff, the owner of Doc's Smoke Shop in Baltimore's Highlandtown neighborhood, told local media Fox 45 that she has been robbed at gunpoint for the second time in six months and just recently had to shoot an intruder. 
"This is our second armed robbery in six months," Rosoff said. 
She said her business has been operating in the city for decades and now has to close up shop because "it's not safe for anybody on this street that's a small business owner." 
"We have been here in the city for 44 years. For 44 years, we've paid property taxes, retail sales taxes, and we have employed people. It's just not safe. It's not safe for my employees or for me. It's not safe for anybody on this street that's a small business owner. We can't afford armed security. The business just isn't there."
It turns out the robber was a convicted felon with a lengthy record spanning more than two decades. She pointed to the city's progressive leadership for "soft on crime policies" that keep dangerous people on the street. 
"Shame on the mayor, shame on the judges, and the prosecutors and our former state's attorney for letting this happen to Baltimore City," Rosoff said.
Meanwhile, in the city's downtown district, shootings, carjackings, muggings, and out-of-control packs of teenagers are wreaking havoc. 
Just a late night run at the great Baltimore City's #InnerHarbor #SpringBreak vibes #SpringBreak2023 #Baltimore #Maryland #น้องวินอยากเป็นพี่วิน #TAEHYUNGxCELINE #SuccessionHBO #Succession #ChaguoSmartNaAirtel #Maryland #Taiwan #TikTok #SummerMMFF2023 #INVASION #Russia… pic.twitter.com/X36btbT65g

— Daniel Barahona (@GlobalSETT) April 10, 2023
Why Democrat leadership has let the city deteriorate so badly is beyond comprehension... There is no accountability with leadership's failed policies. However, businesses are leaving (read: "Entire Downtown Is Effectively Dead:" Baltimore City Descends Further Into Turmoil).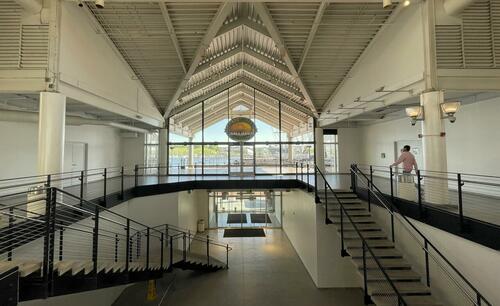 Beyond Baltimore, businesses across NYC, Chicago, Portland, and San Francisco, to name a few, are leaving as crime surges. While Democrats don't want to be accountable for their failed policies, a symptom of such failure is the exodus of companies (as well as people). 
The exodus of liberal cities is an ongoing theme post-virus pandemic and will continue until law and order is re-established. Just look at the chaos earlier last week in San Francisco. 
Wild Video from Oakland California sideshow street Takeover last night

(@ppv_tahoe) Video footage was filmed on the 100 block of 10th street overnight.#oakland #sideshow #california
📸 _okpatrick pic.twitter.com/Nc6laXxTEB

— PPV-TAHOE - News Journalist (@ppv_tahoe) May 6, 2023
Democrats have transformed parts of this country into a clown world by abandoning law and order. 
Loading...