---
Jack Ma's Ant IPO Signals Start Of De-Dollarization
Authored by Bloomberg macro commentator Ye Xie
Monday's trading saw a continuation of recent themes.
Winners among the sectors least affected by the virus: the Nasdaq Composite Index rose to another record
More government and central bank stimulus is coming: 10-year real Treasury yields are inching toward an all-time low, and the two-year Italian BTP yield turned negative again
The stimulus suppresses asset volatility
The dollar has peaked. The DXY Index is testing the post-Covid lows
Buying the dip in risky assets makes sense because they have an imbedded call option on a vaccine. As time passes by, the chance of a medical breakthrough increases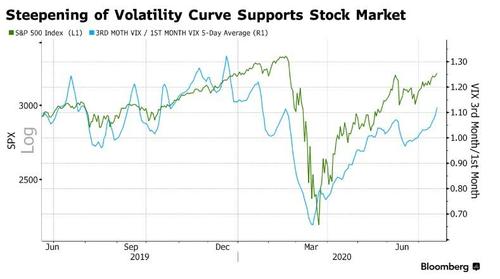 Back in China, the biggest news overnight was that Jack Ma's Ant Group is seeking a valuation of more than $200 billion as it goes public in Hong Kong and Shanghai. It could seek to raise more in its IPO than Saudi Aramco's record $29 billion haul, according to a person familiar with the matter.
The significance of this deal is multifold:
It would be the biggest IPO ever on mainland exchanges, smashing the record $10 billion debut by Agriculture Bank of China in 2010.
It signifies the rise of New China in the form of private high-tech companies, as opposed to the Old China dominated by state-owned banks and energy giants.
And it lends much needed credibility to the Shanghai stock exchange's STAR board, which is designed to harbor tech startups.
More importantly, the choice of Shanghai and Hong Kong for listing signals China's deliberate efforts to reduce its reliance on the U.S. capital market for fund-raising amid the tension between the two countries. Already, Chinese and Hong Kong exchanges accommodated the world's biggest four public listings this year, including Semiconductor Manufacturing International Corp. and JD.com.
In the debt market, China's borrowing in foreign currencies seems to have also peaked. The external debt was little changed at $1.3 trillion last year, after rising 16% in 2018 and 22% in 2017. Dollar-denominated debt accounted for 83% of the total foreing debt outstanding, according to the State Administration of Foreign Exchange.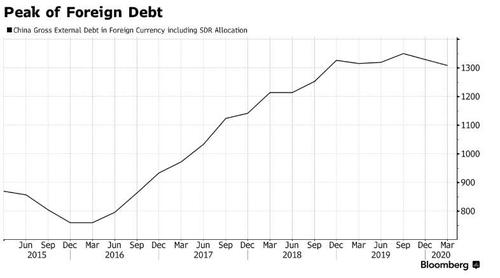 Considering everything from the U.S.'s threat to delist Chinese companies, to moves to strip Hong Kong of its special status, it's more than clear that China is starting its process of de-dollarization and furthering the internationalization of its own currency.