---
January Payrolls Explode To 517K, 8-Sigma Beat To Expectations; Unemployment Rate Tumbles To Record Low
Ahead of today's payrolls report, we warned that there is the possibility for a lot more "market whiplash" because as Goldman explicitly warned, there is the risk for an outlier strong report in January due to massive seasonal adjustments...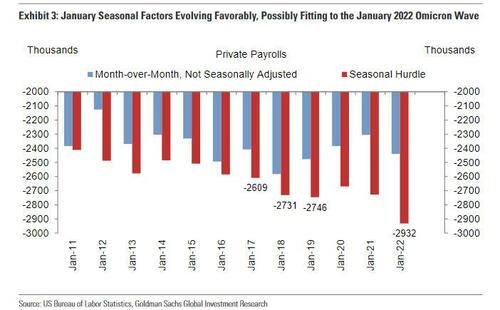 ... which when coupled with historical revisions to both the Household and Establishment surveys, could lead to a massive beat. That's precisely what happened when moments ago the BLS reported that instead of the 188K expected number, in January the US created a laughably goalseeked 517K jobs (at a time when mass layoff news hit every 45 minutes), up twice from last month's upward revised 260K and the highest since July 2022!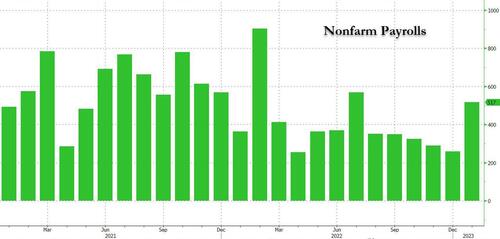 Of this 517K, service jobs contributed 397K while government jobs adds an additional 74K. As always, leisure and hospitality was one of the reasons for the high print. The sector added the most jobs since September, primarily at restaurants and bars.  Yes, the waiter and bartender recoveryTMcontinues apace.

This was note a 6, not a 7 but an 8-sigma beat relative to expectations!

For those keeping track, this was a record 8th consecutive beat relative to expectations.
Even more laughable, the upwardly revised Household survey showed that employment soared 894K in January, the biggest increase since Jan 2022 when it soared over 1 million and with the December 717K surge, employment suddenly gained a massive 1.611 million in the past two months!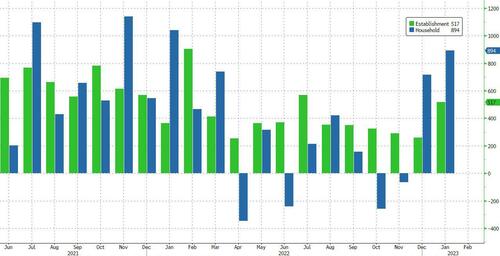 The 517,000 January payrolls jump compared with an average monthly gain of 401,000 in 2022. And of course, there were revisions: the change in total nonfarm payroll employment for November was revised up by 34,000, from +256,000 to +290,000, and the change for December was revised up by 37,000, from +223,000 to +260,000. With these revisions, employment gains in November and December combined were 71,000 higher than previously reported.
So what's going on here: Well, as we said yesterday...
It's not the January payrolls report. It's the January seasonal adjustment report. Lat year it was 2.9 million pic.twitter.com/Dn2CygV4FP

— zerohedge (@zerohedge) February 3, 2023
.... this would be all about seasonal adjustments and sure enough, that's precisely what happened because while the unadjusted payrolls actually cratered by a record 2.505 million, the seasonal adjustment factor was more than 3 million, the biggest in history!
While payrolls were a ridiculous print, at least hourly earnings grew somewhat in line with expectations, rising 0.3% for the month or 10 cents, to $33.03 - as expected - and up 4.4% Y/Y, just above the 4.3% expected, and down from an upward revised 4.8%.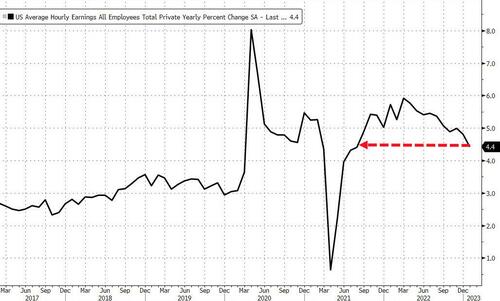 As the bloomberg chart below show, wage growth is accelerating in some sectors.

More remarkably, after sliding for months, the average workweek for all employees on private nonfarm payrolls rose by 0.3 hour to
34.7 hours in January, the biggest monthly surge since the end of the covid crash. In manufacturing, the average workweek increased by 0.4 hour to 40.5 hours, and overtime increased by 0.1 hour to 3.1 hours.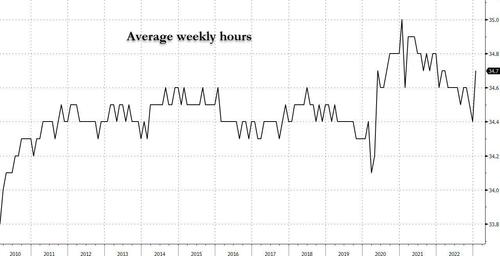 And while we joked yesterday that the ongoing mass layoffs would prompt the BLS to cut the unemployment rate to a record low if for purely political purposes...
We are getting one mass layoff announcement every 45 minutes now.

According to the BLS this translates into record job openings, record low initial jobless claims and record low unemployment.

— zerohedge (@zerohedge) February 1, 2023
... the joke was on us: according to the BLS, the Unemployment rate really did drop to a record low 3.4% from 3.6% (technically not record, the lowest ever was 2.6% in 1953 but it will do).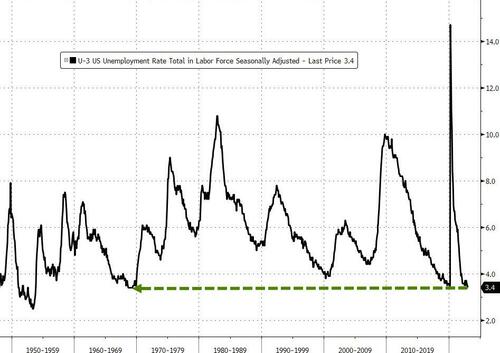 Among the major worker groups, the unemployment rates for adult men (3.2%), adult women (3.1%), teenagers (10.3%), Whites (3.1%), Blacks (5.4%), Asians (2.8%), and Hispanics (4.5%) showed little change in January, but it is worth noting that the unemp rate for blacks dropped to a record low, from 5.7% to 5.4%.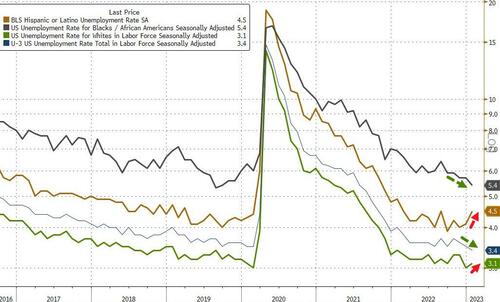 Meanwhile, the labor-force participation rate ticked up, to 62.4% from 62.3%: the Fed which has discussed this in the past, will be pleased.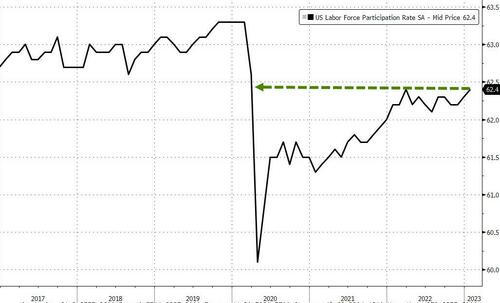 Looking at the composition of the report, job growth was widespread in January, led by gains in leisure and hospitality, professional and business services, and health care. Employment also increased in government, partially reflecting the return of workers from a strike.
Leisure and hospitality added 128,000 jobs in January compared with an average of 89,000 jobs per month in 2022. Over the month, food services and drinking places added 99,000 jobs, while employment continued to trend up in accommodation (+15,000).
In January, employment in professional and business services rose by 82,000, led by gains in professional, scientific, and technical services (+41,000). Job growth in professional and business services averaged 63,000 per month in 2022.
Government employment increased by 74,000 in January. Employment in state government education increased by 35,000, reflecting the return of university workers after a strike.
Health care added 58,000 jobs in January. Job growth occurred in ambulatory health care services (+30,000), nursing and residential care facilities (+17,000), and hospitals (+11,000).
Employment in retail trade rose by 30,000 in January, following little net growth in 2022 (an average of +7,000 per month). In January, job gains in general merchandise retailers (+16,000) and in furniture, home furnishings, electronics, and appliance retailers (+7,000) were partially offset by a decline in health and personal care retailers (-6,000).
Construction added 25,000 jobs in January, reflecting an employment gain in specialty trade contractors (+22,000). Employment in the construction industry grew by an average of 22,000 per month in 2022.
In January, transportation and warehousing added 23,000 jobs, the same as the industry's average monthly gain in 2022. Over the month, employment in support activities for transportation increased by 7,000.
Employment in social assistance increased by 21,000 in January, little different from the 2022 average gain of 19,000 per month.
Manufacturing employment continued to trend up in January (+19,000). In 2022, manufacturing added an average of 33,000 jobs per month.
Employment showed little change over the month in other major industries, including mining, quarrying, and oil and gas extraction; wholesale trade; information; financial activities; and other services.
* * *
Reactions to the report were uniformly shocked: "Extremely hawkish," said Dennis DeBusschere, founder of 22V Research."But it is what it is. Maybe some seasonal stuff going on. Or something else that is not in the headline reading. But wow...." Some more reactions;
"Wow. Just...wow," said Win Thin, global head of currency strategy at BBH. "Strong across the board; headline, revisions, details all point to an extremely tight labor market."
"A stellar job report! The only caveat is that the BLS incorporates some annual revisions into the January report. That might make some data more difficult to compare to prior periods than normal", said Academy Securities' Peter Tchir.
"The January jobs report showed extremely robust growth, higher than the highest estimate in the Bloomberg survey" said Anna Wong, chief US economist for Bloomberg Economics. "If it seems too good to be true, that's because it is -- the gain is mostly due to seasonal factors. Still, it can't be denied that the labor market remains tight. The Fed likely won't place too much weight on this report in formulating policy."
"Is Powell now wondering why he didn't push back on the loosening in financial conditions?" asks Seema Shah, chief global strategist at Principal Asset Management. "It's difficult to see how wage pressures can possibly soften sufficiently when jobs growth is as strong as this and it's even more difficult to see the Fed stop raising rates and entertain ideas of rate cuts when there is such explosive economic news coming in."
According to Bloomberg chief rates strategist Ira Jersey, the much stronger-than-expected payrolls report may finally be the data point that convinces the market the Fed won't be cutting this year.
"As such, we think the long-end range may once again be re-tested with the 10-year Treasury topping 3.75% again, but we think a more pronounced selloff unlikely. Meanwhile a re-test of 4.4% on the two-year note seems possible if 2023 rate cuts are priced out."
Well no: the market response was predictably risk off, with two-year Treasury yields climbing almost 11 basis points, although as BBG notes this is "arguably a restrained move given this massive jump in jobs." And looking at interest-rate futures, they still don't fully reflect a 25-basis-point rate hike at the Fed's March meeting. It's 22.5 right now. As for the second half, the market is expecting about 40bps of rate cuts by Dec 2023 starting in June.
Loading...