---
January Payrolls Huge Beat: 467K Jobs Added As December Revised Massively Higher; Earnings Overheating
So much for all those hoping that January payrolls would be a huge miss (due to Omicron or not) and perhaps slow the Fed's rate hike intentions: moments ago the BLS unleashed a two-for-one shock when it unveiled that not only did January payrolls print at a huge 467K, almost four times higher than the 125K expected (and as a reminder, Goldman expected -250K)...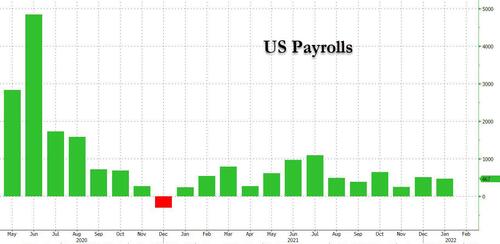 ... but the BLS also revised December payrolls from 199K to 510K. And there's more: as part of the BLS's annual revisions, November was revised from 249K to 647K. This means that the previous two months revisions were 709K higher! A quick look at the historical adjustments shows that covid may have never happened with every month rising on average about 500K!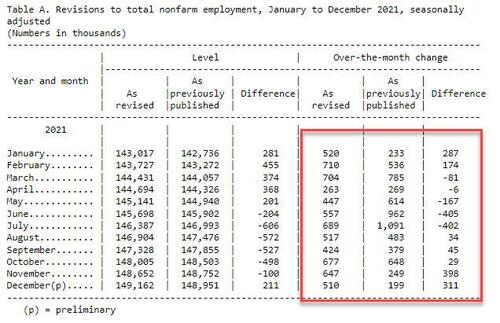 The print was a 3-sigma beat relative to expectations. Putting it in context, not a single analyst out of 78 expected a number anywhere close to this and in fact the print came in at double the highest forecast.

And here is BLS explaining that it got the tap on the shoulder:
In accordance with usual practice, the seasonal adjustment models are updated as part of the annual benchmark process. As a result of the updates, there were some large revisions to seasonally adjusted data that mostly offset each other. (See the note at the end of this news release and table A for information about the revisions, the annual benchmark process, and the seasonal adjustment model updates.)
But wait, there's more: because while the seasonally adjusted payrolls number showed an increase of 467, the unadjusted data showed a plunge of 2.8 million!
It gets better: the Household survey showed a gain of 1.2 million jobs in January (from 155.975MM to 157.174MM), as the labor force soared by 1.3 million people, while the number of people not in the labor force plunged by 300K from 99.842MM to 99.516MM.
Ridiculous payroll revisions aside (and we will have more to say on this shortly) the unemployment rate rose modestly from 3.9% to 4.0%, above the consensus expectations of an unchanged number.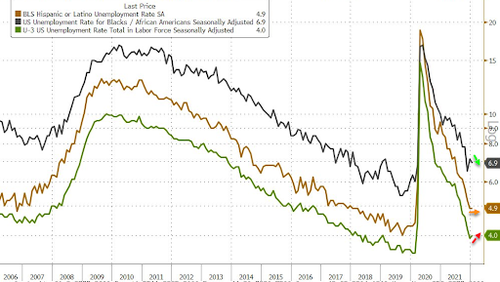 The participation rate also jumped, rising from 61.9% to 62.2%, beating expectations of an unchanged print...
... and in keeping with the maximum employment theme, undermployment is now at pre-covid levels.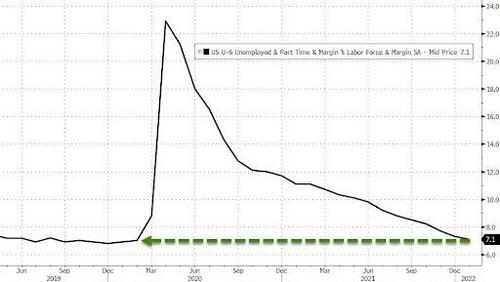 While it is unclear how credible any of this data is now, it is also worth noting that average hourly earnings also came in far hotter than expected, with  average hourly earnings rising 0.7% M/M (more than the expected 0.5%) and 5.7% Y/Y, smashing expectations of 5.2%.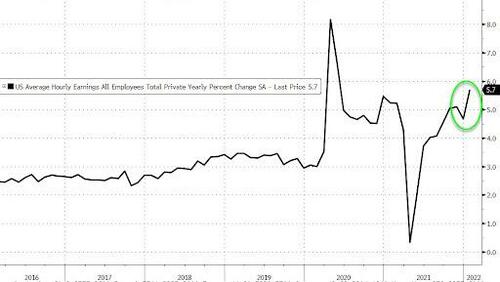 The 5.7% Y/Y increase was the fastest increase since May 2020. That's when the entire U.S. economy was just starting to reopen from widespread lockdowns, pushing up most indicators from historic lows.
That said, total hours worked unexpectedly dropped from 34.7 to 34.5, which more than explains the surge in earnings.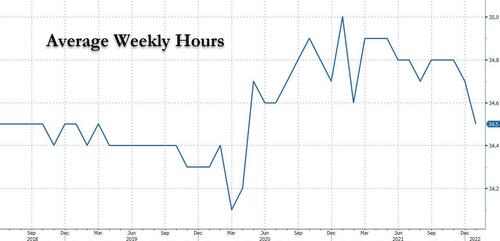 According to Bloomberg's Carl Ricadonna, "the drop in hours worked confirms what we already knew for January -- that omicron significantly impacted work. However, it is also an important indication not to take the above-consensus average hourly earnings data at face value, because low-wage workers out sick lead to an upward distortion on labor cost pressures."
Some more notable highlights from the highly questionable report:
In January, the share of employed persons who teleworked because of the coronavirus pandemic increased to 15.4 percent. These data refer to employed persons who teleworked or worked at home for pay at some point in the 4 weeks preceding the survey specifically because of the pandemic.
In January, 6.0 million persons reported that they had been unable to work because their employer closed or lost business due to the pandemic--that is, they did not work at all or worked fewer hours at some point in the 4 weeks preceding the survey due to the pandemic. This measure is considerably higher than the level of 3.1 million in December. Among those who reported in January that they were unable to work because of pandemic- related closures or lost business, 23.7 percent received at least some pay from their employer for the hours not worked, up from the prior month.
Among those not in the labor force in January, 1.8 million persons were prevented from looking for work due to the pandemic, up from 1.1 million in the prior month. (To be counted as unemployed, by definition, individuals must be either actively looking for work or on temporary layoff.)
Here is the breakdown by industry:
Leisure and hospitality employment expanded by 151,000 in January, reflecting job gains in food services and drinking places (+108,000) and in the accommodation industry (+23,000). Since February 2020, employment in leisure and hospitality is down by 1.8 million, or 10.3 percent.
Professional and business services added 86,000 jobs. Job gains occurred in management and technical consulting services (+16,000), computer systems design and related services (+15,000), architectural and engineering services (+8,000), and other professional and technical services (+7,000). Employment in temporary help services continued to trend up (+26,000). Employment in professional and business services is 511,000 higher than in February 2020, largely in temporary help services (+185,000), computer systems design and related services (+161,000), and management and technical consulting services (+151,000).
Retail trade employment rose by 61,000 in January. Job growth occurred in general merchandise stores (+29,000); health and personal care stores (+11,000); sporting goods, hobby, book, and music stores (+7,000); and building material and garden supply stores (+6,000). Retail trade employment is 61,000 above its level in February 2020.
Employment in transportation and warehousing increased by 54,000 in January and is 542,000 higher than in February 2020. In January, job gains occurred in couriers and messengers (+21,000), warehousing and storage (+13,000), truck transportation (+8,000), and air transportation (+7,000). All four of these component industries have surpassed their February 2020 employment levels, with particularly strong growth in warehousing and storage (+410,000) and couriers and messengers (+236,000).
Employment in local government education rose by 29,000 in January but is down by 359,000, or 4.4 percent, since February 2020.
Employment in health care continued to trend up (+18,000) over the month but is down by 378,000, or 2.3 percent, from its level in February 2020.
Wholesale trade added 16,000 jobs in January, with gains in both durable goods (+11,000) and nondurable goods (+8,000). Employment in wholesale trade is 125,000, or 2.1 percent, lower than in February 2020.
Commenting on the report, Bloomberg notes that "there is something for everyone here -- bond bears can point to strong headline growth and wages, while low-rate apologists can cite the increase in participation as a sign that supply is coming back to the labor market. How we square that rise in participation with the anecdotal evidence of people sitting out their jobs because of Covid is a question for the statisticians."
The market reaction has been to take the headline and wage growth at face value, though the reaction seems a bit extreme given the reliability of the data. I'd also perhaps think that the Fed will be overt in welcoming an increase in the participation rate, so would be a little leery of selling the front end into a hole.
As noted above, the big delta with the expectations was the seasonal adjustment, and as Pierpont says the omicron impact can be seen if you take out the benchmark revisions from the household survey data:"If we exclude the impact of the annual revision, the January readings would have been -137K for labor force and -272K for household employment."
Going back to Bloomberg Intel, in house strategist Ira Jersey writes that "for the Treasury market, the risk that curves will flatten faster than the forward is very possible. We still think the curve will flatten this year, and see risk that the 3- and 5-year underperform on yield curve butterflies over the near term."
As he further notes"the question now becomes will such a strong report (similar to a 1.1 million print with revisions) bring back talk of a 50-bp hike in March?"
The bottom line comes from Dennis DeBusschere, founder of 22V Research: "Net net, labor market is super strong, the Fed still has to tighten and March rate hike expectations have gaped higher."