---
The "Wolf Of Wall Street" Is Back To Pitching Penny Stocks
Now that Robinhood has cut off the data feed that powered RobinTrack, we don't have quite as much visibility into the activities of the army of newly minted day traders, inspired by the suddenly ill Dave "El Prez" Portnoy to try to parlay their free government checks into free money by following the aphorism "stocks only go up" (in their limited experience, that has proven mostly true).
And unsurprisingly, it appears this surge in retail interest has prompted another wave of hucksters and 'market gurus' looking to con gullible mom-and-pop traders out of their hard-earned cash. And in what is perhaps the worst reflection on Jay Clayton's America since the SEC let Elon Musk walk away with a slap on the wrist (allowing the Tesla founder to publicly humiliate the agency)  Jordan Belfort, the Stratton Oakmont founder better known as "The Wolf of Wall Street", is once again pitching penny stocks.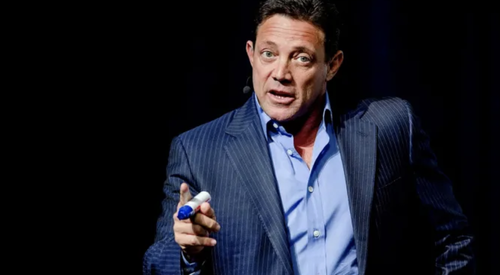 Jordan Belfort
According to a report in Wedneday's FT, Belfort has signed on with fast-growing "RagingBull.com", a website that offers pricey "online courses" purporting to teach mom and pop traders how to make "millions" with penny stocks. According to a statement from RagingBull delivered to the FT, Belfort will "share his favourite trading sectors" with retail investors and teach them how to "learn from your mistakes" and "take advantage of opportunities" in a series of videos.
The "Wolf of Wall Street" has signed up as a coach on RagingBull, a US stock-trading training platform that has drawn fire for its high-pressure sales tactics. Jordan Belfort earned the nickname by offloading worthless penny stocks to retail investors at Stratton Oakmont, the brokerage he ran in the 1990s, which was described as "a quintessential 'boiler room'" by the Securities and Exchange Commission. He was sent to prison and barred from association with any broker, dealer, investment company or investment adviser. Now, he will "share his favourite trading sectors" with retail investors and teach them how to "learn from your mistakes" and "take advantage of opportunities" in a series of videos, RagingBull said on Wednesday. The company added that he would not be giving advice on specific stocks, companies or investment strategies.

[…]

"The market has been flooded with new accounts and traders and a lot of them don't know what they're doing," said Mr Belfort.
But that's precisely it. A lot of mom and pop traders are stepping up, and as usual, the ones looking to take the easy way out will fall prey to scams.
Some of RagingBull's classes run up to $14,000, which is perhaps why the business (founded in 2011 by two charlatans) has been widely derided as a scam. The Better Business Bureau says the company has more than 100 complaints (the company says most have been resolved) and former customers told the FT that the company continued to bill them after they cancelled their subscriptions, and when they requested a refund, the company asked them to sign an NDA as a condition of getting their money back.
Keith Elliott, a retired construction worker in Angleton, a town in British Columbia, tried unsuccessfully 17 times to cancel the auto-renewal feature for one set of services that totalled $4,000. He has paid the company more than $14,000 for training over the past three years and said few services have proven useful. "I definitely did not make any money courtesy of RagingBull," he told the Financial Times.

Tom Steel, a retiree in Palm City, Florida, paid $199 to receive four trade ideas from Mr Bishop but received only two. His request for a refund was refused until he filed a complaint with the Better Business Bureau and the attorney-general of New Hampshire.

"You're constantly being bombarded with emails to sign up to other things that cost thousands of dollars," Mr Steel said.

The company's marketing is "a well-oiled machine," said Sydney Budina, a real estate broker in Miami who paid $2,999 in 2017 for tips to trade biotech stocks. The following year he was billed for the same amount again despite opting out of the programme. The company offered him a refund in exchange for signing a non-disclosure agreement, which he refused. He has since launched a website to highlight the grievances of RagingBull customers.
Then again, if you buy a stock that Jordan Belfort is pitching, and you actually expect that you might turn a profit, well, that staggering lapse in judgment is on you.