---
Jesus Take The Wheel: Bill Hwang And Cathie Wood Could Be "On The Same Trajectory"
By now, we know that Bill Hwang was a mentor to Cathie Wood and that both investors had a penchant for bringing religion into their investing methodology, as we noted in a report we published days ago.
But a new Bloomberg piece shines even more light as to how close Wood and Hwang were in the investing world. A new report that details how Hwang lost $20 billion in 2 days also highlights how he was "on the same trajectory" as Wood. 
For example, in 2016, Hwang was invited to a weekend retreat put on by Princeton Theological Seminary that was set up to "connect Christians in finance". The Saturday keynote dinner that weekend featured Wood, who was then a startup manager and and an adviser to the ministry.
After then, Hwang became an investor in Wood's firms, and "Archegos and ARK collaborated on industry research," the report notes. Hwang is "a backer" of Wood's, as we pointed out last week. Wood, like Hwang, holds Bible study meetings in her office.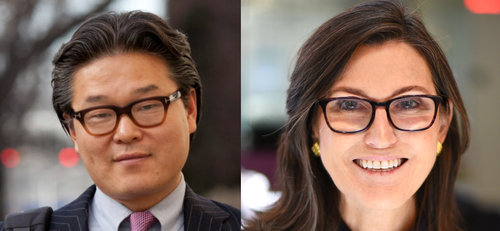 While pitching a Google thesis in 2019, Hwang said: "God also cares about fair price, because the scripture said God hates wrong scales. My company does a little bit, our part, bringing a fair price to Google stock. Is it important to God? Absolutely."
At one point, Hwang "appeared to be channeling the same thesis as Wood" with his stock selections, the report says. And now, they don't mean gamma squeezes - they said Hwang was targeting "technological disruption."
And while we ultimately know the fate of Hwang's firm, Cathie Wood is still flying high. In fact, it was reported this week that Goldman Sachs is taking a page out of her playbook by planning to create the Future Consumer Equity ETF, which seeks to focus on technology, lifestyle and values of the younger generation. 
It's Goldman's first actively managed equity ETF, the type of security Wood found success with in her flagship ARKK ETF.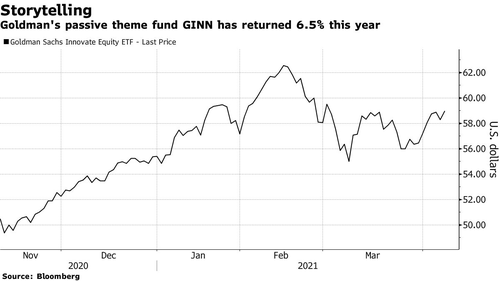 Todd Rosenbluth, director of ETF research for CFRA Research, said: "Given the success of Ark in the past year, many asset managers are seeking to tap into growing investor demand for actively managed equity ETFs using in-house expertise."
80% of global ETF investors are looking to increase their exposure to thematic products this year, the report notes. For Wood, whose recent strategy appears to be having her ETFs buy up her own ETFs and heavily concentrating herself in relatively illiquid names, she better hope that the survey is right.
Otherwise it truly could be a "Jesus take the wheel" type moment - as Bill Hwang recently experienced.