---
Job Market Cracks: Initial Claims Unexpectedly Soar To The Highest Since October 2021
And just like that, the job market has finally cracked.
One week after the latest JOLTS report confirmed the sharp deterioration in US jobs as the number of job openings tumbled for moments ago Biden's DOL finally threw in the towel on initial claims data manipulation when it reported that in the latest week, a whopping 264K initial jobless claims were reported, a spike from the 242K the week prior and a huge miss to the 245K consensus estimate. Worse, this was the highest print since October 2021, and unfortunately, it's all uphill from here.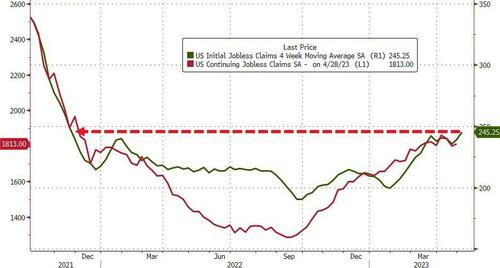 The print was a 4-sigma miss to expectations, and was above the highest forecast made by the 45 economists participating in the survey.

As shown in the next chart, this was the 5th consecutive initial claims report that has come below expectations.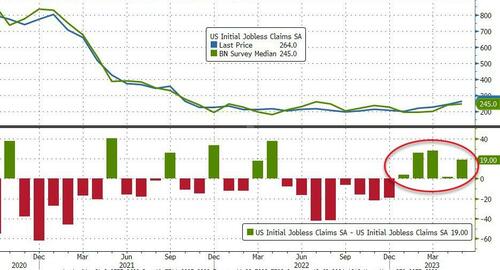 As a reminder, it was only a month ago that the DOL admitted it had chronically misrepresented the claims print using wrong seasonal adjustments, and while there had been just one 200K+ initial claims print in the pre-revised data promptly mutated into an ugly series where there had not been a single print below 200K since January.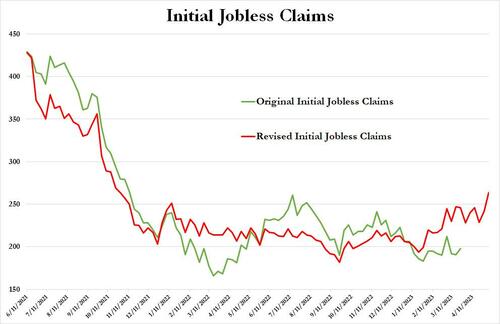 The state by state breakdown showed that most weekly change prints were in line, with no notable outliers; MA and CA were the states with the biggest increases in claims, while KY and CO saw the biggest drops.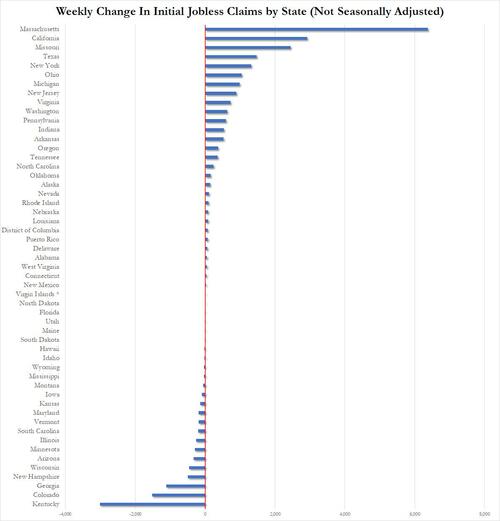 Loading...