---
Job Recruiter Warns Tech Layoff Cycle "Not Done Yet"
The biggest threat to the US economy is a credit crunch in regional banks with the possibility of spillover into commercial real estate. This issue is exacerbated by the Federal Reserve's aggressive monetary tightening to tame the hottest inflation in four decades, increasing the likelihood of an economic downturn. Consequently, due to the mounting uncertainty, one job recruitment firm warns the layoff cycle is far from over. 
On Monday morning, Yahoo Finance Live's Julie Hyman asked RecruitGyan Founder and CEO Neha Naik, "Where do you think we are in the layoff cycle?"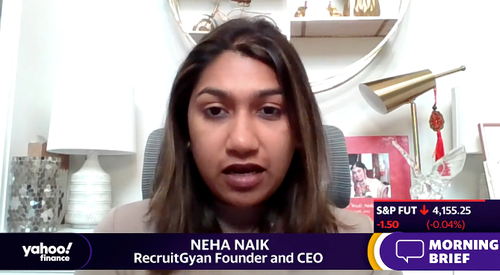 Naik responded, "We are definitely not done yet. I definitely think there is more to come, and it's primarily because - not just recession - but there was overstocking of workers during the pandemic." 
She said, "All the companies are getting rid of employees they overstocked in the last two years -- and obviously with the upcoming recession -- tech companies have a couple of choices: first is to increase prices, second is to sell more services, and or third is to layoff employees to maintain profit margins." 
Naik pointed out that founders and officers of tech companies are paring down risks amid "the upcoming recession."
Watch the full interview.
"Tech companies are making it their goal to not let [layoffs] affect their DEI strategies," RecruitGyan CEO Neha Naik says. "On the other hand, there still remains to be interview bias, pre-screen bias, and just bias in terms of how people will perform based on backgrounds…" pic.twitter.com/cVzbHJpck9

— Yahoo Finance (@YahooFinance) April 24, 2023
So far this year, 608 tech companies have laid off 173,880 employees. And judging by Naik's interview with Yahoo, that number might steadily increase through the year's second half.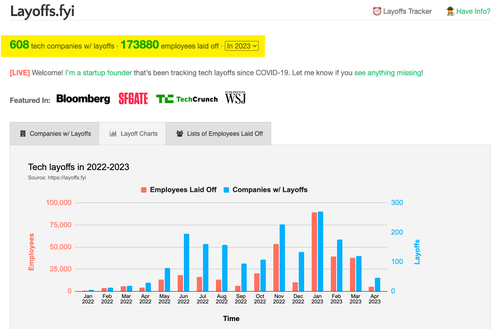 Naik noted her firm can still place tech workers from top firms in 6 to 9 weeks. 
While the economic storm clouds gather, expect even more tech layoffs in the months ahead. 
Loading...