---
Deere Projects Tractor Sales Will Plunge, Says Farmers Paralyzed Amid Trade War Disputes 
Deere & Co. warned Wednesday that sales would drop in its agriculture-and-turf and construction-and-forestry segments through 2020, citing the ongoing trade war. 
After nearly 17 months of trade disputes between the US and China, with no immediate resolution, farmers across Central and Midwest states have seen their personal incomes collapse, soaring farm bankruptcies, depressed commodity prices, and little relief from the government bailouts (mostly because the farm bailouts went to big corporate farms). As a result, the farming industry has plunged into a nasty recession, with tractor sales coming to a screeching halt. 
Deere shares are down 3.5% to 4% on Wednesday morning following the better than expected Q4 earnings report.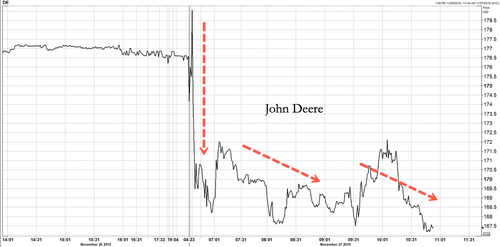 Investors were alarmed when guidance for agriculture-and-turf 2020 sales was lowered by 5% to 10% for the full year. The construction and forestry segment was also guided lower, down 10% to 15% next year. 
"John Deere's performance reflected continued uncertainties in the agricultural sector," CEO John May said. "Lingering trade tensions coupled with a year of difficult growing and harvesting conditions have caused many farmers to become cautious about making major investments in new equipment."
The first hints that suggested farmers were being crushed by the trade war was a collapse in tractor and equipment sales reported by local dealerships across the Midwest in August. 
In May, JPMorgan told clients that the US farm industry was on the verge of disaster, with farmers caught in the crossfire of an escalating trade war.
"Overall, this is a perfect storm for US farmers," JPMorgan analyst Ann Duignan warned investors.
Duignan downgraded Deere's stock to underweight in May, citing fundamentals in the Central and Midwest are "rapidly deteriorating."
Deere derives 60% of its sales from North America. The lower guidance for 2020 could suggest Deere shares are headed for a big slide.