---
John Paulson Converts Hedge Fund Into Family Office
Following in the footsteps of many of his hedge fund peers, one-hit wonder John Paulson, who became famous for collaborating with Goldman on shorting subprime by picking the constituents of a CDO that he then bet against, is turning his hedge fund firm into a family office after setting the stage for the conversion last year, according to Bloomberg.
"After considerable reflection and careful thought, Paulson & Co. will convert into a private investment office and return all external investor capital," Paulson wrote in a letter to investors seen by Bloomberg. 
The move was inevitable: back in January 2019, following years of underperformance or outright losses, leading to widespread redemptions, Paulson said that he was considering turning the firm into a family office or making it a hybrid business with one part running his money and another running client capital. At the time, approximately 80% of the money his namesake hedge fund ran was his, making the conversion to a family office merely a formality.
The news comes one day after we learned from Reuters that more hedge funds went out of business during the first three months of 2020 than at any other time since 2015 as the coronavirus led to heavy losses and investors pulled out billions in assets.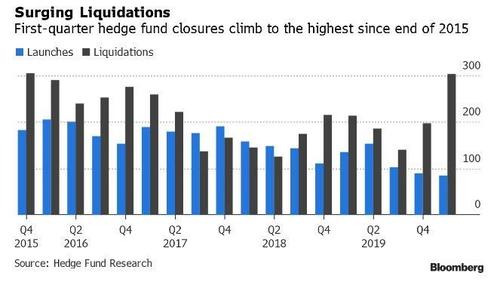 Hedge Fund Research reported on Tuesday that 304 funds liquidated around the world in the first quarter, marking the highest level since the fourth quarter of 2015 when 305 funds shut down. The number of closures is 50% higher than it was during the last three months of 2019 when 198 funds were liquidated, HFR data show. Investors pulled $33 billion out of hedge funds in the first quarter, HFR reported earlier, marking the fourth-largest outflows ever.
At the same time only 84 new funds opened for business in the first quarter of 2020, the slowest pace of new launches since the financial crisis when 56 new funds opened for business in the fourth quarter of 2008, HFR said. The pace of new launches fell off even from late 2019 when 89 funds opened in the last three months of the year.
This leaves 8,081 hedge funds and 1,167 funds of hedge funds, number which will continue to shrink now that the Fed is explicitly backstopping risk assets making it unnecessary to hedge any risks.