---
JPM Explains Why It's Unlikely The Infrastructure Bill Becomes Law (But Filibuster Changes Everything)
As we wait for tomorrow's main event - the Fed - investors are taking a deep dive at infrastructure (discussed here and here) and taxes (here). Full details on both have yet to be revealed but below JPMorgan has done a quick recap on the tax plan, details of which were published in BBG.
Raising the corporate tax rate to 28% from 21%

Paring back tax preferences for so-called pass-through businesses, such as limited-liability companies or partnerships

Raising the income tax rate on individuals earning more than $400,000

Expanding the estate tax's reach

A higher capital-gains tax rate for individuals earning at least $1 million annually.(Biden on the campaign trail proposed applying income-tax rates, which would behigher)

Elizabeth Warren's "Ultra-Millionaire" Tax (WSJ): The legislation would create a 2%annual tax on the net worth of households and trusts between $50 million and $1billion and an additional 1% surtax on those above $1 billion.
What does the above mean for markets?
Here, JPMorgan's economists have put together their assessment of the proposed plans with one critical provision: the assumption that Democrats do not remove the filibuster, which would lower the vote threshold from 60 to 50 to pass bills.
The first hurdle is identifying whether the infrastructure bill could pass in a bi-partisan fashion. If yes, then there are limits to what the GOP would accepts on taxes to the fund the bill. The GOP would push back most aggressively on
(i) capital gains tax change,

(ii) additional tax on $400k+ in income; and

(iii) the ultra-millionaire tax.
Though, it is possible the ultra-millionaire tax would fail to be upheld during legal challenges as the way it is stated in the WSJ article suggests a federal tax on real estate/property; this is generally thought to be outside the purview of the federal government. The easiest pathway may be a raising corporate taxes to 28% and a return to Obama-era individual taxes without adding a >$400k provision.
If Democrats choose to pursue infrastructure via Reconciliation, then the question becomes how Progressive Manchin and Sinema will vote. While both Senators are concerned about the deficit/total debt levels of the government, it may be easier to win their support with a smaller infrastructure package than with a larger tax proposal. Further, Manchin said that he would not support infrastructure that does not have bi-partisan support, which the proposed bill is unlikely to have. If, in order to pass infra, we need (i) bi-partisan support, (ii) increased taxes to offset, and (iii) this is to be done without removing the filibuster, what can actually be passed?
Is it possible that infrastructure, long thought to have strong bi-partisan support over the last 20+ years, has a low probability of becoming law? Well, according to JPM's head of cross-asset strategy, John Normand, most asset markets are not pricing in an infrastructure bill becoming law.
Normand's takeaways:
For Bonds, what is peculiar is how modest inflation expectations and long-dated forward rates are for an economy where an infrastructure package raises the risk of an overheating (although 10Y Breakevens continue to rise).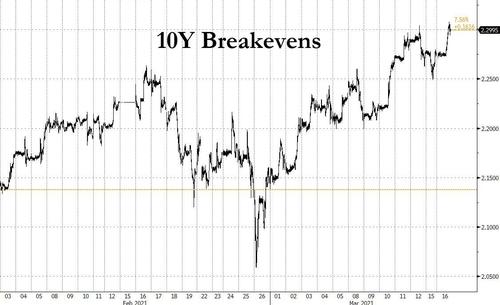 It is still difficult to see the prospective rise in rates as challenging the overall direction of Equities.No one should be bothered by bond yields moving above dividend yields now, and even more so in the next few years.

For Commodities and Commodity Equities, what is notable is that most are close to fair value rather than expensive in anticipation of a major policy initiative.

Why the lack of aggressive pricing in a range of markets that could be heavilyimpacted by an infrastructure bill?

In Fixed Income, the lack of risk premium probably reflects the difficulty oftranslating fiscal stimulus into a multi-year path for inflation, then determininghow the Fed will manage policy as inflation evolves.

In Commodities, there should be concern about how China's intended creditslowdown will impact demand for Base Metals, even if growth in a minor consumer like the US could ramp up over the next decade.

In Energy, there are doubts that Oil markets will remain tight indefinitely when OPEC+ enjoys spare capacity, US drillers will respond eventually to high-ish prices and a Democratic driven infrastructure package would emphasize green energy over carbon.