---
JPMorgan Warning: Israel Poses Higher Investment Risk
In an internal memo posted on Thursday, JPMorgan warned that Israel presents a greater investment risk due to recent developments associated with the ascent of Benjamin Netanyahu's new government.  
"Israel's local markets have seen a flareup in idiosyncratic risk, as increased geopolitical tensions were added to investor concerns over plans for judicial reforms," said JPMorgan in a memo first reported by Israel's Channel 12. 
The in-depth and negative analysis from the major multinational firm comes just days after Netanyahu claimed JPMorgan and Goldman Sachs weren't concerned about the effect of the judicial proposals.
פרסום ראשון - בנק ההשקעות ג׳יי פי מורגן, הפעם בדוח רשמי של מחלקת המחקר: הסיכון להשקעות בישראל עולה עקב התכנית המשפטית.
המסמך כולל השוואה למצב בפולין, והתראה על חשש מפגיעה בדירוג האשראי.
הדוח נשלח הלילה למשקיעים ולקוחות ברחבי העולם עם הבהרה שזו העמדה הרשמית של הבנק pic.twitter.com/2thbpXDRyQ

— עמליה דואק (@AmalyaDuek) February 3, 2023
"Markets probably need to consider a risk of more persistently elevated risk premia given the less centrist tilt of the current government," JPMorgan's Europe Emerging Markets Research desk wrote. 
Of course, saying the new Netanyahu government has a "less centrist tilt" is a huge understatement. It's widely considered to be the most right-wing government in the country's history, with critical positions controlled by members of ultranationalist and ultra-religious parties who are prone to both domestic and international provocations. 
In its apparent own similar warning posted internally on Thursday and then circulated on Twitter on Friday, Barclays was more candid, called it a "heavily right-wing coalition." (ZeroHedge can't independently authenticate the memo.) Goldman Sachs has expressed its own "growing concern over domestic political developments." 
Netanyahu's government has proposed a package of judicial reforms that would weaken the country's High Court. One reform would allow the Knesset -- Israel's unicameral legislature -- to override High Court decisions with a simple majority vote. Others would end the court's practice of applying a "reasonableness" test when evaluating laws and government actions. 
"The proposed judicial reforms have triggered significant local protests at various levels, with concerns over the institutional strength in the country and the potential negative impact on investment flows and growth," writes JPMorgan.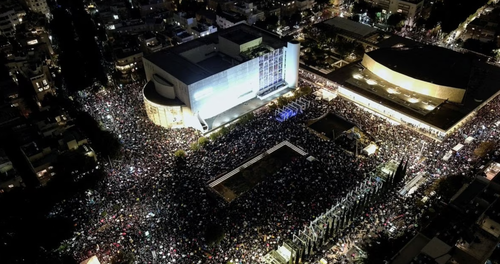 Looking for an example of the potential fallout from judicial reforms, the JPMorgan authors point to Poland. "Following the judicial reforms in Poland, S&P Ratings downgraded its sovereign credit rating in Jan-16 to BBB+ (from A-)." Noting that Israel's credit rating "stands comfortably in the investment grade bucket," the memo says the reaction to an Israeli enactment of the proposed reforms should be "modest." 
The firm also highlights medium-term risk to investment flows to Israel: "Recent reports suggest that some foreign institutions have already started to move funds out of Israel over concerns over the judicial reform plans. The tech sector has been relatively vocal in voicing its opposition." 
The risks aren't just associated with Israel's legal system. JPMorgan also cites an increase in "geopolitical hostilities." The Barclays Macro Research memo elaborates on that theme:
"The reiteration of Israel's strategy to 'openly' oppose any attempts by Iran to develop its nuclear programme, recent alleged drone strikes on Iran's military facilities and discussions with the US on joint efforts against Iran's nuclear deal ...In addition, the recent re-escalation of Israel-Palestine issues, including the politics of the right-wing government in the West Bank, increase geopolitical instability in the region." 
In France, Netanyahu claimed he met with 60 French business people who told him, "What they're saying about investors running away is nonsense. We want to increase our investments in Israel." 
Indian billionaire oligarch Gautam Adani is facing a huge scandal over credible allegations of fraud and money laundering.

In the middle of this scandal, he had a friendly meeting with apartheid Israel's far-right leader Netanyahu -- who has also faced many corruption charges https://t.co/9nqHj3Qc1P

— Ben Norton (@BenjaminNorton) February 3, 2023
Loading...