---
JPMorgan Warns Of $200 Billion In Forced Month-End Selling
With month and quarter-end just two weeks away, Wall Street shifts its collective attention to a recurring phenomenon, namely the quarter-end rebalancing where outsized stock buying or selling can lead to short-term market havoc. The reason is that in quarters in which stocks outperform bonds - as they have in Q3 - funds need to rebalance by selling stocks to remain in compliance with their position mandates (vice versa in quarters when bonds outperform stocks).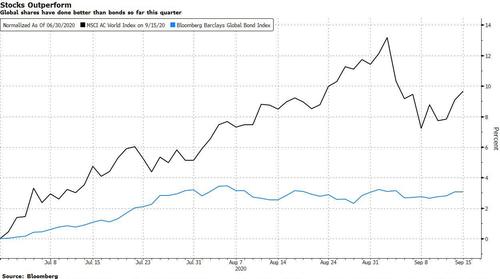 So for those curious how the quarter-end landscape looks, JPMorgan's market flows guru, Nick Panagirtzoglou has some bad news. When looking at the exposure of some of the biggest "rebalancing" whales including US defined benefit pension plans, Norges Bank, i.e. the Norwegian oil fund, and the Japanese government pension plan, GPIF, the JPM strategist estimates roughly $200 billion in forced selling on deck. Here are the details:
US defined benefit pension plans are a big $7.5tr AUM universe. They tend to rebalance more slowly over 1-2 quarters or so. Assuming they were fully rebalanced at the end of June, and by taking into account the QTD performance of US equities and bonds, the pending equity rebalancing flow by US defined benefit pension plans into the current quarter-end is negative at around -$170bn.
The Norges Bank, a $1.1tr AUM entity, is also expected to see negative equity quarter-end rebalancing flows of around -$15bn.
The Japanese government pension plan, GPIF, a $1.5tr AUM entity, is likewise expected to sell into quarter end to the tune of around -$22bn.
This, Panigirtzoglou warns, "is the most negative rebalancing flow since the virus crisis."
There's more: the JPM quant also cautions that this negative rebalancing flow "becomes even more problematic given this month's sharp decline in equity market depth." In other words, forced selling is about to take place in a far more illiquid market which will likely have an outsized impact.
He is referring to the sharp drop in market liquidity as indicated by the number of Emini contracts in the tightest Bid/Ask, which has sharply deteriorated over the past two weeks from around 100 contracts at the end of August to only 30 contracts currently.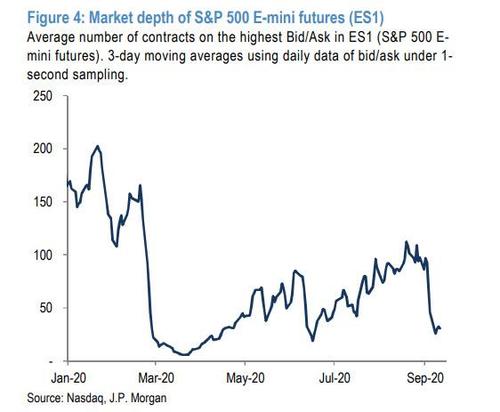 This is not a bug, but a feature of HFT-infested markets, where liquidity is generous when it is not needed, such as when stocks are rising, but the moment there is even a modest correction as the one experienced at the start of the month, and liquidity immediately collapses as HFTs no longer have certainty how to frontrun momentum-based orderflow "provide liquidity."
As Panigirtzolou puts it, "this month's sharp decline in equity market depth is a reminder of how quickly liquidity conditions can deteriorate in equity markets and raises the risk of more abrupt equity market moves going forward."
For the JPM quant, the forced selling is just one of several risks facing markets in the near-future. Others include investor worries taht the Fed is tapped out (by looking at the spread between the 1- and 2-year forward points of the US OIS curve, which "remains modestly inverted, a rather uncomfortable message from rate markets"), as well as the previously discussed risk of an contested election result that could result to months of US political, legal and constitutional gridlock.
Of course, coming from the perpetual optimists at JPM, there was a silver lining: as Panigirtzoglou concludes, an imminent "retreat in equity and risk markets over the coming weeks would likely represent a buying opportunity."
One final caveat: on June 22, the JPM analyst conducted a similar analysis and similarly found $170BN in forced quarter-end selling. However, despite fears of a month-end rout, the S&P barely budged in the subsequent week and into Jun 30 despite the alleged selling overhang.