---
July New Vehicle Retail Sales Expected To Crash 10.8%
It sure looks like the recession that the White House continues to claim doesn't exist is hitting the auto market. At least according to new projections by J.D. Power, who this week released their estimates and analysis for July 2022. 
A joint forecast from J.D. Power and LMC Automotive predicts that "retail sales of new vehicles this month are expected to reach 988,400 units, a 10.8% decrease compared with July 2021 when adjusted for selling days".
Without adjusting for for the one less selling day in July 2022, the plunge would have been 14.1%. 
Total new vehicle sales for the month, including non-retail sales, also are expected to plunge to 1,159,700 units, a 5.7% decrease from July 2021, the release sales. Ex-the selling day adjustment, the fall would have been 9.2%.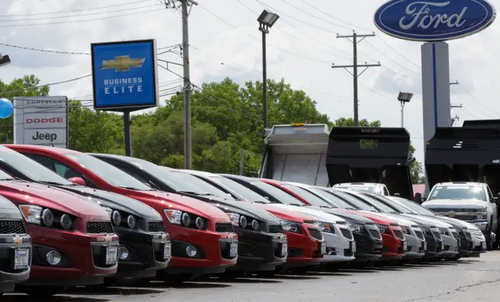 "July is yet another month where supply constraints keep vehicle sales artificially low but deliver record transaction prices and dealer profitability. July 2022 is on track to be the ninth consecutive month that retail inventory closes below 900,000 units as anticipated improvements in vehicle production volumes fail to materialize," , said Thomas King, president of the data and analytics division at J.D. Power.
He continued: "The industry sales pace is simply a function of the number of vehicles being delivered to dealers each month, with a large portion of those vehicles being sold before they arrive at the dealership. This month, 55% of vehicles will be sold within 10 days of arriving at a dealership, while the average number of days a new vehicle is in a dealer's possession before being sold is on pace to be 19 days—down from 29 days a year ago."
He also noted that new vehicle prices remain near record highs, despite sales beginning to wane: "For July, new-vehicle prices continue to hover near record levels, with the average transaction price expected to reach $45,869—a 12.3% increase from a year ago—the second highest on record.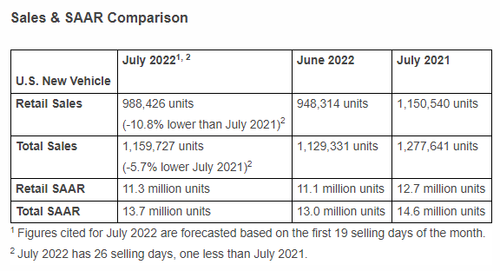 "Consequently, even though the sales pace is down 10.8% year over year, consumers will still spend nearly $45.3 billion on new vehicles this month, the second-highest level ever for the month of July but slightly down 3.5% from July 2021 due to the reduced sales volume.
He also noted that discounts and incentives at dealers are continuing to dry up due to the lack of inventory:
"Unsurprisingly, the lack of inventory is leading to even smaller discounts from manufacturers. The average incentive spend per vehicle is tracking toward $894, a decrease of 54.7% from a year ago. This will mark the third consecutive month under $1,000 and the first time under $900. Incentive spending per vehicle expressed as a percentage of the average vehicle MSRP is trending toward a record low of 1.9%, down 2.7 percentage points from July 2021 and the first time below 2.0%. One of the factors contributing to the reduction in incentive spending is the absence of discounts on vehicles that are leased. This month, leasing will account for just 17% of retail sales. In July 2019, leases accounted for 29% of all new-vehicle retail sales."
We are keeping our eyes on inventories, which will be the next shoe to drop for the industry once demand tapers further and supply chain bottlenecks ease slightly in 2H 2022.