---
"The Jury Got It Right" - Musk Wins Lawsuit Over 'Funding Secured' Tweet
Having previously noted the absurdity of the trial, Elon Musk has defeated a shareholder lawsuit alleging that tweets claiming he had the "funding secured" to take Tesla private cost investors billions of dollars in losses.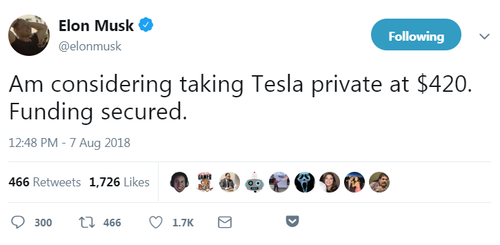 As The Wall Street Journal reports, the nine-person San Francisco-based jury said the investors who brought the class-action case failed to prove that Mr. Musk hurt them by tweeting about a possible deal.
"The jury got it right," Alex Spiro, a lawyer for Musk, said after the verdict.
Musk testified that the "funding secured" tweet was "absolutely truthful," touting what he described as an "unequivocal" commitment by Saudi Arabia even though he had nothing in writing.
As Bloomberg reports, Musk gave jurors other reasons to believe him.
He said he felt compelled to reveal that he was considering taking Tesla private because earlier that day, the Financial Times reported that Saudi Arabia was building a sizable stake in Tesla.

He testified he was afraid his going-private plans might also be leaked, and that he wanted to put all Tesla investors on equal-footing by broadcasting his plans on Twitter.

Musk also said that if required, he could've divested his ownership stake in his closely held rocket-ship company, SpaceX, to fund the transaction.
This case is unusual for having gone to trial.
From 1997 to 2001, less than 0.2% of federal securities class-action cases, excluding those involving mergers or acquisitions, were tried to a verdict, according to Cornerstone Research.
Musk, who had taken the stand as a witness in the case, was present in court during closing arguments.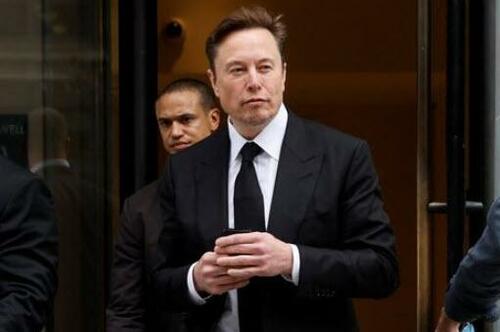 As The FT reports, the "funding secured" tweet has already proven costly for Musk. He and Tesla each paid $20mn to settle legal action from the Securities and Exchange Commission. Musk also had to resign as the carmaker's chair, although he kept his position as chief executive.
However, Musk has criticized the SEC in the years since, saying he felt pressured to settle and suggesting that doing so made him appear guilty.
This case, he said in a deposition, was an opportunity to "clear the record."
And now he has!
Loading...