---
"Just Throwing Money, It Doesn't Work" - Dimon Slams Planned Dem Tax Hikes As "A Little Bit Crazy"
Back when President Trump was in office, JP Morgan CEO Jamie Dimon occupied himself writing lengthy missives to his bank's shareholders about the need to hike taxes on the rich, proclaiming that "capitalism must be modified" for the American project to succeed.
Now that Democrats are in power, and Elizabeth Warren's "wealth tax" is now firmly on the table, it looks like Dimon - who is, according to Forbes, a billionaire - has changed his tune. Back in September, before the election, Dimon modified his stance, arguing that while higher taxes on high earners would be appropriate, a "wealth tax " like Warren's would do more harm than good.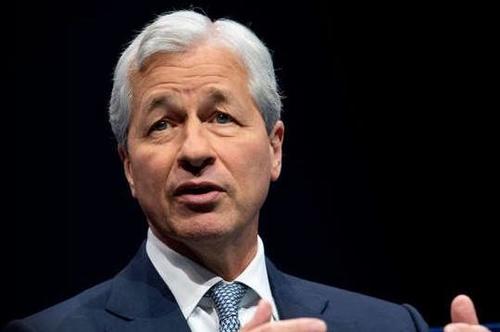 And as Democrats prepare to push through the first part of Biden's two-part "Build Back Better" 'Great Society'-style "infrastructure" plan, which will be heavily offset by tax hikes, the biggest in decades, Dimon added yet more caveats to his original position in an interview with the Investment Company Institute this week.
Clearly having read the outlines of Biden's plans, Dimon says he's "concerned" about how the money raised by new taxes will be spent. To ensure that taxpayer money is spent "responsibly", Dimon insisted that the administration should produce an itemized list detailing "miles of highway will get built and how many students the government expects to graduate from free community colleges and get high-paying jobs." He also worried that some of the tax hikes being considered sound "a little crazy".
Here's more from CNN:
"I'm concerned about how the money's going to be spent," Dimon said in a recorded interview for the Investment Company Institute's general membership meeting Thursday.

"The government needs to be very clear about what they want to accomplish," he added.

Dimon said that he wants to see a bipartisan bill that specifically spells out details such as how many miles of highway will get built and how many students the government expects to graduate from free community colleges and get high-paying jobs.

"We're just throwing money. It doesn't work," Dimon said. "We already waste tremendous sums of money."
Lawmakers and the administration owe this level of transparency to the public. "If you're going to give me your money, I'm going to be a good steward of it and here's what I am going to accomplish and I am going to report back to you," he said, comparing it to the information companies disclose."
One Democratic Senator "clapped back" at Dimon on twitter, noting that "we totally do this" already.
We totally do that. He can start here. https://t.co/8nfen0xHVe https://t.co/SyWaGXPye2

— Brian Schatz (@brianschatz) May 6, 2021
Later in the interview (which can be watched in full here), Dimon ounded more like a conservative Republican when he warned that scrapping the Trump-era corporate tax cuts - something he once spoke out against - and imposing higher rates on businesses will hurt capital formation and the economy.
"If policymakers don't get that ... they are making a mistake," Dimon said, adding that wealthy individuals will have to pay more but that a potential capital gains tax rate of nearly 40% "won't be successful."
Though he apparently has caved on higher taxes, Dimon continued to virtue-signal about the importance of battling climate change.
"Climate change is a real issue that we need to attack as a nation," he said. But he added that simply imposing more rules on businesses over emissions reporting is not the answer. He said he is in favor of a carbon tax.
Finally, Dimon also weighed in on Bitcoin. Now that his bank is launching its own cryptocurrency-focused funds for institutional clients, Dimon claimed that he's still "not a fan" of the cryptocurrency and that the government should do more to control the rapidly growing space.
Like a wealthy liberal New Yorker opposing the development of a halfway house in their neighborhood, Dimon is just the latest example of a time-honored phenomenon. It's easy to offer lip service about raising taxes and promoting economic equality. But when the reality that their tax bill is about to explode finally sinks in, many of these pro-tax corporate crusaders change their tune.