---
"Just Tip Of Iceberg": CMBS Storm Unfolds As Delinquent Office Loans Hit Five-Year High
The commercial real estate space is experiencing stress following the recent turmoil in the regional bank sector, with the rapid rise in interest rates, tightening lending standards, and structural changes, such as sliding demand for office buildings. 
Some structural factors, such as remote work and hybrid work, have doomed the office space segment. This has left empty office buildings scattered across major US cities as the number of landlords falling behind on repayments due to the difficulty of refinancing and high vacancies has hit a five-year high. 
According to real estate data firm Trepp, more than 4% of office loans packed into commercial mortgage-backed securities were delinquent in the last 30 days as of May, the highest level since 2018.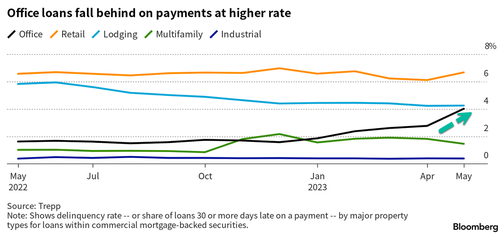 Dan McNamara, the founder of Polpo Capital Management, told Bloomberg about impending CRE turmoil: 
"This is just the tip of the iceberg for office delinquencies as $35 billion in CMBS office loans are scheduled to mature this year and the refinancing market is effectively shut to this asset class." 
The rise in delinquencies comes as security card swipe data from Kastle shows many workers have yet to return to their desks in major US cities, resulting in high office space vacancies nationwide.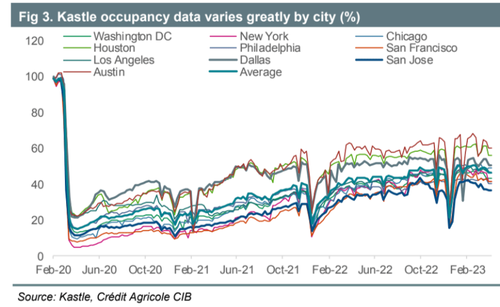 After banking failures, we first warned premium subs about the "CRE Nuke Goes Off With Small Banks Accounting For 70% Of Commercial Real Estate Loans" in mid-March. 
As Goldman pointed out to clients days ago, one major issue is a steep maturity wall of floating and fixed-rate CMBS loans due this year and next. The inability to refinance in these challenging market conditions will likely unleash a tidal wave of defaults in the second half of this year.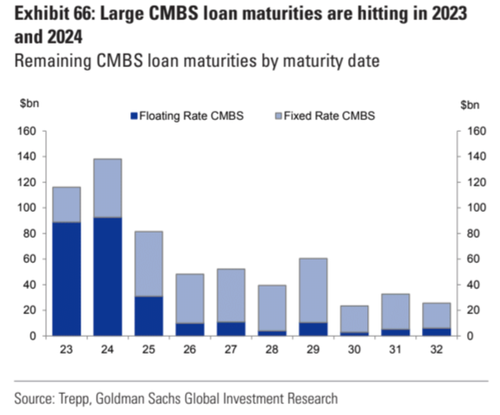 Already, we have noted "CRE Giant Brookfield Defaults On $161 Million Debt For DC Office Buildings" and "San Fran's CRE Apocalypse: The City's Two Biggest Hotels Have Defaulted." And also cited data from Moody's Analytics that showed first-quarter CRE prices fell for the first time in over a decade. 
Goldman Sachs chief credit strategist Lotfi Karoui told clients last month, "the most accurate portrayal of current market conditions" is data via the Green Street Commercial Property Price Index, which suggests trouble ahead. 
Just how much danger? Karoui believes "Green Street indicates a 25% year-over-year drop in office property values and a 21% drop in apartment property values." 
So the combination of high vacancies, sliding prices, and tightening lending standards is a perfect storm that could ignite an eruption of delinquencies in office loans in the coming quarters. 
Loading...