---
Key Apple Supplier Hynix Tells 800 Workers To Stay Home After Trainee Contracts Virus
Chipmaker SK Hynix, a key Apple supplier, reported Thursday that a trainee tested positive for Covid-19 at its Icheon, South Korea, facility, reported Reuters.
Hynix told 800 employees on Thursday not to return to work and conduct self-quarantining at their homes as a prevention measure to stop the spread of the deadly virus.
Hynix is one of the top chipmakers in the world and is a major supplier to Apple and Huawei.
A Hynix spokesperson said the 800 employees represent .045% of its workforce in Icheon.
A source told Reuters that another employee also had symptoms of the virus but tested negative. A second test is expected in the coming days.  
As a precautionary measure, the chipmaker is expected to close its training facility and hospital in Icheon by the end of the week to prevent further transmission of the virus.
On Wednesday, South Korea reported its first death of the virus, with new cases totaling 104.
The epicenter of new cases has been in the city of Daegu, which is a little over 110 miles from Hynix's Icheon facility.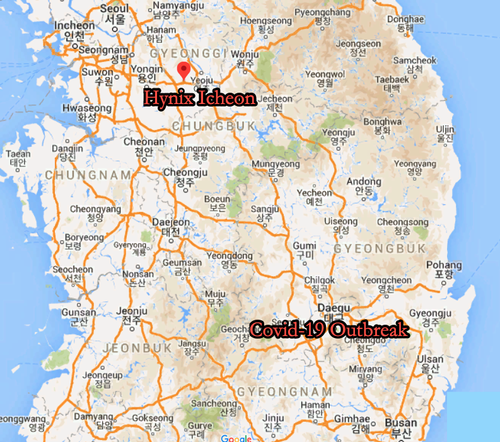 On Monday, Apple issued a statement admitting it does "not expect to meet the revenue guidance" for 1Q due to production woes at its assembly plants.
Foxconn, the main iPhone assembler, is currently operating at 30% to 50% of capacity and will be constrained through April. There's a lot of obstacles, from labor shortages to logistics transportation that has been unresolved because the virus has shut down two-thirds of China's economy. 
A significant concern that lingers for Apple, and its intricate network of suppliers in China and across Asia, is if the virus will be contained in the coming weeks. If not, production woes could hit suppliers, like Samsung Electronics, Taiwan Semiconductor Manufacturing Co, and SK Hynix.
Reuters noted via a source with direct knowledge that some Apple suppliers are already starting to develop production issues in China. 
"If one component factory stays closed and they're the only supplier, then everyone has to stop and wait. And if there are two suppliers and one is shut down, then we need the other to do more," the source said.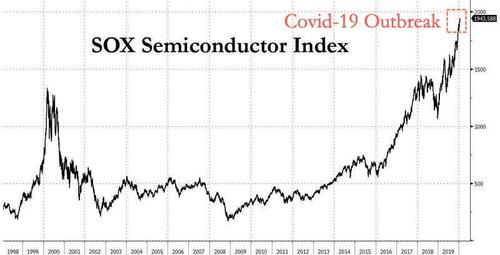 As for Apple's chip suppliers and the semiconductor industry as a whole, the virus could be what pops the bubble.