---
Key Events This Very Busy Week: Fed Blackout, GDP, PCE, BOJ, And Earnings Galore
With 178 S&P companies (including the biggest tech mega caps) representing a third of the index, and some 40% of index earnings, slated to report Q1 results this week, all eyes will be on the busiest week of earnings season, but there is plenty more to keep investors busy.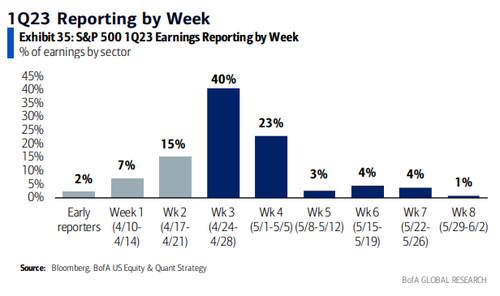 Before we focus on earnings, let's take a look at the barrage of econ data on deck, summarized conveniently by DB's Jim Reid. In the US Q1 GDP, the employment cost index (ECI), core PCE, and consumer confidence are the highlights with us now in the Fed blackout period ahead of next week's FOMC. Meanwhile, we will see inflation and growth data in the Eurozone, and the BoJ's decision in Japan on Friday where DB has a non-consensus call (more below). Big tech (14% of S&P in 4 names), pharma and oil earnings will fill out a busy earnings week. Watch out for First Republic Bank reporting as well after the closing bell today.
If we start in more detail now with the US, most of the key data is on Thursday and Friday. Before that tomorrow's new home sales and consumer confidence are also important, especially the latter. The first reading of Q1 GDP is out on Thursday and economists expect a +2.0% print, versus +2.6% in the last quarter of 2022 with consumer spending (+3.7% vs. +2.5%) leading the way. However, Friday's personal consumption and income data for March may well show that the bulk of the consumer boom in Q1 was in January and February due to warm weather. Within that report on Friday, the latest core PCE deflator will be a key report alongside the ECI. These will be the last big inflationary datapoints ahead of the FOMC.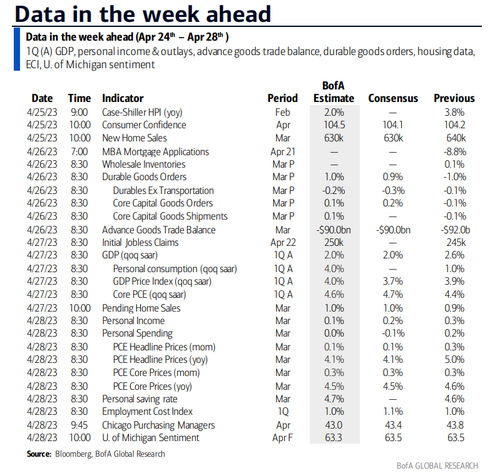 In Europe, growth and inflation data is due for key economies on Friday. These include GDP and CPI releases for Germany and France and GDP for the Eurozone. There will also be a plenty of sentiment gauges for the bloc. These include the Ifo survey for Germany today, consumer confidence for Germany and France on Wednesday and a list of metrics for Italy and the Eurozone on Thursday.
Over in Asia, all eyes will be on Japan with both the BoJ decision and lots of key data including Tokyo CPI, labor market, retail sales and industrial production indicators all due on Friday. Our Chief Japan economist previews the central bank meeting, the first one for the new Governor Kazuo Ueda, here. Against the market consensus, he expects the BoJ to undergo a policy revision on the back of inflation risks, with potential outcomes including the termination of YCC, strengthening of forward guidance on short-term rates, and greater flexibility of JGB purchasing operations. For data releases, our economist expects unchanged unemployment and Tokyo CPI and a -0.4% MoM fall in industrial production (see full preview here).
Earnings season continues apace this week, with Big Tech reporters taking center stage (we will have more to say in a subsequent post_. Comprising almost 14% of the S&P 500 by market cap, Microsoft and Alphabet tomorrow, Meta on Wednesday, and Amazon on Thursday will be among the most anticipated reports. The only one missing from the pack is Apple, which will report on May 4th. Other notable tech earnings this week include Texas Instruments (tomorrow), SK Hynix (Wednesday), Intel (Thursday) and Sony (Friday).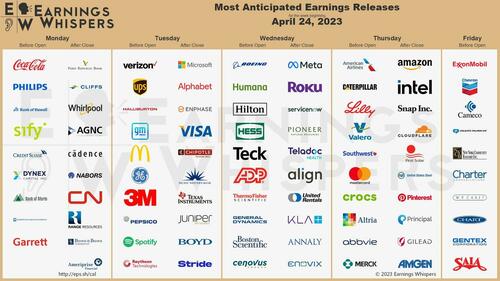 In Europe the focus will be on key banks, including Credit Suisse (today) and UBS (tomorrow). The former will clearly be interesting given all that went on in Q1. Outflows will be worth watching just to see how serious the situation was at the time. In Asia, a number of Chinese banks report throughout the week. Meanwhile in the US, investors will be laser focussed on First Republic which report today. After trading in a 120-150 range in the first 2 and a bit months of the year, they have been in a 12-15 range over the last month. So they haven't broken back out of their depressed range but haven't deteriorated further. So these results could be important to the company and wider sentiment as this has been the perceived next weakest link.
There are also some pharma heavyweights reporting, including Novartis (tomorrow), AstraZeneca and Sanofi (Thursday) in Europe. In the US, we'll hear from Eli Lilly, AbbVie, Merck and Bristol-Myers Squibb (Thursday), among others.
Consumer demand will be gauged from an array of earnings from companies including McDonald's, Chipotle, PepsiCo (Tuesday), Coca-Cola (today), Domino's, Mondelez (Thursday) and Hilton (Wednesday). In autos, the focus will be on BYD (Thursday), Mercedes-Benz (Friday) and GM (Tuesday). Investors will be particularly interested in EV rollouts and pricing. Among other economically-sensitive bellwether stocks, industrials reporting include UPS, Raytheon, General Electric (Tuesday), Honeywell, Caterpillar, Northrop Grumman (Thursday) and Boeing (Wednesday).
Courtesy of DB, here is a day-by-day calendar of events
Monday April 24
Data: US April Dallas Fed manufacturing activity, March Chicago Fed national activity index, Germany April ifo survey
Central banks: ECB's Vujcic, Villeroy and Panetta speak
Earnings: Coca-Cola, Credit Suisse, First Republic Bank, Cadence Design Systems
Tuesday April 25
Data: US April Conference Board consumer confidence, Richmond Fed manufacturing index, Philadelphia Fed non-manufacturing activity, Dallas Fed services activity, March new home sales, February FHFA house price index, UK March public finances, Japan March department store sales, PPI services
Earnings: Microsoft, Alphabet, Visa, PepsiCo, Novartis, McDonald's, Danaher, UPS, Verizon, Texas Instruments, NextEra Energy, Raytheon, General Electric, UBS, Fiserv, Santander, 3M, General Motors, Chipotle, ADM, MSCI, Biogen, Dow Inc, Centene, Illumina, Enphase Energy, Halliburton, Spotify, First Quantum Minerals, Ares
Wednesday April 26
Data: US March wholesale and retail inventories, durable goods orders, advance goods trade balance, Germany May GfK consumer confidence, France April consumer confidence, Q1 total jobseekers
Central banks: ECB's Guindos speaks, BoC's Summary of March Deliberations
Earnings: Meta, Thermo Fisher Scientific, Ping An, Boeing, American Tower, Iberdrola, GSK, Boston Scientific, Vale, Pioneer, SK Hynix, Hess, Universal Music Group, Hilton, Deutsche Boerse, EQT, Roku
Thursday April 27
Data: US Q1 GDP report, core PCE, April Kansas City Fed manufacturing activity, March pending home sales, initial jobless claims, China March industrial profits, Italy April manufacturing and consumer confidence, economic sentiment, Eurozone April services, industrial and economic confidence
Earnings: Amazon, Mastercard, Eli Lilly, Merck, AbbVie, AstraZeneca, T-Mobile, Linde, Comcast, TotalEnergies, Bristol-Myers Squibb, Sanofi, Intel, Amgen, Honeywell, Caterpillar,Gilead Sciences, BYD, Mondelez, Northrop Grumman, Hershey, BASF, Keurig Dr Pepper, Valero, STMicroelectronics, Newmont, First Solar, Repsol, Activision Blizzard, Pinterest, Snap, Domino's Pizza, American Airlines, Hasbro, Harley-Davidson, Hertz
Friday April 28
Data: US Q1 employment cost index, March personal spending and income, PCE deflator, April MNI Chicago PMI, Kansas City Fed services activity, UK April Lloyds business barometer, Japan April Tokyo CPI, March retail sales, job-to-applicant ratio, jobless rate, industrial production, housing starts, department store, supermarket sales, Italy Q1 GDP, March hourly wages, February industrial sales, Germany Q1 GDP, April unemployment claims rate, CPI, France April CPI, Q1 GDP, March PPI, consumer spending, Eurozone Q1 GDP, Canada February GDP
Central banks: BoJ decision
Earnings: Exxon Mobil, Chevron, PetroChina, China Construction Bank, Sony, Mercedes-Benz, Colgate-Palmolive, Eni, Neste Oyj, LyondellBasell, Norsk Hydro, Covestro
* * *
Finally, taking a closer look at just the US, Goldman writes that the key economic data releases this week are the durable goods report on Wednesday, the Q1 GDP advance release on Thursday, and the employment cost index and core PCE reports on Friday. Fed officials are not expected to comment on monetary policy this week, reflecting the FOMC blackout period.
Monday, April 24
10:30 AM Dallas Fed manufacturing activity, April (consensus -11.0, last -15.7)
Tuesday, April 25
09:00 AM FHFA house price index, February (consensus -0.2%, last +0.2%)
09:00 AM S&P/Case-Shiller 20-city home price index, February (GS -0.3%, consensus -0.4%, last -0.4%)
10:00 AM New home sales, March (GS -2.0%, consensus -1.6%, last +1.1%)
10:00 AM Conference Board consumer confidence, April (GS 105.0, consensus 104.0, last 104.2)
10:00 AM Richmond Fed manufacturing index, April (consensus -8, last -5)
Wednesday, April 26
08:30 AM Wholesale inventories, March preliminary (consensus +0.1%, last +0.1%)
08:30 AM Advance goods trade balance, March (GS -$90.0bn, consensus -$90.0bn, last -$91.6bn)
08:30 AM Durable goods orders, March preliminary (GS +0.8%, consensus +0.8%, last -1.0%); Durable goods orders ex-transportation, March preliminary (GS -0.2%, consensus -0.2%, last -0.1%); Core capital goods orders, March preliminary (GS -0.2%, consensus +0.1%, last -0.1%); Core capital goods shipments, March preliminary (GS -0.1%, consensus +0.1%, last -0.1%): We estimate that durable goods orders rose 0.8% in the preliminary March report, reflecting firmer commercial aircraft orders. We forecast small declines in core capital goods orders (-0.2%) and shipments (-0.1%), reflecting a drag from tighter credit and the lackluster rebound in East Asian industrial activity as of March.
Thursday, April 27
08:30 AM Initial jobless claims, week ended April 22 (GS 245k, consensus 250k, last 245k); Continuing jobless claims, week ended April 15 (consensus 1,884k, last 1,865k): We estimate that initial jobless claims were unchanged at 245k in the week ended April 22. We note that the Easter holiday and school spring breaks—which frequently but do not always coincide with Easter—often contribute to additional volatility in claims around April.
08:30 AM GDP, Q1 advance (GS +2.2%, consensus +2.0%, last +2.6%); Personal consumption, Q1 advance (GS +5.0%, consensus +4.0%, last +1.0%): We estimate that GDP rose +2.2% annualized in the advance reading for Q1, following +2.6% annualized in Q4. Our forecast reflects strength in consumption growth (+5.0%) and a more modest rise in business fixed investment (+1.5%). We expect a negative contribution to GDP growth from inventories (-1.7pp) and net exports (-0.3pp).
10:00 AM Pending home sales, March (GS -2.0%, consensus +1.0%, last +0.8%)
11:00 AM Kansas City Fed manufacturing index, April (consensus -2, last 0)
Friday, April 28
08:30 AM Employment cost index, Q1 (GS +1.2%, consensus +1.1%, prior +1.0%): We estimate that the employment cost index (ECI) rose 1.2% in Q1 (qoq sa), which would lower the year-on-year rate by three tenths to 4.8%. Our forecast reflects start-of-year wage hikes, strength in the Atlanta Fed wage tracker, and a boost from the benefits category as firms expand health insurance and supplemental pay programs in order to attract and retain talent.
08:30 AM Personal income, March (GS +0.3%, consensus +0.2%, last +0.3%); Personal spending, March (GS flat, consensus -0.1%, last +0.2%); PCE price index, March (GS +0.08%, consensus +0.1%, last +0.3%); Core PCE price index, March (GS +0.28%, consensus +0.3%, last +0.3%): Based on details in the PPI, CPI, and import price reports, we forecast that the core PCE price index rose by 0.28% month-over-month in March, corresponding to a 4.51% increase from a year earlier. Additionally, we expect that the headline PCE price index increased by 0.08% in March, corresponding to a 4.10% increase from a year earlier. We expect that personal income increased by 0.3% and personal spending was flat in March.
10:00 AM University of Michigan consumer sentiment, April final (GS 64.5, consensus 63.5, last 63.5): University of Michigan 5–10-year inflation expectations, April final (GS +2.9%, consensus +2.9%, last +2.9%)
Source: DB, Goldman, BofA
Loading...