---
Key Events This Week: FOMC Minutes, Retail Sales And PPI
After a tumultous, roller-coaster week which packed weeks if not months in every single day, it's a quieter week in terms of scheduled releases with the FOMC minutes on Wednesday -  which as DB's Jim Reid reminds us pre-date a 7.5% CPI print - the notable highlight, with US PPI and retail sales also on deck. Having said that the minutes published in the first week of January brought QT bang into the spotlight and started the rates sell-off so there is always room for surprises and remember that at the January FOMC press conference, Powell did suggest that the committee had held detailed discussion on the balance sheet so we may learn more.
Then there is the Ukraine-Russia standoff, which together with thinking about rising interest rates, means that we won't be able to relax after last week's high octane events according to Reid.  Or maybe not: according to the latest market survey conducted by Deutsche Bank which was conducted before Friday's news that the US warned of a Russia attack on Ukraine as early as this week, showed that only 7% thought that this situation would be a major influence on markets in 2 months' time. So it's clear that few were/are positioned with this risk front of mind. The weekend news hasn't moved the story on much with a Biden/Putin call seemingly not creating any major headlines one way or another. The stand-off continues, even if on Monday morning risk got a brief reprieve after Lavrov told Putin to continue de-escalatory talks with the west.
Bottom line: this week's Fed speak might be the most market moving event outside of Ukraine. St Louis Fed President Bullard's comments on Thursday where he got markets excited about a inter meeting hike certainly put the cat amongst the pigeons before other governors walked down the risks. Bullard also spoke again on CNBC this morning where his comments were generally in line with what he said previously and offered no major push back. There's plenty of other Fed speakers through the week. In addition, ECB President Lagarde speaks today.
On the data front, there'll be further US releases for January coming out, including producer price inflation, as well as retail sales, industrial production (all Wednesday), housing starts and building permits (Thursday). PPI and retail sales undoubtedly the pick. In the UK, the CPI release on Wednesday will be in focus as well.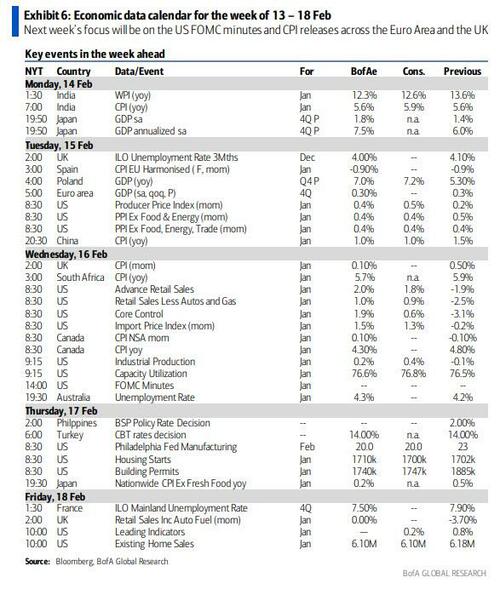 Elsewhere, and we'll get earnings from a further 62 companies in the S&P 500 and 68 in the Stoxx 600 as earnings season winds down. Among the highlights over the coming week include Airbnb tomorrow. Then on Wednesday we'll hear from Nvidia, Cisco Systems, Applied Materials and AIG. Then on Thursday, there's releases from Walmart, Nestle and Airbus. Finally on Friday, releases include Hermès International, Deere & Company, Allianz and NatWest Group.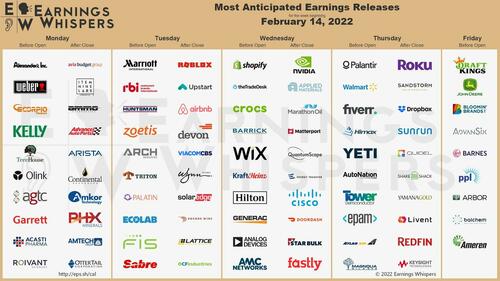 Otherwise this week, G20 finance ministers and central bank governors will be meeting on Thursday and Friday.
Here is a day-by-day calendar of events, courtesy of Deutsche Bank
Monday February 14
Data: Japan Q4 GDP (23:50 UK time)
Central Banks: ECB President Lagarde speaks. Fed Bullard on CNBC.
Tuesday February 15
Data: Japan final December industrial production, UK December unemployment, Germany February ZEW survey, Euro Area second Q4 GDP reading, US January PPI, February Empire State manufacturing survey
Earnings: Airbnb
Wednesday February 16
Data: China January CPI, PPI, UK January CPI, Euro Area December industrial production, US January retail sales, industrial production, capacity utilisation, February NAHB housing market index, Canada January CPI, Japan December core machine orders (23:50 UK time)
Central Banks: Fed release FOMC minutes from January meeting
Earnings: Nvidia, Cisco Systems, Applied Materials, AIG
Thursday February 17
Data: US January housing starts, building permits, weekly initial jobless claims, Japan January nationwide CPI (23:30UK time)
Central Banks: ECB publishes Economic Bulletin, ECB's Lane, De Cos, Fed's Bullard and Mester speak
Earnings: Walmart, Nestle, Airbus
Friday February 18
Data: UK January retail sales, US January existing home sales, Conference Board leading index, Euro Area advance February consumer confidence
Central Banks: Fed's Evans, Waller and ECB's Panetta speak
Earnings: Hermès International, Deere & Company, Allianz, NatWest Group
* * *
Finally, looking at the US, the key economic data releases this week are the PPI report on Tuesday, the retail sales report on Wednesday, and the Philadelphia Fed manufacturing index on Thursday. The minutes from the December FOMC meeting will be released on Wednesday, and there are several speaking engagements from Fed officials this week.
Monday, February 14
There are no major economic data releases scheduled.
08:30 AM St. Louis Fed President Bullard (FOMC voter) speaks: St. Louis Fed President James Bullard will give an interview on CNBC. After this week's CPI report, President Bullard stated that he would "like to see 100 basis points in the bag by July 1," arguing that the report "shows continued inflationary pressure in the U.S., … [which] is concerning for me and for the Fed." On balance-sheet normalization, President Bullard argued that the Committee should "consider [asset sales] as a possibility."
Tuesday, February 15
08:30 AM PPI final demand, January (GS +0.6%, consensus +0.5%, last +0.3%); PPI ex-food and energy, January (GS +0.5%, consensus +0.4%, last +0.5%); PPI ex-food, energy, and trade, January (GS +0.5%, consensus +0.4%, last +0.3%): We estimate a 0.5% increase for PPI ex-food and energy and PPI ex-food and energy, and trade, reflecting a continued boost from supply chain bottlenecks, labor shortages, and commodity prices. We estimate that headline PPI increased by 0.6% in January.
08:30 AM Empire State manufacturing survey, February (consensus +11.0, last -0.7)
Wednesday, February 16
08:30 AM Retail sales, January (GS +3.1%, consensus +2.0%, last -1.9%); Retail sales ex-auto, January (GS +2.0%, consensus +0.8%, last -2.3%) ;Retail sales ex-auto & gas, January (GS +2.1%, consensus +1.0%, last -2.5%); Core retail sales, January (GS +2.5%, consensus +1.4%, last -3.1%): We estimate a 2.5% rebound in January core retail sales (ex-autos, gasoline, and building materials; mom sa). Retail sales were depressed in December by a pull-forward of holiday shopping into October and November—and by the related high hurdle for sequential growth. Accordingly, the return to more normal spending patterns in January likely produced a sharp rise in the retail control gauge in that month. We also look for an Omicron-drive pullback in restaurant spending but a rebound in auto sales. We estimate a 3.1% increase in headline retail sales.
08:30 AM Import price index, January (consensus +1.3%, last -0.2%)
09:15 AM Industrial production, January (GS +0.8%, consensus +0.4%, last -0.1%); Manufacturing production, January (GS +0.2%, consensus +0.3%, last -0.3%); Capacity utilization, January (GS 77.1%, consensus 76.8%, last 76.5%): We estimate industrial production rose by 0.8% in January, with strong natural gas and electric utilities offsetting weak mining production. We estimate capacity utilization rose by 0.6pp to 77.1%.
10:00 AM Business inventories, December (consensus +2.1%, last +1.3%)
10:00 AM NAHB housing market index, February (consensus 83, last 83)
11:00 AM Minneapolis Fed President Kashkari (FOMC non-voter) speaks: Minneapolis Fed President Neel Kashkari will host a town hall for United Natural Foods employees. Audience Q&A is expected. In his last public appearance, on January 28th, President Kashkari argued that the Fed needs "to bring [the economy] back into balance," but expressed "hope … that as the supply chains sort themselves out, some of these price pressures will naturally relieve themselves and that will mean the Federal Reserve will have to do less" policy tightening.
02:00 PM FOMC meeting minutes, January 25-26 meeting: The FOMC announced in its statement at the January meeting that it expects it will "soon be appropriate" to raise the funds rate, which we expect will happen at the next FOMC meeting in March. Following the CPI report from earlier this week, we now expect the FOMC to hike by 25bps at each remaining meeting in 2022. We continue to expect the FOMC to hike three more times at a gradual once-per-quarter pace in 2023Q1-Q3 and to reach the same terminal rate of 2.5-2.75%, but earlier. Following the January meeting, the Committee also released a new set of normalization principles for reducing the size of the Fed's balance sheet, which stated that balance sheet reduction will start "after the process of increasing the target range for the federal funds rate has begun"—implying that the Committee may decide to start normalization at any meeting after March. We expect the FOMC will start balance-sheet reduction in June. In the minutes of the January meeting—which took place before the release of the better-than-expected January employment report—we look for how FOMC participants and the staff have adjusted their policy outlook in response to continued inflationary pressures. We will also look for clues on the timing and pace of balance-sheet reduction, which Chair Powell noted would be actively discussed by the Committee over several meetings.
Thursday, February 17
08:30 AM Initial jobless claims, week ended February 12 (GS 230k, consensus 220k, last 223k); Continuing jobless claims, week ended February 5 (consensus N.A., last 1,632k); We estimate initial jobless claims increased to 230k in the week ended February 12.
08:30 AM Housing starts, January (GS -1.0%, consensus -0.1%, last +1.4%): Building permits, January (consensus -7.2%, last revised +9.8%): We estimate housing starts decreased by 1.0% in January, coming off warmer-than-usual December weather.
8:30 AM Philadelphia Fed manufacturing index, February (GS 22.0, consensus 20.0, last 23.2): We estimate that the Philadelphia Fed manufacturing index declined by 1.2pt to 22.0 in February, reflecting a waning drag from Omicron.
11:00 AM St. Louis Fed President Bullard (FOMC voter) speaks: St. Louis Fed President James Bullard will discuss the economy and the policy outlook at a Columbia University event. Audience and media Q&A are expected.
05:00 PM Cleveland Fed President Mester (FOMC voter) speaks: Cleveland Fed President will give a speech on economic and monetary policy outlook at a virtual event hosted by the NYU Stern School of Business. Text and audience Q&A are expected. Earlier this week, President Mester said she doesn't "think there's any compelling case to start with a 50 basis-point hike," but noted that "the risks to inflation are still tilted to the upside," and that [the number and pace of hikes will] depend on how the economy evolves."
Friday, February 18
10:00 AM Existing home sales, January (GS -0.1%, consensus -1.3%, last -4.6%); We estimate that existing home sales decreased by 0.1% in January, following a 4.6% decrease in December.
10:45 AM Fed Governor Waller (FOMC voter) and Chicago Fed President Evans (FOMC non-voter) speak: Fed Governor Christopher Waller and Chicago Fed President Charles Evans will take part in a panel discussion at the University of Chicago Booth School of Business' annual policy forum in New York. In his last public appearance, Governor Waller emphasized that he does not "see a 50 basis-point hike in March," since the Fed has "not prepared markets for anything that dramatic." Still, Governor Waller stressed that "if inflation is just stubbornly high through the first half of this year we're going to have to do a lot more" than his three-hike baseline at the time. President Evans noted on January 13th that he could favor four hikes in 2022 "if the data don't improve quickly enough on inflation," noting that "inflation has longer legs and is more persistent than I expected." He also said he expected that monetary policy "probably contributes a little bit, but not a lot" to lower inflation at the end of 2022.
11:00 AM New York Fed President Williams (FOMC voter) speaks: New York Fed President John Williams will take part in a virtual discussion on the economic outlook hosted by the New Jersey City University. Text and audience and media Q&A are expected. President Williams stated on January 14th that "the next step in reducing monetary accommodation will be to gradually bring the target range for the federal funds rate … back to more normal levels." Williams noted that "obviously inflation is very high, in part too high," but that "with growth and supply constraints gradually being resolved," he expects "inflation to drop to around 2.5 percent this year."
Source: Deutsche Bank, Goldman, BofA