---
Key Events This Week: UMich, Inflation Expectations And All Ears On Powell Tomorrow
After a rollercoaster week which saw a nonstop torrent of news, central bank announcements, earnings and market gyrations, DB's Jim Reid reminds us that the week after payrolls is - thankfully - quiet for data. Which is good because as Reid sarcastically notes, "it'll take until next month's release to decipher Friday's report." For now, however, let's quickly outline the highlights of the week ahead.
Given the blockbuster payrolls print, Fed Chair Powell's speech at the Economic Club of Washington tomorrow could be the highlight. The release valve post the blackout period will mean we have a mini deluge of other Fed speakers too including Vice Chair of Supervision Barr (tomorrow), New York Fed President Williams, Fed Governor Cook, Minneapolis President Kashkari and Fed Governor Waller (all Wednesday). Their comments on the payroll report will be devoured and it'll be interesting if they, and especially Powell, decide to slightly firm up the hawkish spin and be more explicit on a terminal rate above 5%. We continue to think we'll get that, but the market has been increasingly pricing a pause after March and cuts by year-end. To be fair, Friday saw terminal edge back above 5% (climbing +12.5bps to 5.025% on the day) with December 2023 contracts up +23bps to 4.58%. This week's Fedspeak on financial conditions will also be interesting as the relaxed attitude of Powell to them at the FOMC presser encouraged a big dovish market reaction. Much of this was reversed on Friday but the sensitivities to such comments remain high. There's plenty of other central bank speak this week. See it in the day-by-day calendar at the end.
In terms of data, it's certainly a second-tier week ahead. The delayed German CPI report on Thursday might be one of the highlights. It was delayed due to technical issues around base year changes. Given the payrolls revisions, that does make one a little nervous (in either direction), but we will see. UK GDP numbers on Friday will be a highlight after the IMF last week suggested they would be one of the 2023 developed world growth laggards. In the US, the UoM consumer sentiment survey (Friday) and the usual inflation expectations will be a focus as usual.

Over in Asia, key macro indicators include China's CPI and PPI reports on Friday, with median Bloomberg estimates pointing to readings of 2.2% YoY (vs 1.8% in December) and -0.5% YoY (vs -0.7% in December), respectively.
Earnings season continues in the background. Just under half of S&P 500 firms have now reported with results from Disney, Uber (Wednesday) and PayPal (Thursday) among the key ones for the large cap index this week. Private capital managers will also be in the spotlight with KKR (Tuesday), Brookfield (Wednesday) and Apollo (Thursday) releasing results throughout the week. European Big Oil heavyweights also report including BP (tomorrow) and Total (Wednesday). Consumer-driven names including Chipotle, Royal Caribbean (tomorrow), PepsiCo and L'Oreal (Thursday) report with other notable earnings releases including Activision Blizzard (today), AstraZeneca and Siemens (Thursday).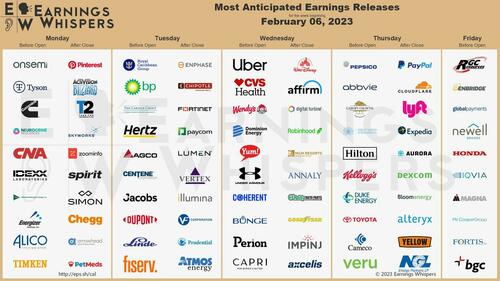 Here is a day-by-day calendar of events
Monday February 6
Data: UK January construction PMI, new car registrations, Japan December labor cash earnings, household spending, Germany January construction PMI, December factory orders, Eurozone December retail sales
Central banks: BoE's Mann and Pill speak, ECB's Holzmann speaks
Earnings: Activision Blizzard, Take-Two Interactive, Pinterest
Tuesday February 7
Data: US December trade balance, consumer credit, China January foreign reserves, Japan January bank lending, December leading, coincident index, trade balance, Germany December industrial production, France December trade balance, Canada December international merchandise trade
Central banks: Fed's Powell and Barr speak, ECB's Schnabel and Villeroy speak, BoE's Ramsden, Cunliffe and Pill speak
Earnings: SoftBank, Nintendo, Linde, BP, Vertex Pharmaceuticals, BNP Paribas, Fiserv, KKR, Chipotle, Centene, DuPont de Nemours, Nordic Semiconductor, Enphase Energy, Royal Caribbean Cruises, Siemens Energy
Wednesday February 8
Data: US December wholesale trade sales, Japan January Economy Watchers survey, M2, M3, Italy December retail sales, France Q4 private sector payrolls Central banks: Fed's Williams, Cook, Barr, Kashkari and Waller speak, ECB's Knot speaks
Earnings: Equinor, AP Moller - Maersk, Disney, Vestas, TotalEnergies, CVS, Brookfield Asset Management, Uber, Emerson Electric, Dominion Energy, Teva, Neste Oyj, Deutsche Boerse, MGM Resorts, Affirm
Thursday February 9
Data: US initial jobless claims, UK January RICS house price balance, Japan January machine tool orders, PPI
Central banks: BoE's Bailey speaks, ECB's Guindos and de Cos speak
Earnings: Toyota, Nippon Steel, AbbVie, PepsiCo, L'Oreal, AstraZeneca, Siemens, S&P Global, Unilever, PayPal, Apollo, Hilton, ArcelorMittal, Expedia, Credit Suisse, Ralph Lauren, Bombardier, Lyft
Friday February 10
Data: US February University of Michigan consumer sentiment, January monthly budget statement, China January CPI, PPI, Q4 BoP current account balance, UK December monthly GDP, industrial and manufacturing production, index of services, construction output, trade balance, Q4 GDP, Italy December industrial production, Germany December current account, France Q4 wages, Canada January unemployment rate, participation rate, hourly wage rate permanent employees
Central banks: Fed's Waller and Harker speak, BoE's Pill speaks, ECB's de Cos speaks
Earnings: IQVIA, Global Payments
* * *
Finally, focusing on just the US, Goldman writes that key economic data release this week is the University of Michigan report on Friday. There are several speaking engagements from Fed officials this week, including Chair Powell; governors Waller, Cook, and Barr; and presidents Williams, Kashkari, and Harker.
 
Monday, February 6
There are no major economic data releases scheduled.
Tuesday, February 7
8:30 AM Trade balance, December (GS -$68.0bn, consensus -$68.5bn, last -$61.5bn): We estimate that the trade deficit widened to $68.0bn in December.
12:00 PM Fed Chair Powell speaks: Fed Chair Jerome Powell will participate in an interview with David Rubenstein hosted by the Economic Club of Washington. Speech text is not expected. Chair Powell last spoke after the February FOMC meeting, where the main message was that the disinflationary process is now underway, but there is more work to do. The Committee made it clear that it sees further hikes as fine-tuning, and we took the overall message as consistent with our forecast of two more 25bp hikes in March and May. We expect Chair Powell is likely to comment on the strong January employment report, which saw nonfarm payrolls exceed consensus expectations for the tenth straight month.
02:00 PM Fed Vice Chair for Supervision Barr speaks: Fed Vice Chair for Supervision Michael Barr will discuss financial inclusion at an event in Mississippi. Speech text and a moderated Q&A are expected.
Wednesday, February 8
09:15 AM New York Fed President Williams (FOMC voter) speaks: New York Fed President John Williams will participate in a live interview with the Wall Street Journal in New York. On January 19, Williams said, "With inflation still high and indications of continued supply-demand imbalances, it is clear that monetary policy still has more work to do to bring inflation down to our 2 percent goal on a sustained basis…I think what's important here is not what happens at each meeting but I think we've still got a ways to go…This is a period where we're getting a lot of new information." He added, "I expect real GDP growth to be modest this year at around 1 percent…With growth slowing, I anticipate the unemployment rate to increase from its current level of 3½ percent to around 4½ percent over the next year."
09:30 AM Fed Governor Cook speaks: Fed Governor Lisa Cook will participate in a moderated discussion hosted by the Joint Center for Political and Economic Studies. A Q&A with audience is expected. On January 6, Cook said, "Crucially, we must be vigilant to ensure that pandemic-era cost pressures and disruptions do not have lasting effects on inflation. If cost shocks and supply disruptions keep inflation elevated for a long enough period, households' and firms' inflation expectations could move higher—a development that could put additional upward pressure on inflation."
10:00 AM Wholesale inventories, December final (consensus +0.1%, last +0.1%)
10:00 AM Fed Vice Chair for Supervision Barr and Atlanta Fed President Bostic (FOMC non-voter) speak: Fed Vice Chair for Supervision Michael Barr and Atlanta Fed President Raphael Bostic will speak at an event on economic mobility hosted by Tougaloo College. A Q&A with audience is expected. On January 13, Bostic said, "[The December CPI] report was really welcome news. It really suggests that inflation is moderating and it gives me some comfort that we might be able to move more slowly now that we are in restrictive territory."
12:30 PM Minneapolis Fed President Kashkari (FOMC voter) speaks: Minneapolis Fed President Neel Kashkari will participate in a Q&A at an event hosted by the Boston Economic Club. On January 4, Kashkari said, "In my view…it will be appropriate to continue to raise rates at least at the next few meetings until we are confident inflation has peaked…I have us pausing at 5.4 percent, but wherever that end point is, we won't immediately know if it is high enough to bring inflation back down to 2 percent in a reasonable period of time…To be clear, in this phase any sign of slow progress that keeps inflation elevated for longer will warrant, in my view, taking the policy rate potentially much higher...The third step, as I see it, is to consider cutting rates only once we are convinced inflation is well on its way back down to 2 percent. Given the experience of the 1970s, the mistake the FOMC must avoid is to cut rates prematurely and then have inflation flare back up again."
01:45 PM Fed Governor Waller speaks: Fed Governor Chris Waller will discuss the economic outlook at an event hosted by Arkansas State University. Speech text and a moderated Q&A are expected. On January 20, Waller said that beyond the February FOMC meeting "we still have a considerable way to go toward our 2% inflation goal, and I expect to support continued tightening of monetary policy…If the markets are right and inflation is coming down, and it looks like wages and everything are falling into line, that is great news, I've got no problem saying we should think about changing policy. [But] we have a different view." He added, "back in 2021, we saw three consecutive months of relatively low readings of core inflation before it jumped back up. We do not want to be head-faked. I will be looking for the recent improvement in headline and core inflation to continue."
Thursday, February 9
08:30 AM Initial jobless claims, week ended February 4 (GS 175k, consensus 193k, last 183k); Continuing jobless claims, week ended January 28 (consensus 1,655k, last 1,655k): We estimate that initial jobless claims declined to 175k in the week ended February 4.
Friday, February 10
10:00 AM University of Michigan consumer sentiment, February preliminary (GS 64.0, consensus 65.0, last 64.9); University of Michigan 5-10-year inflation expectations, February preliminary (GS 2.8%, consensus 2.9%, last 2.9%): We expect that the University of Michigan consumer sentiment index declined to 64.0 in the preliminary February report. We also estimate a one-tenth decline in the long-term inflation expectations measure to 2.8% in February, reflecting the net decline in gasoline prices and a possible drag from better-than-expected news on core inflation.
12:30 PM Fed Governor Waller speaks: Fed Governor Chris Waller will speak at a conference on digital money and decentralized finance hosted by the Global Interdependence Center. Speech text and a moderated Q&A are expected.
04:00 PM Philadelphia Fed President Harker (FOMC voter) speaks: Philadelphia Fed President Patrick Harker will also speak at the conference on digital money and decentralized finance. Speech text and a Q&A with audience are expected. On January 12, Harker said, "I expect that we will raise rates a few more times this year, though, to my mind, the days of us raising them 75 basis points at a time have surely passed. In my view, hikes of 25 basis points will be appropriate going forward."
Source: DB, Goldman, BofA
Loading...