---
Key Takeaways From The FOMC Minutes: Market Spooked By Lack Of Fed Commitment To More QE, "Twist" Or Curve Control
As we noted earlier, treasuries erased gains and fell to session lows after minutes of the FOMC's July 29 meeting for several reasons: first, the Fed's assessment of the economy was more downbeat than many had expected; second, the fact that the Fed appeared to cool substantially on any imminent (or even medium-term) implementation of yield curve control; third, the FOMC was silent on the prospect of changes to the size or composition of the central bank's purchases of Treasury securities. As Bank of America's Marc Cabana pointed out, "Notable that the minutes had no discussion of extending the duration of asset purchases, ie "twist". This narrative had built considerably via media & Dudley speech leading into the meeting."
Cabana is referring to the fact that in news conference that followed the July 29 meeting, Fed Chair Powell said the Fed's asset purchases - running at an $80 billion a month pace in Treasuries - can be adjusted to increase support for the economy, leading to speculation that an increase in size or duration was discussed.
Tom Roth, head of rates trading at SMBC Nikko Securities echoed Cabana's reservnations, saying that market reaction to the minutes is to "what is not there," adding that the minutes also revealed widespread reservations among officials about the use of yield caps and targets.
Following the disappointment from the lack of commitment to more QE, YCC or Twist, yields across the curve reached session highs, led by the long end, steepening the curve; 10-year yield erased what remained of an earlier decline of as much as 2.4bp and climbed as much as 1.8bp on the day to reach 0.687% before stabilizing.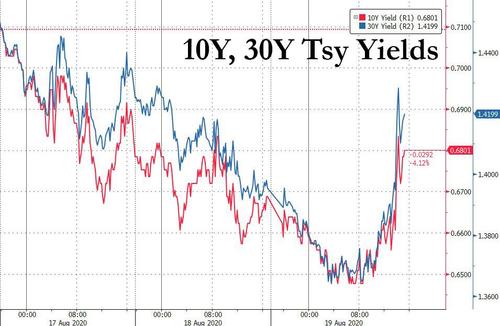 The disappointment also propped up the dollar, which extended gains as the minutes revealed that the FOMC saw only a modest benefit from yield caps and plans to keep securities purchases at their current rate.
Putting it all together, here are the five chief takeaways from the FOMC courtesy of Bloomberg:
On the whole, the minutes from the Fed's July meeting painted a dovish picture of the economy. Officials expressed concern about the path of the recovery, and reiterated that the virus is in charge right now.
There were some hints that we could see revisions to the Fed's economic forecasts next month, when the central bank releases fresh estimates, especially as a Covid-19 resurgence this summer has muted the recovery.
We likely won't see more forward guidance at the September meeting, as some market participants had hoped for. A number of Fed officials have publicly said it isn't necessary at this point, and the minutes seemed to echo that.
There is support among policy makers for wrapping up the highly anticipated framework review. Perhaps we'll see that at next month's meeting.
Although the Fed has been clear that it's not raising rates any time soon, participants continued to discuss how they should assess when it would be appropriate to do so, and how they would communicate that to markets