---
KKR Sparks Bidding War For Toshiba Amid "Civil War" Among Tech Giant's Board Members
A week after Toshiba ADRs soared 22% following a Nikkei report that private equity giant CVC Capital Partners has offered to acquire Toshiba through a tender offer that is expected to be worth more than $20 billion, The Financial Times reports that that CVC rival KKR is planning to outbid as "civil war" broke out among board members of the Japanese conglomerate, reportedly preparing to launch a coup to oust the chief executive.
At least two of Toshiba's biggest shareholders have called upon the Toshiba board to seriously consider any bids from private equity-led consortiums, which would be likely to include a significant Japanese presence to satisfy regulatory sensitivity over a company deeply involved in the nuclear and defence industries.
The headline pushed Toshiba ADRs up another 10%...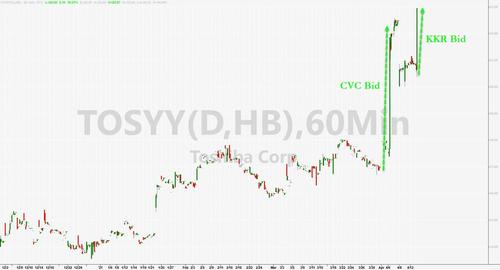 A Toshiba board meeting on Wednesday is expected to debate a proposal from one of its members that Nobuaki Kurumatani resign immediately as head of a company that he has led since it emerged from financial crisis in 2018
The FT reports that people close to the company, whose largest investors include some of the region's biggest activist funds, said that Toshiba's senior management had been thrown into "civil war" by the emergence of a preliminary buyout approach last week from the European private equity group CVC - a company for which Kurumatani previously worked as head of Japan's operations.
This would be Japan's largest ever LBO.