---
Labor Dispute Sparks Supply Chain Snarl At Top US Container Port
A standoff between dockworkers and port operators at the largest import gateway in the US has caused delayed departures or increased waiting times for berth of container ships. 
"Basically, every container vessel is having their schedule pushed back by about a day or two," Richard Palmer of the Marine Exchange of Southern California told Bloomberg in an emailed update about port operations. He said the primary cause of the disruption was the lack of longshoremen who secure containers aboard vessels. 
Terminals at Los Angeles, Long Beach, and Oakland -- some of the largest gateways for container ships that bring goods from Asia have closed or slowed this week as the International Longshore and Warehouse Union and Pacific Maritime Association, which represents port operators, are locked in discussions about new labor contracts.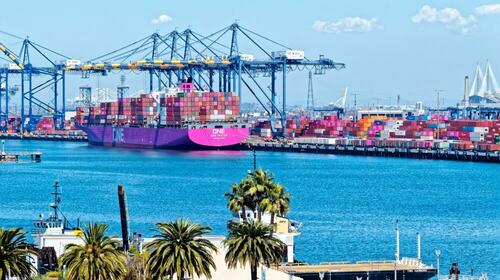 "Until now, the PMA and ILWU have been quiet as they negotiate and port operations have been running relatively smoothly, with the exception of a few regional flareups during slow cargo periods that were brief and contained," Bloomberg said. 
"Before the last 48 hours, we were seeing a lot of progress," Port of Long Beach Executive Mario Cordero said in an interview on Bloomberg Television Tuesday. He said:
"Obviously there is an issue there that has caused some pause in the discussions."
The disruptions are nowhere near the magnitude of the supply chain snarls that rocked the economy during the era of Covid. Apollo's chief economist Torsten Sløk pointed out last week that supply chains have returned to normal. 
Cordero said labor disputes causing delays at Long Beach terminals are a "bump in the road" before both sides eventually find a resolution. 
... let's hope so. 
Loading...