---
Laid-Off Peloton Workers Crash Virtual Meeting As New CEO Admits "The Math Simply Didn't Work"
This week, Peloton Interactive hit the 'big reset button' by firing 2,800 employees as it struggles with growth in a post-pandemic world. CNBC reports some fired employees managed to disrupt a virtual meeting as it welcomed its new CEO, Barry McCarthy. 
The virtual meeting, attended by Peloton co-founder and former CEO John Foley and McCarthy, was cut short when current and former employees unleashed a barrage of angry comments about job cuts in the chat function. Many voiced concerns that Peloton's top execs mismanaged company operations. CNBC obtained some of those comments: 
"I'm selling all my Peloton apparel to pay my bills!!!," wrote one person.

"This is awfully tone deaf," said another.

"The company messed up by allowing people who were fired into this chat," another user wrote.

"Too late to mod [moderate] this."
To be sure, there were also a flurry of comments from workers welcoming McCarthy to the company and cheering him on in his new role.
"Let's go Barry!" one person said.

Another wrote, "Hi Barry! Welcome to Peloton!"
McCarthy ended the meeting early as current and former employees revolted. The company faces numerous restructuring challenges for future growth in a post-pandemic world where gyms and businesses are reopening. 
Days earlier (on Tuesday), McCarthy allegedly released an email to staff (obtained by Twitter account "Internal Tech Emails") explaining to staff who wasn't fired, "today's restructuring" is needed because "the math simply didn't work and the status quo was unsustainable," referring to prior operations during the pandemic when demand for bikes and treadmills were high. 
I know today's restructuring news has been difficult. There's no sugar-coating it. It's a bitter pill and, in my experience, the sting has a long half-life. But the hard truth is either revenue had to grow faster, or spending had to shrink. The math simply didn't work otherwise, and the status quo was unsustainable. One of my core management principles is about getting real. We have to be willing to confront the world as it is, not as we want it to be if we're going to be successful. We have to be honest with ourselves and with each other in order to make that happen, even when the truth is uncomfortable or inconvenient to deal with - McCarthy email to employees 
Peloton's market capitalization was once valued at nearly $50 billion in January 2021. One year later, it's worth around 12.8 billion, a 75% reduction in value as earnings crumbled and the company embarks on a reset.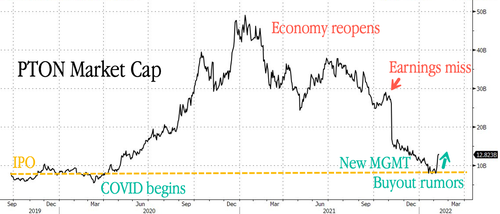 It's not immediately known if McCarthy is preparing the company for a sale or will use his knowledge of content-driven subscription models to keep Peloton afloat.