---
Major Freight Carrier Bankrupted, Leaving 3,000 Truckers Jobless, Many Stranded On Highways
As the manufacturing recession gains momentum, the largest U.S. truckload carrier filed for bankruptcy Monday morning, leaving 3,000 truck drivers and 500 administrative positions without a job two weeks before Christmas. 
Indianapolis-based Celadon filed for voluntary Chapter 11 bankruptcy in the early hours on Monday morning.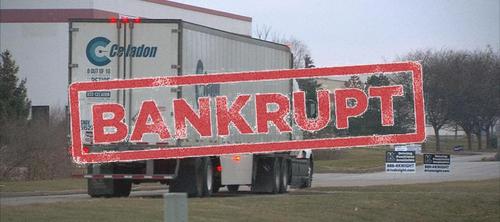 Around 1:43 am est., headlines via Reuters confirmed the bankruptcy and how all domestic and international operations have been halted. 
CELADON GROUP, INC. AND AFFILIATES COMMENCE VOLUNTARY CHAPTER 11 CASES

CELADON GROUP INC - CELADON ALSO ANNOUNCED THAT IT WILL SHUT DOWN ALL OF ITS BUSINESS OPERATIONS EFFECTIVE AS OF TODAY, MONDAY, DECEMBER 9, 2019

CELADON GROUP INC - THIS SHUT DOWN DOES NOT INCLUDE TAYLOR EXPRESS BUSINESS HEADQUARTERED IN HOPE MILLS, NORTH CAROLINA

CELADON GROUP - CELADON INTENDS TO USE ITS CHAPTER 11 PROCEEDINGS TO WIND DOWN ITS GLOBAL OPERATIONS

CELADON GROUP INC - HAVE FILED VOLUNTARY PETITIONS FOR RELIEF UNDER CHAPTER 11 OF BANKRUPTCY CODE IN U.S. BANKRUPTCY COURT FOR DISTRICT OF DELAWARE

CELADON GROUP INC - TO SUPPORT WIND DOWN OF OPERATIONS, CELADON'S LENDERS HAVE AGREED TO PROVIDE INCREMENTAL DEBTOR-IN-POSSESSION FINANCING
Celadon CEO Paul Svindland told WTHR Indianapolis that the entire company would shut down business operations except for the "Taylor Express" subsidiary in Hope Mills, North Carolina, on Monday. 
Svindland said the company will guarantee delivery of their last loads and will instruct drivers where to leave trucks. 
"We have diligently explored all possible options to restructure Celadon and keep business operations ongoing, however, a number of legacy and market headwinds made this impossible to achieve," Svindland said in a press release.

"Celadon has faced significant costs associated with a multi-year investigation into the actions of former management, including the restatement of financial statements. When combined with the enormous challenges in the industry, and our significant debt obligations, Celadon was unable to address our significant liquidity constraints through asset sales or other restructuring strategies. Therefore, in conjunction with our lenders, we concluded that Celadon had no choice but to cease all operations and proceed with the orderly and safe wind down of our operations through the Chapter 11 process."
A source told WTHR that 3,000 truckers across the country are jobless on Monday morning, and many are stranded on highways with no money for fuel as gas cards have been shut off. 
Over the weekend, rumors of Celadon's collapse spread on Facebook like wildfire. Reports of truckers stranded on highways as their gas cards and maintenance contracts to service trucks were shutoff. 
Some Facebook users offered their homes, a hot meal, and transportation for stranded truckers, considering Christmas is several weeks away.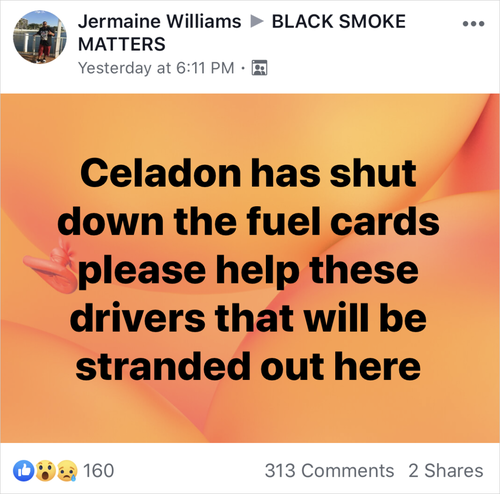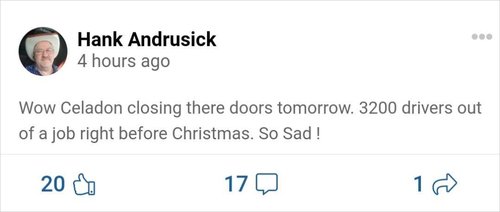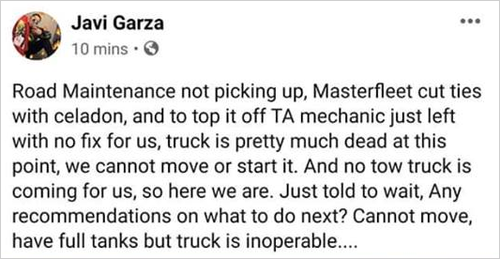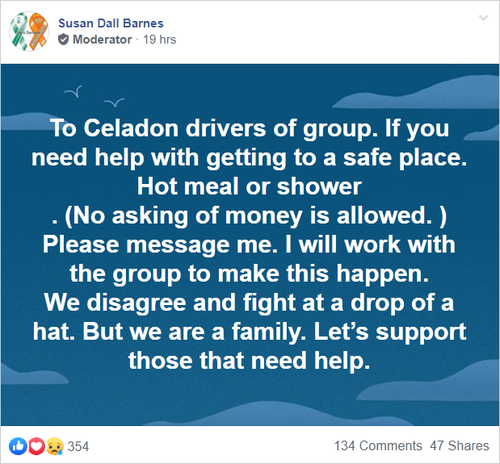 \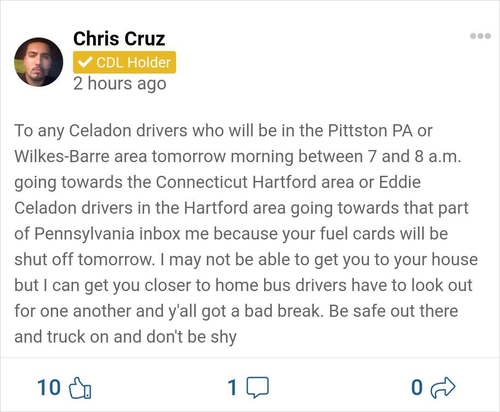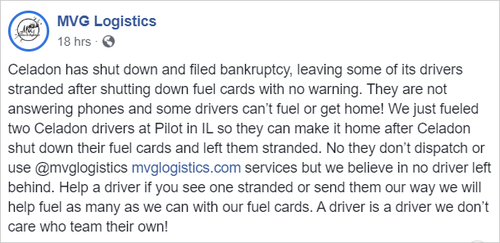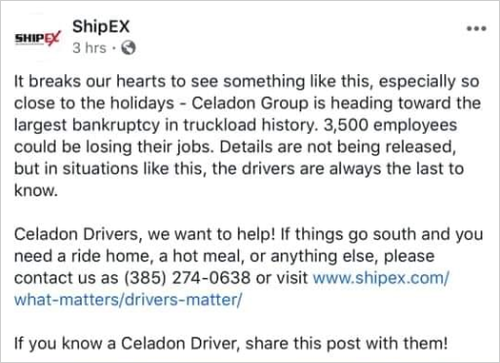 The collapse of Celadon comes after a grand jury indicted two former executives for cooking the books. 
Last week, U.S. Attorney Josh Minkler announced the indictment of former COO William Meek and former CFO Bobby Peavler. Both are facing wire fraud, securities fraud, and conspiracy to commit fraud.​
As previously reported, the manufacturing recession triggered a freight slowdown in 2019.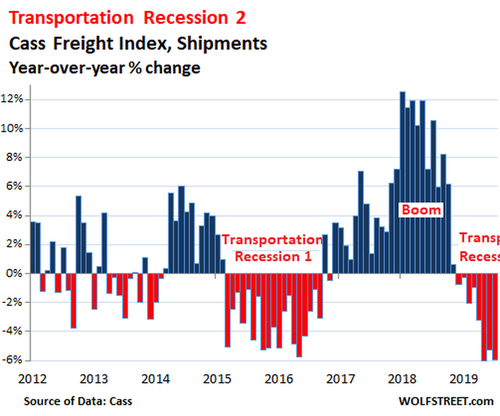 With the overall economy rapidly decelerating through Q4 and likely into 1Q20, the trucking bust will likely get more severe. 
As for the stranded Celadon truck drivers -- some might not make it home for the holidays.