---
Launch Of New Acela Trains Delayed By Three Years
By Trains.com
Launch of service for Amtrak's next-generation Acela trainsets has been pushed back into 2024, the Washington Post reports, as testing and computer simulations continue to find problems, most recently with the train's wheelsets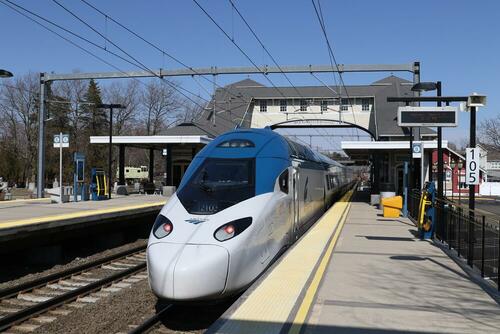 That means the new trains will enter service at least three years late, placing increasing pressure on the existing Acela fleet that dates to 2000. Trains News Wire has learned that four of the 20 first-generation Acela sets have been withdrawn from service. Two New York-Washington Acela round trips were dropped from the schedule as of May 8; an Amtrak spokesman said this was "due to a need to perform additional maintenance on Acela equipment."
Alstom, which is building the 28 new high-speed trainsets, said in a statement to the Post that "modeling of the wheel-to-track interface is particularly complex due to age, condition, and specific characteristics of Amtrak infrastructure on the Northeast Corridor, and especially the existing tracks." The company said it has been "conducting extensive investigations" to ensure the trains will operate safely and is "confident that this extensive process will demonstrate compatibility of the latest generation of high-speed technology with existing [Amtrak] infrastructure."
Sources tell News Wire that the computer modeling designed to predict the trainsets' operating characteristics and enable them to reach maximum speeds over 150 mph were confirmed on the test track at Pueblo, Colo., but could not be verified on some Northeast Corridor sections. Track quality has been upgraded on New Jersey tracks between Trenton and New Brunswick, and Amtrak already hosts legacy Acela trainsets at 150 mph over portions of right-of-way upgraded in the 1990s in Connecticut, Rhode Island, and Massachusetts, but track quality varies widely elsewhere.
Amtrak and Alstom announced a $2.45 billion deal to build the new equipment in 2016, with a 2021 target to begin service [see "Amtrak, Alstom reach $2.45 billion deal," News Wire, Aug. 26, 2016]. But modifications to the trains' catenary systems — which would lose contact with the catenary wire at top speed — pushed the debut back [see "News report says debut of new Acelas will be delayed by a year," News Wire, June 3, 2021]. A delay to 2023 was attributed to further testing and modifications [see "Alstom explains latest delay …," News Wire, April 8, 2022].
Amtrak told the Post last week that "further refinement of analysis, simulations and testing" are needed. Alstom said it has delivered six trainsets to the passenger operator and is preparing to deliver the seventh.
"We want our customers to experience these new trains as soon as possible, but Amtrak cannot operate them for passenger service until Alstom has completed testing and meets all safety requirements," Amtrak said in a statement to the Post.
Loading...