---
Lawyers Seek To Question Bankman-Fried's Parents About Their Wealth; Goldman, JPM Revealed As FTX Creditors
With the public court of opinion having long ago convicted crypto fraudster Sam Bankman-Fried - even as several notable holdouts such as Bill Ackman  and Andrew Ross-Sorkin remain -  attention is now turning to his just as "effectively altruistic" parents. According to a court filing by bankrupt FTX, SBF's parent should be forced to answer questions and provide financial documents about their personal wealth and any money they may have gotten from the 30-year-old scammer.
As Bloomberg notes, FTX asked a judge for permission to question under oath Bankman-Fried's family and a handful of the company's former top executives as part of a hunt for hidden assets that could be used to repay creditors owed billions of dollars. Or not so hidden: as a reminder in November it was revealed that SBF's disgraced "progressive" parents - Stanford University law professors Joseph Bankman and Barbara Fried (who on her bio says she has "written extensively on questions of distributive justice, in the areas of tax policy, property theory and political theory" which apparently means using her son's stolen money to buy herself beachfront mansions) - purchased at least one $16.4 million beachfront "vacation home" in the gated Bahamas community of Old Fort Bay.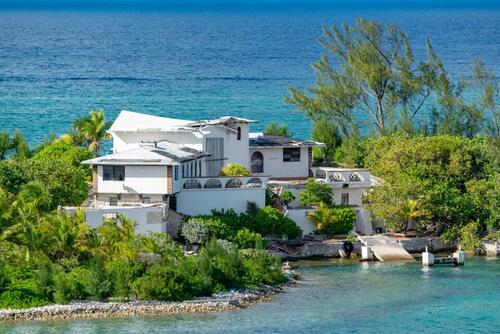 The court filing shows "the aggressive approach that FTX advisers are taking to recover any money that Bankman-Fried may have inappropriately handed out." The company was heavily involved in lobbying politicians and regulators and making campaign donations to Democrats and the White House. Federal prosecutors charged Bankman-Fried with fraud for his role in the collapse of FTX, which filed for bankruptcy in November.
Incidentally, when asked by Reuters in November why the couple decided to buy a vacation home in the Bahamas and how it was paid for, a spokesperson for the professors said only that Bankman and Fried had been trying to return the property to FTX. "Since before the bankruptcy proceedings, Mr. Bankman and Ms. Fried have been seeking to return the deed to the company and are awaiting further instructions," the spokesperson said.
They'll now get their chance.
According to the court filing, Joseph Bankman and his wife, Barbara Fried, were actively involved in their son's company. Joseph Bankman, a law professor at Stanford Law School, offered tax advice to FTX employees and helped recruit the company's first lawyers, the court filing said, citing media reports. Menawhile, ultra-progressive liberal, Barbara Fried, founded a political action committee that got money from FTX and its top executives, according to the filing.
It gets better: the brother, Gabriel Bankman-Fried, founded an organization that lobbied members of the US Congress from a multimillion dollar property near the US Capitol, according to the filing.
Finally, for those wondering if the alleged criminal's parents will be teaching at Stanford Law School next year (one really can't make this up), the answer is no: apparently not even Stanford will sink that low.
Separately, FTX watchers will recall that early on, the now insolvent exchange asked the bankruptcy judge to keep the names of its thousands of creditors confidential and under seal. Well, we finally got a glimpse at some of the companies that provided money to fund Sam's discretionary spending (i.e., theft of FTX funds). According to the latest bankruptcy court documents, FTX owes money to a dizzying assortment of firms including Goldman Sachs and JPMorgan.
The 116-page document filed on Wednesday detailing FTX's creditors contains thousands of entries, and while the names of individuals are redacted, the list identifies heavyweights across Wall Street as holding some kind of claim against Sam Bankman-Fried's once-giant exchange.
Oh well, time to crack down on the largest Wall Street banks  for enabling the biggest fraud in history.
Joking aside - because everyone knows nothing will ever happen to Goldman and JPM -  another interesting name in the creditor list stands out:

The full creditor list is below:
The disclosure doesn't reveal the nature or size of the debts and inclusion on the list doesn't mean a firm is highly exposed to FTX.
Loading...