---
Leaked Southwest Memo Reveals "State Of Operational Emergency" Before Christmas Storm
After a winter storm and arctic blast pummeled the eastern half of the US, most major airline carriers were able to resolve delays and cancellations. But not Southwest Airlines, which days later still has a large number of flights canceled, stranding tens of thousands of Americans at airports nationwide. 
Bloomberg confirmed a leaked memo dated Dec. 21 via Chris Johnson, the carrier's vice president of ground operations, who declared a "state of operational emergency" at Denver Airport after "an unusually high number" of employee absences.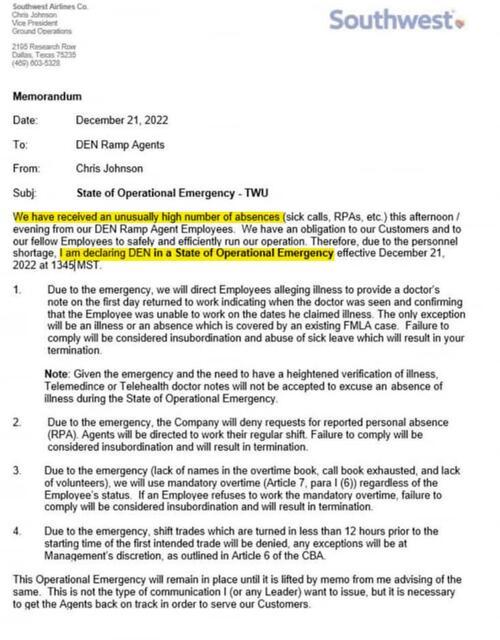 The severe winter weather battered Southwest's operations nationwide, forcing the carrier to cancel thousands of flights during Christmas weekend. And the chaos continues. As of Wednesday morning, Southwest has scrapped 62% of flights today, plus 58% on Thursday, according to FlightAware data. 
Wednesday
Thursday
Analysts describe Southwest's meltdown this week as the most significant operational breakdown in its five-decade history. 
"This is the worst round of cancellations for any single airline I can recall in a career of more than 20 years as an industry analyst," Henry Harteveldt, who covers airlines for Atmosphere Research Group, told the NYTimes.
Southwest's chief executive, Bob Jordan, apologized Tuesday evening for the operational mishap. He said, "Our plan for the next few days is to fly a reduced schedule and reposition our people and planes." 
"We're optimistic to be back on track before next week," Jordan explained. 
Once Southwest normalizes operations, we assume Jordan will be bombarded with questions from lawmakers and US transportation officials about what went wrong. 
Loading...