---
Lira Soars After Turkey Shocks Markets With Whopping 200bps Rate Hike
While the Fed is caught in a fiasco of its own making, predicting a golden age for the US while keeping rates at zero for at least another two years because - you see - the soaring inflation that has swept across the country is only temporary, Turkey has no such problems and with the country facing its own inflationary conflagration, moments ago the Turkish central bank (CBRT) resumed raising interest rates after surging oil prices and lira volatility sent inflationary risks climbing pushing the lira in a tailspin. Not surprisingly, the lira surged in kneejerk response.
The Monetary Policy Committee led by Governor Naci Agbal - who was appointed not too long ago after Erdogan voiced displeasure with his predecessor for hiking rates, lifted the one-week repo rate to 19% from 17% on Thursday, smashing the 100-basis-points hike predicted in a Bloomberg survey of 24 analysts.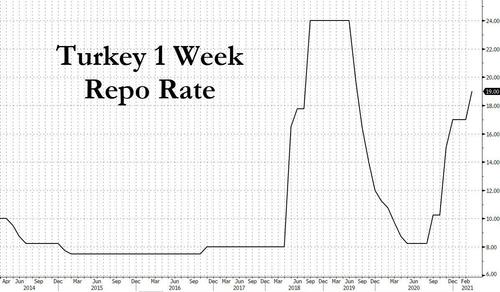 Considering the upside risks to inflation expectations, the bank has decided "to implement a front-loaded and strong additional monetary tightening," it said in a statement that is guaranteed to enrage Turkey's dictator.
"In a challenging context of domestic business and political pressure against further interest rate hikes, the CBRT has stepped up to the plate and delivered a resounding home run to underline its commitment to an inflation-targeting framework," said SocGen EM strategist Phoenix Kalen. Today's move "will go a long way toward bolstering both retail and foreign investor confidence that the CBRT under Governor Agbal will stay engaged in addressing deterioration in inflation expectations."
Maybe... or maybe it will just force Erdogan to replace yet another CBRT governor.
The lira soared as much as 2.3% higher to 7.3268 after the announcement.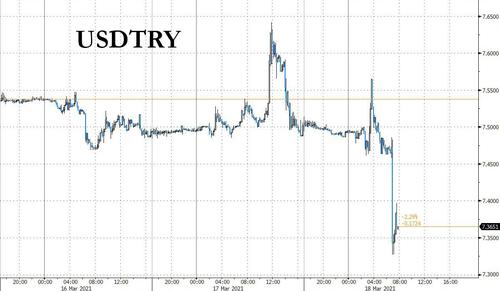 Unfortunately for Turkey - whose economy will now grind to yet another halt -  it had no choice: inflation had accelerated for a fifth month in February as oil rallied and the impact of last year's lira weakness lingered, while capital outflows soared. The upward trend fueled expectations the central bank would try to rein in prices by raising interest rates... but nobody had expected a 200 bps rate hike.
Meanwhile, as Bloomberg notes, the recent depreciation of the lira, which has lost more than 8% against the dollar since mid-February, is also putting pressure on Agbal. The currency's weakness is mostly related to the spike in U.S. Treasury yields, which has triggered a developing-nation currency selloff.
So heading into today, the CBRT head was damned if he did and damned if he didn't: on one hand the lira was plunging angering Erdogan, so he had to stabilize it... on the other the only way to do so was by hiking rates, which would anger Erdogan even more.
After taking over in November, Agbal ended a complicated funding structure and hiked the one-week repo rate by 625 basis points, boosting the bank's credibility among investors. Despite the recent decline, the lira has strengthened around 14% under his watch, as expectations grow that Turkey's returning to more orthodox monetary policy. He stood pat in the first two meetings of this year, opting for hawkish messages. The governor has pledged to maintain a tight monetary policy stance until he meets his 5% inflation target, no earlier than 2023. It is unclear if, like Powell, Erdogan will have the patience of waiting that long.
As Bloomberg reminds us, the Turkish statistics agency will publish March inflation data on April 5 which should be another doozy.