---
Lithium Industry Reeling After China Shutters 10% Of Global Supply
That's a nice little EV industry you got over there in the US, it's be a shame if suddenly it found itself without the most important commodity.
That's one way to interpret what just happened in China; another - a less cynical - is the way Bloomberg described it, namely that China's lithium industry itself is reeling as its top production hub -  responsible for around a 10th of the world's supply -  faces sweeping closures amid a government probe of environmental infringements.
The crackdown in Yichun, Jiangxi province, also known as the country's "Lithium capital" follows a local lithium frenzy over the past year as miners raced to feed rampant demand for the battery material — and to benefit from record global prices. Now, they're grappling with a close-up inspection by environment officials sent from Beijing.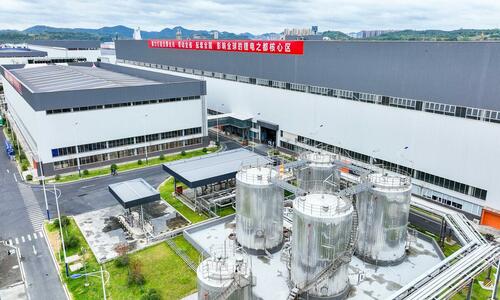 According to Yicai newspaper, ore-processing operations in Yichun have been ordered to stop as investigators probe alleged violations at lithium mines. That, Bloomberg notes, threatens somewhere between 8% and 13% of global supply, according to various analyst estimates, although it's unclear for how long the immediate shutdowns will last.
The sudden probe injects a big dose of uncertainty into a lithium market that has seen  prices drop, bringing some relief to EV manufacturers, as more global output emerges. Jiangxi province was expected to be a big source of extra supply, from a lithium-bearing mineral known as lepidolite.
"This supervision may mean that the inspection and control over lepidolite mining in China will be more stringent in the future," said Susan Zou, analyst at Rystad Energy. Companies with operations in Yichun include major battery manufacturers Contemporary Amperex Technology Co. and Gotion High-Tech Co., whose shares both fell more than 1% on Monday.
Due to the ongoing probe, all lepidolite mining in Yichun aside from those by a state-owned company have been suspended, but refineries are still operational, Daiwa analysts Dennis Ip and Leo Ho said.
Global lithium prices soared to a record high last year as demand from China's booming electric-vehicle industry outstripped production. And, as so often happens in commodities, where the cure to high prices is more supply, leading to lower prices, this high-profit, high-demand environment has encouraged miners to skirt regulations.
Some companies had already been targeted for infringements, including incidents of pollution, over the past year. This is a much wider crackdown, and involves officials from central government departments including the Ministry of Natural Resources.
Yucai added that Beijing will mainly look at violations at lithium mines and seek to guide the "healthy development" of the industry; they will largely target those mining without permits or with expired licenses.
Curiously, a recent Goldman report found that the Chinese car industry's demand for lithium has fallen by more than half in recent months, a dramatic reversal that will drive a further slump in the market. Meanwhile, Chinese prices have dropped more than 30% from last year's peak.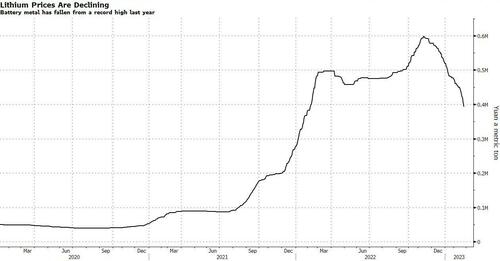 According to calculations form Citic Securities analyst Bai Junfei, a month-long mining halt in Yichun would reduce lithium output by an amount equivalent to around 13% of the world's total. Rystad Energy, a consultancy, estimated the amount at 8%.
"At present, the market speculation is that the probe may stop after the two sessions in China next month," Rystad's Zou said, referring to the annual parliamentary meetings due early March.
Loading...