---
Long Oil: Climate Change Needs An Offramp... So It Is Being Imposed By The Market In The Most Brutal Of Manners
By Eric Peters, CIO of One River Asset Management
"We delivered record earnings and cash flow in 2022, while increasing investments and growing U.S. production to a company record," said Chevron CEO Mike Wirth. "We are well positioned to lead in both traditional and new energy businesses, delivering higher returns, lower carbon, and superior shareholder value."
The market rejoiced in the $75bln share buyback program, ushering in a new era for oil producers. In the past, commodity leaders were rewarded for production. Strong profits were followed by even stronger investment. Low-cost producers gained market share by leveraged buyouts of smaller higher-cost ones.
Not today. CEOs are incentivized by profitability, and the era of climate policies reinforces the goal. Politicians don't like it, naturally. Abdullah Hasan's message on behalf of the White House was blunt: "For a company that claimed not too long ago that it was 'working hard' to increase oil production, handing out $75 billion to executives and wealthy shareholders sure is an odd way to show it."
Policy signals are clear – climate change demands an energy transition. But the world needs an offramp, and none has been offered. So, it is being imposed by the market in the most brutal of manners. It is the unintended consequence, generating geopolitical strife.
"Transmission lines tripped, which resulted in isolation of north and south system," wrote Sajjad Akthar, general manager at Pakistan's state-run National Transmission and Distribution Company. Complete grid failures are rare. Operators of modern grids observed shocks from integration of renewable energy as their primary challenge. Pakistan's blackout last week was its second near-complete grid failure and the third in south Asia in three months. 220 million people were impacted.
"Due to unavailability of generators, services are affected in health centers in suburbs," Dr. Imran Zarkoon declared, the director of a local health department.
It is also not a shock. Prime Minister Sharif already ordered all federal departments to reduce their energy consumption by 30% earlier in the month. Italian energy major Eni also notified it would not deliver an LNG cargo to Pakistan due to circumstances outside its control. Eni has a long-term contract to deliver one LNG cargo per month to Pakistan through 2032.
"All the previous disruptions in LNG delivery suffered by ENI have been caused by the LNG supplier who didn't fulfill the agreed obligations," the company said. "At the request of the authorities, an in-person Fund mission is scheduled to visit Islamabad," the IMF's Resident Chief stated. Negotiations for unlocking the $1.1bln IMF tranche come after FX companies removed a floor for the currency, opening the door for a 10% decline.
And it is all in an election year with Beijing Islamabad's chief supporter. The China-Pakistan Economic Corridor is an elaborate, 3000-kilometer infrastructure project covering sea and land, securing passage for China's energy imports. So, it's complicated. It always is. Just as the weakest links are always the first to reveal distress.
Anecdote
"If humanity does not fail nature, nature will not fail us," October 28, 2022. Who said it? No, not Al Gore. Greta gave it a thumbs up, but it wasn't her. It was President Xi in his unveiling of China's White Paper on Climate Change.
Climate is poised to dominate investment in the next decade. A wide-ranging survey showed 53% of investors regard climate change as the most important factor affecting their investment decisions; 78% of private and business clients surveyed are concerned about climate change; these echo in the chambers of the WEF, focused on "staving off disaster and catastrophe." Herds are famous for stampeding principled contrarians in financial markets. Investors are asked to be wise enough to see the follies of the collective and disciplined enough to not get run over by the herd. Irony is the answer.
Global CO2 emissions have increased 44% in the past two decades – China accounts for 68% of the world's rise. Climate goals without capital discipline won't matter. This is also where it pays to avoid the herd, who are dedicated to hopelessly inefficient solutions.
China accounts for more than one-third of global commodity production – cutting raw material output is the only way of achieving Beijing's ambitious climate goals.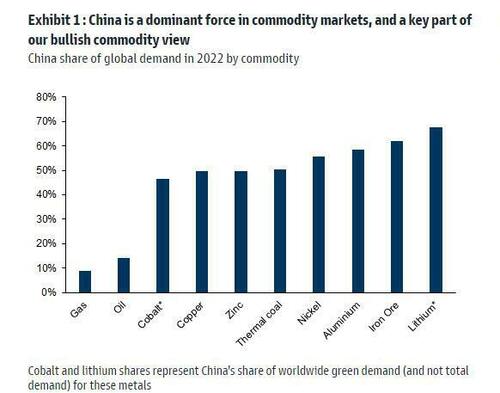 Raw materials will be in high demand through the world's energy transition. Those will also be shorter in supply. China is preparing, the world is talking, and markets are the arbiter with high prices accelerating the energy transition. And in that transition shines the most ironic climate theme. Long oil.
Loading...