---
LA Port Chief Implores Importers To Speed Cargo Pickup As Congestion Crisis Worsens
For many months ports of Los Angeles and Long Beach have dealt with massive congestion of ships as trillions of dollars in stimulus results in one-sided trade with Asia. The congestion is so bad at the US West Coast port that the port's head told importers to expedite container pickup to alleviate congestion on Tuesday. 
"The container dwell time is much higher than it was pre-pandemic," Port of Los Angeles Executive Director Gene Seroka told CNBC, referring to the duration a container spends at the port. 
"We're asking our importers to pick up the cargo as quickly as they can, devan the products and return those containers back to the port," Seroka said, who added the port is the busiest in North America. 
Data compiled by Marine Exchange of Southern California shows a massive congestion crisis of moored container ships waiting to unload their cargo.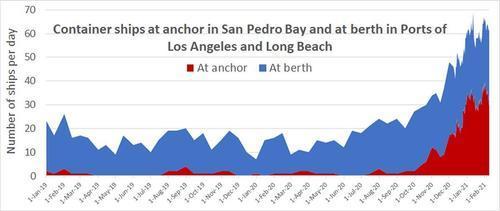 It's not just a ship pileup Californian ports are dealing with; one-sided trade with Asia (mainly China), sparked by fiscal stimulus, has resulted in the greatest demand-pull of consumer products ever. Over the months, we've documented the massive container shortage in Asia as containers pileup at US West Coast ports. 
"The time it takes for the importer to pick up their cargo at the port is now over four days, but it's off its high of five days sitting under dwell," Seroka said, adding there's been improvement in other metrics, too.
"Truck turn times — the amount of time that it takes a trucker to move in and out of the port to drop off and pick up containers — has decreased to 77 minutes from 88 back in December. So we're starting to see some of the trendings in the right direction," he said.
With ports of Los Angeles and Long Beach a complete mess, it's unlikely congestion issues will diminish as the Biden administration continues to hand out free money to US consumers who turn around and purchase products that are not manufactured in the US. With no easing in sight, Seroka warns higher volume periods will continue and spike at the end of summer due to demand for back-to-school goods and importers preparing for holidays. 
"Before we know it, August will be upon us and we'll start to see back-to-school goods, other sale items, and then the year-end holidays, the all-important season for retailers," he said.
As long as the Biden administration continues handing out stimulus checks to Americans who are buying things made in Asia and or the rest of the world, the trade deficit is evidence of this, port congestion on US West Coast ports will continue.