---
Losses 'Accelerate' For Goldman's Credit-Card Division
Goldman Sach's credit card business, anchored by the Apple Card since 2019, has been one of the company's biggest successes in gaining retail lending scale, but rising losses are very concerning for the new division. 
Disclosed in a regulatory filing Friday, Goldman's Platform Solutions segment incurred a whopping $1.2 billion loss for the first nine of last year, with losses accelerating by the year. The filing shows pretax losses have mounted to $3 billion since the start of 2020. People who are familiar with the unaudited stats told Bloomberg:
When the latest quarter's figures get added to it next week, that cumulative loss will approach $4 billion in the three-year span and $2 billion for the year driven by loan-loss provisions. 
The filing also revealed provisions for credit losses were $942 million for the first nine of 2022 (recall last year, we noted the losses were quickly mounting for Goldman). Losses are steadily rising as the Covid money helicopter drop has been over for more than a year.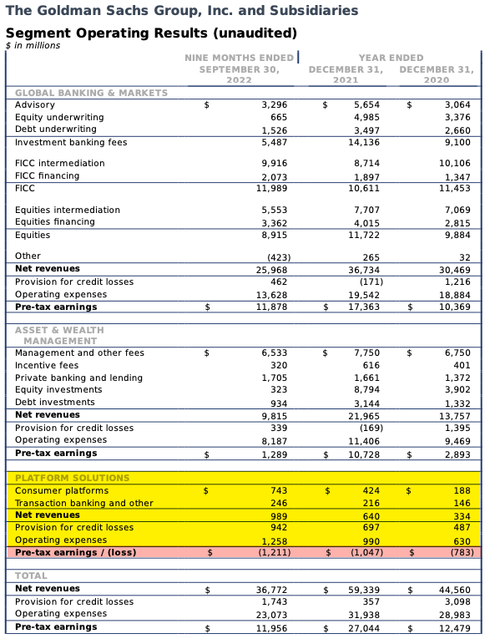 Consumers are getting slaughtered with maxed-out credit cards and the highest interest rates in years, on top of 20 months of negative real wages, personal savings wiped out (at least for the poorest of folks), and increasing risks of recession, which has led to the emerging trend of people not being able to service their debts.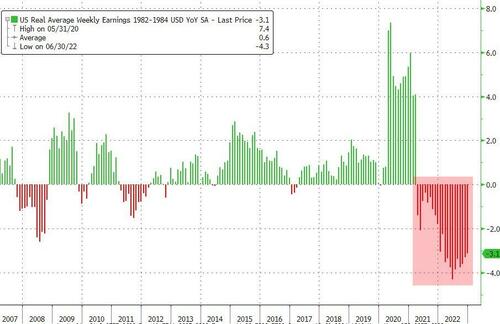 "The division is a whittled-down version of what was once Goldman's lofty goal of storming the consumer market — building a digital bank of the future that would become an industry leader. Instead, rattled by the persistent costs and difficulty of setting up new business lines, the firm decided to scale back its ambitions and reposition the pieces," Bloomberg said. 
What's left of Goldman's entry into the consumer space is parked in Platform Solutions, including card tie-ups and installment lending. The most profitable part of the group is the transaction-banking business line.
Goldman forecasted the division would be profitable by the end of next year, but that prediction is too rosy and might not be until 2025, people with direct knowledge said. 
Increasing losses offer insight into what executives might have in store for the money-losing division as CEO David Solomon has unleashed the largest job cuts in an attempt to reel in spending. 
Goldman reports quarterly earnings next week and will offer more insight into Platform Solutions. So far, the bank's bet on consumer subprime (hoping to profit off America's sub-700 FICO population by lending to it) appears to be a dud. 
Loading...